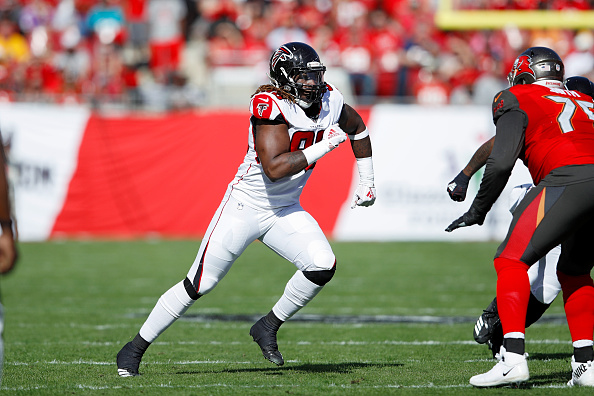 The 2019 NFL draft was deep in defensive line talent. With ample opportunities in the first few rounds of the draft, the Atlanta Falcons failed to address a major need and draft a stud defensive lineman or end. This is concerning for lack of Falcons pass rush the team already has.
Concerns About Lack of Falcons Pass Rush in 2019
There were numerous defensive linemen available for the Falcons to nab and improve their somewhat anemic pass rush from two thousand eighteen. They had only 37 sacks last season. This area should have been addressed further. The offensive line should show a major improvement in two thousand nineteen with the two stud linemen hopefully starting week one.
For some reason, the team waited until round four (135 overall) pick to nab John Cominsky, a defensive end from Division II University of Charleston. Who, you might ask? Dan Quinn is very high on him as his numbers at the combine were apparently off the charts. Having an excellent combine and producing good stats at a small Division II school does not necessarily translate into instant NFL success.
The Falcons were very high on him and seem to be confident and optimistic that he can step in from day one and produce. I am not a coach nor a scout, but I personally feel other big names available could have and should have been drafted by the Falcons instead of Cominsky. Hopefully, I am wrong!
Who Will Provide the DE Pressure?
From a big name defensive end perspective, the Falcons really need Takkarist McKinley to step this upcoming season and have at least ten sacks. The first-round pick out of UCLA in 2017 is heading into season three. Expectations are very high for him to produce this year and stay healthy. He had seven sacks in fifteen games his rookie season. Much more is needed from him, as that will not cut it in for this upcoming season.
Vic Beasley…  Where do we start? After leading the league in sacks with 15.5 sacks in 2016, Beasley has had only five sacks in each of the past two seasons. To many fans' dismay and surprise, his option was picked up this off-season for some reason. Perhaps with the money saved if they had released him, they might have been able to afford a big name free agent defensive end. Either way, this will most likely be his last season in a Falcons uniform. If his 2019 season is as much as a disaster as the last two, things could get ugly very quickly and the team might regret this decision.
The team decided to sign and bring back defensive end Adrian Clayborn for some reason. He won a Superbowl last season with New England, but only had 2.5 sacks during the regular season. Although he is 30-years-old and still a solid veteran, don't count on Clayborn having more than a few sacks this season. He will mainly be a rotational player and is not a full-time starter anymore. Other reserves brought in was Chris Odom, who was very impressive in the 2017 preseason and provided a ton of pressure.
Internal Improvement is the Only Remaining Option
There are very few options remaining on the free agent market and the Falcons have very limited cap space remaining. Unless the team decides to somehow slash more salary and then sign a veteran who is cut in training camp from another team, this is what we might have to live with for the 2019 season.
This area must be fixed and addressed before training camp. Otherwise, the pass rushing woes have to come from within and internally with the current players on the roster. Let's hope Dan Quinn is able to get the most out of what he has to work with, now that he's the defensive coordinator and calling the defensive plays himself.
Main Photo:
Embed from Getty Images