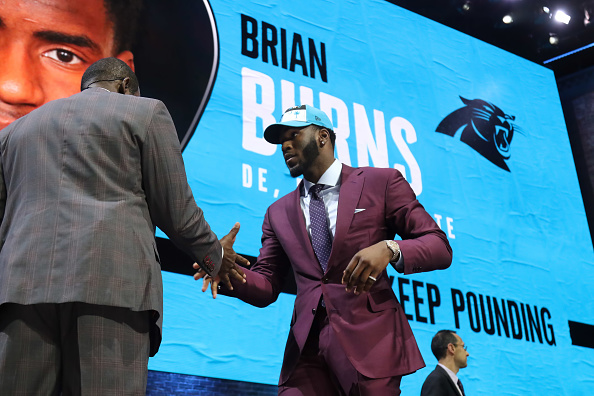 The Carolina Panthers lost plenty of players this off-season. So much so that the draft has become a calculated set of moves with seemingly no room for error. With a potential seven picks turning into a pick each round, did the Panthers use them wisely? Let's evaluate the Carolina Panthers replacements.
Evaluating the Carolina Panthers Replacements
Edge Rushers
With the 16th overall pick of the NFL draft, the Panthers selected Brian Burns, edge rusher, out of Florida State. The film on Burns shows how explosive he can be off the snap which is something the Panthers need. He is a ball hawk who keeps his eyes moving across the field which keeps quarterbacks on the opposing team nervous. One thing to note about this player is that he has monstrous athleticism and the ability to make it hard for his opponents to deny his existence on the field.
Evaluating this draft we see that he would potentially be replacing Julius Peppers so the jury is still out on whether he will be able to fill those shoes. Peppers retired at the end of the season. Burns has some of the same characteristics as Peppers–he's quick, possesses the ability to break through tackles to get to the quarterback–but he doesn't have quite the size. You have to wonder how much this will affect him.
The Panthers also took Christian Miller in the fourth round from Alabama. Where Burns produces the speed and athleticism, Miller brings pure physical dominance which is something both Peppers and former linebacker Thomas Davis had. His physicality will bring a positive to the Panthers defensive line. He might have gotten a higher grade based off the fact that he comes from such a dominant school but again, filling in for Peppers and/or Davis is asking a lot of the rookie.
Offensive Tackles
Matt Kalil was signed to the Panthers on March 9, 2017, to a five-year, $55 million contract. For more than just the fact that he came from a football-playing family, but his older brother was the starting center on his new team. Fans thought Matt (Kalil) would if nothing else, be an extension of his big brother but after a full season of injury, believed otherwise.
Enter Greg Little, offensive tackle out of the University of Mississippi. The 6-foot, 5-inch, 310-pound junior seemed to be primed for the professionals, except for his tendency to be lazy. Little has the potential to be a good offensive lineman but does not yet lack the discipline. He has lazy feet and can appear as a quitter if he's not into the game. On the plus side, he does have quick hands and has the ability to smother his opponents with his size.
Another possible replacement is Dennis Daley out of South Carolina. Picked in the sixth round, questions remain on just how good he would be in the NFL. Daley did not prove himself to be a very explosive player at South Carolina. As a matter of fact, he was an average player at best. What works out in his favor, however, is that he has been a consistent player. Can he get better in the NFL? Maybe. Maybe not. The Panthers are a team known for bringing out the best in players though, so if it's going to happen, Carolina is most likely where. He would be an upgrade from (Matt) Kalil, but not much better.
Quarterback
There was one quarterback drafted to the Panthers on the second day: Will Grier out of West Virginia. He has the throwing power of a capable NFL quarterback, but so do most quarterbacks at the collegiate level. Still, Grier, a product of North Carolina football, made his way through Davidson Day High School before he played one year at Florida before transferring to West Virginia.
Grier, although he's a good quarterback, would have to compete with both Taylor Heinecke and Kyle Allen who are both capable quarterbacks. Now, are they all capable of throwing a good ball? Possibly. But Grier has an accuracy that can't be denied. Being a right-handed passer, he's predisposed to throwing right but is accurate no matter where he throws. One thing for sure, Cam Newton is excited about the new addition to the team.
Running Backs
With the 154th pick of the fifth round, the Panthers picked Jordan Scarlett from Florida. He runs upright similar to the way DeAngelo Williams did when he was in Carolina except Scarlett is taller and leaner. Will he be able to sustain hits the way Williams did?
One thing to note about Scarlett versus Williams is that Scarlett is more of an upright, bust through the middle type runner. Williams, on the other hand, runs more side-to-side and doesn't shy away from breaking tackles. Both backs have the ability to run fast and far. Scarlett will be a welcome break for Christian McCaffrey who was a large part of the Panthers offense last season.
Wide Receivers
Panthers fans have been complaining, well, since Steve Smith Sr. was released, for receivers who would be even an inkling of the type of receiver 'Smitty' was. Devin Funchess is a receiver for the Indianapolis Colts, but not before spending four years in Carolina. He wasn't Steve Smith-esque but he caught a ton of balls from Newton which was something the team lacked because no one was tall enough to catch his high fliers. Funchess appeared to be that guy but after having a very inconsistent 2018 campaign, the Panthers decided to go another way.
Carolina didn't pick their receiver until the seventh round at pick 237. Terry Godwin, a 5-foot 11-inch receiver out of the University of Georgia, doesn't have the size that Funchess has, but looks promising on film. One thing to take away from this draft pick is he could be the next replacement for Funchess, but if not, the Panthers still have a solid receiving corp without him. Godwin's best season was in 2017 when he caught 38 balls for 639 yards and six touchdowns. Those numbers are promising but waiting to see how Newton's accuracy improves, will speak to how Godwin will do.
Last Word
The Panthers made reasonable picks in the draft, but it's hard to say just how successful they will be until they are in action. Some of the players who got picked will have more playing time compared to some of the others based solely on the necessity of the team at the time.
Now that the draft is over, let's see how this franchise does with the new members of its team.
Main Photo:
Embed from Getty Images