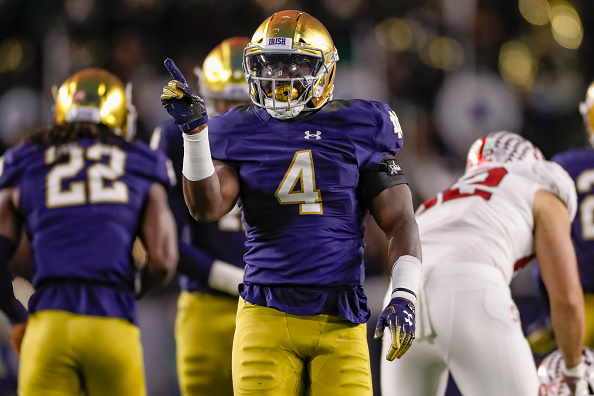 The NFL draft is significant for every team. Teams in the top 10 of the draft have an extra expectation to draft a player who can impact their team right away. The teams that can find impact players outside of the first round often rise to prominence quickly. The Seattle Seahawks are an example of this, drafting Russell Wilson, Richard Sherman, and Kam Chancellor outside of the first round.
With a loaded draft class this offseason, this is a seven-round mock draft for the Detroit Lions.
2019 Detroit Lions Seven-Round Mock Draft
Round 1: Montez Sweat (Mississippi State) – Defensive End
Sweat has established himself as one of the best pass rushers in this draft. In his two years at Mississippi State, Sweat recorded 22.5 sacks. Detroit landed Trey Flowers during free agency but lost 2013 first round pick Ezekiel Ansah. Pairing Sweat with Flowers would give Detroit arguably the best edge duo in the NFL. Developing a significant and consistent pass rush will tremendously help Detroit on their search for playoff contention.
The Lions made the decision this off-season to release veteran Safety Glover Quin. Gardner-Johnson is a hybrid defensive back who can play Safety and Cornerback. Gardner-Johnson recorded 161 tackles, four sacks, nine interceptions, and three touchdowns. The Florida safety has shown that he can make plays anywhere on the field and his tackling will make him a valuable player to have.
Round 3: Te'von Coney (Notre Dame) – Linebacker
Coney has been a tackling machine for Notre Dame. The Notre Dame linebacker recorded 239 tackles through his final two seasons. Coney played all four years at Notre Dame and has the ability to play for Detroit right away. Coney needs work in pass coverage if he wants to be a modern NFL linebacker, but against the run, he is top of his class.
Round 4: Tyree Jackson (Buffalo) – Quarterback
Jackson made a splash this season leading Buffalo to their first bowl game appearance since 2013. Jackson had 3,131 passing yards and 28 touchdowns his final season at Buffalo. His big frame and work from the pocket have teams interested in Jackson. Detroit has met with Jackson a few times and the Lions seem to think he would learn well from Matthew Stafford. Jackson could develop into a solid starter later in his career.
Round 5: Isaac Nauta (Georgia) – Tight End
Nauta is an interesting prospect in this draft. Nauta is 6'4″ and 240lbs allowing him to be a solid receiving threat. Never having a big role at Georgia has hurt his draft stock, but Nauta could make big plays for the Lions if they take the chance on him. George Kittle has shown that stats don't tell the whole story with tight ends, and Nauta could be the next to show this.
Round 6: Myles Gaskin (Washington) – Running Back
Gaskin had a very consistent career at Washington. He played four seasons in college and recorded 1,250 rushing yards or more in every season. Gaskin finished his career with 5,323 rushing yards and 57 touchdowns. Gaskin has high potential if he lands in the right situation. Detroit had rookie running back Kerryon Johnson emerge last season and have now signed C.J. Anderson, but Gaskins could still find a role in Detroit with hard work.
Round 6: Ben Powers (Oklahoma) – Guard
Powers is a strong interior lineman who excels in pass protection. Powers could use some work in the running game, but his power will get him on an NFL roster. The Oklahoma lineman could be a solid depth lineman to start his career and could develop into a starter with improved techniques.
Round 7: Blace Brown (Troy) – Cornerback
Brown showed a talent for tackling at Troy. At a position that doesn't usually tackle well, Brown averaged 37 tackles per season. He also averaged four interceptions to show he has talent in pass coverage as well. Brown would be good depth for the Lions' secondary that needs it.
Round 7: Alex Wesley (Northern Colorado) – Wide Receiver
Wesley had a solid career at Northern Colorado. He eclipsed 1,000 receiving yards the past two seasons but didn't have high touchdown totals. The most he had in one season is six touchdowns. However, that doesn't take away from his ability to make big plays. Wesley averaged 18.4 yards per reception his last two seasons showing he impacts the game when he gets his hands on the ball.
Image Credit:
Embed from Getty Images