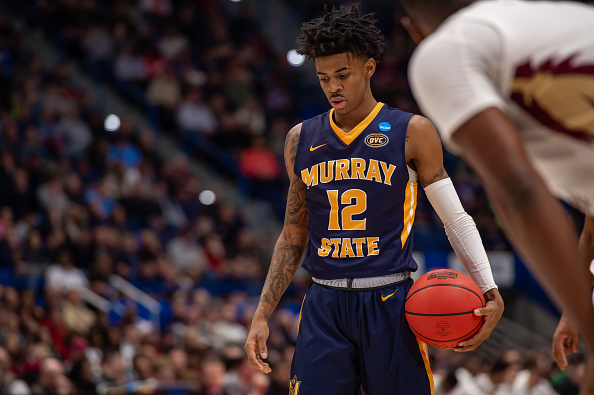 Every year in March, a new hero emerges in college basketball. March Madness is the most exciting basketball event other than the NBA playoffs and finals. This is where stars get made, with everyone itching to show off their skills and show the world they're the next big thing. It doesn't even matter if their college reaches and wins the final – it's just a matter of who shines the best. The top prospects will then declare for the NBA draft and finally fulfill their dreams.
For the past year, the media has been running out of superlatives for future NBA superstar Zion Williamson. The Duke product has impressed everyone with his physical attributes and undisputed basketball qualities. The best betting sites and experts have made him a leading candidate for a top draft pick, and they aren't wrong.
Williamson is bound for NBA stardom and he really looks like the next LeBron James. However, there are many other great players which have shined during March Madness in Zion Williamson's shadow, with R.J. Barrett and Ja Morant the top names.
Ja Morant's Star is Shinning After March Madness Performances
Ja Morant – a Star in the Making
While the media was focused on Zion Williamson, Ja Morant led the Murray State Racers to the second round where they lost to Florida State. His college team may have lost, but Ja Morant had a breakout sophomore season, finishing as the first player in NCAA history to average 20 points and 10 assists per game in a single season.
His efforts didn't go unnoticed. Morant was selected as OVC Player of the Year, he earned his spot in the first-team All-OVC and the All-American honors as well. His triple-double led the Racers to a win against Marquette in the first round of the 2019 NCAA Tournament. He then scored 28 points in Racers' loss in the second round. Even though his team didn't make the Final Four, NBA scouts were impressed with Morant's abilities.
Due to the fact that he nearly averaged a triple-double in his sophomore season, comparisons with Russell Westbrook didn't take long to emerge. NBA draft experts have already projected Morant as a top-3 pick which speaks volumes of his impressive abilities. The number 1 spot may be reserved for Zion Williamson, but number 2 is left for grabs, and Morant looks destined for it.
The Next Russell Westbrook?
There's no question that Morant has been the best playmaker in the NCAA this year. By averaging a double-double (almost a triple-double), the media has dubbed him the next Russell Westbrook. It's a bit unfair to compare a college player who still has time to develop with a budding NBA star – that kind of pressure could hamper Morant's chances.
For all his amazing skills, there's still a lot of work ahead of Ja Morant according to experts. His raw physicality means he won't be able to overpower NBA stars that easily. He still needs to develop his shot – although his percentages went up this season, he's still stuck at 34% on 4.9 attempts from the field, and that isn't going to cut it in the NBA. His funky release is another thing to be considered. NBA scouts aren't too excited about it considering the Markelle Fultz controversy last year. Many scouts are not sure if he could fix the clunky release and shooting percentage at all.
With the ever-evolving nature of the NBA and the pull-up 3 emerging as a favorite among rookie playmakers, Morant will need to evolve his game. A ball dominant guard as himself needs to build the offense around him. He'll also need to become a deadly three-point shooter to succeed and start covering multiple positions on defense. Of course, that won't happen over the course of his rookie season, but Ja Morant will have to improve steadily in order to be a success.
So, stop with the Russell Westbrook comparisons. Slapping such a label on Morant is unfair as he still needs to evolve his game. But, make no mistake. The Murray State Racers product is set to shine in the NBA – it's just a matter of how much time it will take.
Main Photo:
Embed from Getty Images