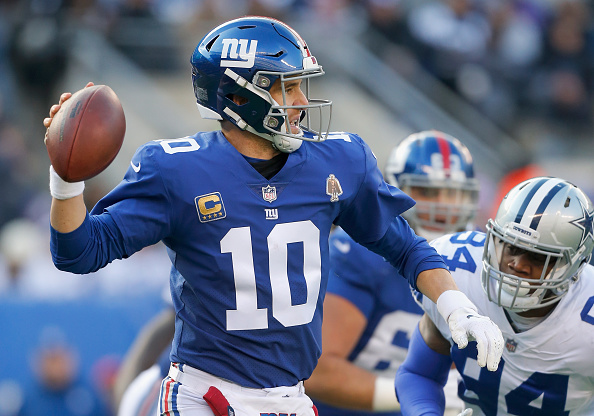 Ever since the 2011 Super Bowl championship, Eli Manning has taken significant credit for the downfall of the New York Giants. Fans believe he is starting to decline and is no longer capable of being a franchise quarterback. With the draft approaching, many fans want Ohio State's Dwayne Haskins to be the first pick for the Giants. While Manning isn't getting any older, he also isn't a bad quarterback. His stats are often overlooked and I believe a number of factors play into why Manning and the Giants have been so inconsistent the past seven seasons. The quarterback is always blamed when something goes wrong.
I have come to realize it's not Eli's fault the Giants are so inconsistent. The front office's lack of surrounding him with a quality offensive line and running game as well as a reliable defense are the real reasons why the Giants have had one winning season in seven years. Manning should take some of the heat, however, he is given way too much and Giants fans need to realize how great he's been given the circumstances he's played under.
Eli Manning Isn't the New York Giant's Big Problem
Running Back(wards)
The lack of a running game has been a real reason for the Giants inconsistency. Since 2012 the Giants have been ranked no better than 14th in total team rushing. This includes the 2018 season where Saquon Barkley took the league by storm winning Offensive Rookie of the Year. Barkley registered 1,307 yards and 11 touchdowns his first campaign. Despite his incredible season, the Giants finished 24th in the NFL in rushing. Before Barkley, the Giants failed to have a 1000-yard rusher since Ahmad Bradshaw in 2012. Players such as David Wilson, Peyton Hillis, and Orleans Darkwa were used but were never true feature backs. The Super Bowl Champion the past three seasons has finished in the top ten in team rushing each season. Running the ball will allow an offense to succeed much easier then purely relying on passing.
Eli has had two superstar running backs in his career in Tiki Barber and Barkley, and two very good ones in Jacobs and Bradshaw. He, unlike many quarterbacks who are considered all-time greats, has lacked a reliable back for many years. Drew Brees had Pierre Thomas and Mark Ingram, and the New England Patriots can take any back and create a dominant committee. The NFL may be a passing league, but you still need to run the ball to succeed on offense and recently, the Giants have had a lackluster running game. The running game has been so poor besides Bradshaw and Barkley, no one since 2012 has even 800 rushing yards for the Giants in a single season.
Offensive Line That Offends me
Arguably the biggest factor in the Giants inconsistency has been the offensive line. Since 2012, Manning has been sacked 212 times and a total of 406 times in his career. That means 52% of his sacks have come in the past seven seasons alone. That is a serious problem. The Giants have been ranked 20th or worse as a unit by Pro Football Focus since 2013. They used five combinations alone by week ten of the 2018 season. The line has been extremely inconsistent since the David Diehl and Chris Snee unit seven seasons ago. Watching games you notice nearly every play, the line can't give Eli any time to throw and he has no choice but to get the ball out and risk an interception or dump it off to a back for five yards.
When you have under two seconds to get the ball out before a 300-pound defensive tackle is right in front of you coming full speed, I don't think any quarterback could succeed.
Fans criticize Manning for not going deep as much as most quarterbacks do, but it's not because he no longer has the arm, it's because he barely has time to take the snap and get the ball out before being pressured and/or hit. Watching Manning get pressured every other play, I don't think any quarterback could possibly be successful no matter how mobile or athletic you are. Even someone like Russell Wilson could only scramble for so long. The consensus is Eli is getting old and can't make all the throws, but unless you actually watch the games and realize how fast the pass rush gets behind the line you would disagree.
Defense Wins Championships, Let's Try Winning a Game
The Giants are known for their defense, with names such as Lawrence Taylor and Michael Strahan setting the foundation for the Big Blue style of play. However, since 2014, the Giants have been in the bottom five in total defense every year except 2016 when they put a lot into it. Since 2012, only Landon Collins has been an All-Pro selection. That year seems like a one year wonder since two of the three main pieces are already gone in Damon Harrison and Olivier Vernon.
Harrison was signed for 24 million dollars guaranteed which lasted two full seasons. Vernon was signed for 40.5 million guaranteed, and after 64 tackles in 2016 dropped to under 40 the past two seasons. Somehow with 37 tackles and seven sacks, he was selected for the Pro Bowl last season. For two players with a combined 76 million guaranteed cost, it's concerning they've been moved so soon. During the past few seasons, a consistent theme has been the defense's inability to make stops in crucial situations. Several missed tackles will turn a five-yard play into a 50-yard touchdown. This defense has some holes especially at linebacker, and unless this draft provides much-needed help it will continue to be below average at best.
Eli Hasn't Played as Bad as You Think
Statistically speaking, Manning hasn't been a horrible quarterback. He's thrown for 3,400 yards or more each season since 2012 and has three seasons with over 4,000. From the lack of a reliable running game and offensive line to having to frequently play from behind, Manning had to do it himself a lot more than he gets credit for. He's considered a gunslinger like Brett Favre who will throw into tight windows because he thinks he can make the throw. This will inevitably lead to bad decisions and interceptions. This can also lead to some of the most clutch and most accurate throws of all time such as the David Tyree helmet catch and the sideline grab by Mario Manningham. A combination of no run game and no offensive line means that Manning has no time to look downfield for a receiver.
The run game and offensive line play should be considered highly in the equation as to why Manning's numbers look so bad. Last season he had a career-high 66% completion percentage in what many fans believed was his worst year. The top-15 quarterbacks last season ranged from 66-74% completed passes. Eli finished 18th in front of league MVP Patrick Mahomes and right behind Tom Brady. Mahomes threw 50 touchdowns and everyone considers him the next superstar. The best quarterbacks complete around 70% of their passes, so the fact that Eli is almost there tells me that this isn't all on him.
In the Houston Texans game last season he completed a few deep balls. In the playoff game vs the Green Bay Packers in 2016 a few drops by Odell Beckham Jr. and Sterling Shepard were crucial. Manning can still play, he just needs some time and for the offence to be more than just Barkley.
Last Word
At the end of the day, the front office has to take the blame for the past few seasons. They have failed to address the offensive line and the only good draft picks in Weston Richburg and Justin Pugh are gone. Ereck Flowers was a disaster, and Will Hernandez is the only trustworthy lineman. Nate Solder was paid to be our left tackle, but the right side terrifies me. Besides Barkley, no other running back has had any sort of success.
I have finally realized that Eli doesn't deserve the blame, and Giants fans need to realize this and start appreciating him because he's played as well as you could given the circumstances. The fact that management failed to realize Manning isn't getting any younger and couldn't give him the proper protection and weapons is the real reason why Eli looks like he's done.
Image Credit:
Embed from Getty Images