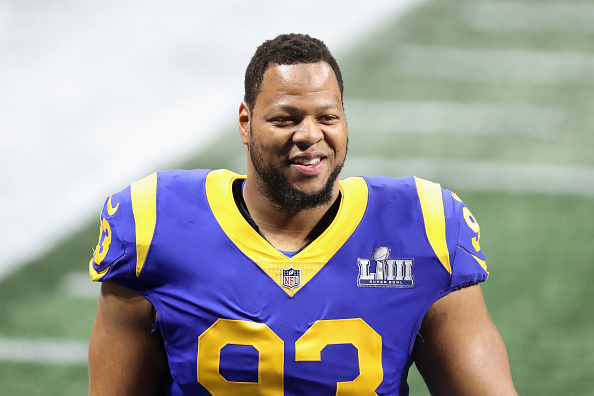 This year's NFL Free Agency period showed NFL fans some exciting moves for some of the league's top players. The Arizona Cardinals signed veteran outside linebacker Terrell Suggs. The Baltimore Ravens signed star running back Mark Ingram. The Jacksonville Jaguars made the biggest move with the signing of Nick Foles to a four-year, 88 million dollar contract. However, there are still some notable players that are still available in free agency.
Looking at Some Notable Players Still Available in Free Agency
Jay Ajayi could be a good fit for any team that's looking to add another strong running back to their roster. While Ajayi has shown in the past that he could be a team's number one running back, his production as of recently hasn't been high enough to show that.
His break out year was in 2016 when he played for the Miami Dolphins. Ajayi recorded 1,272 rushing yards and eight touchdowns and was named to the Pro Bowl team that year. Unfortunately, his next year his production dropped off quite a bit after only recording 873 yards and one touchdown. He hasn't been able to find his footing as a star running back since his career year in 2016, only having a chance to play in four games for the Eagles last year.
Ajayi has shown in the past that he can be a number one running back. However, due to inconsistent play, he would do better in a system with multiple running backs. Ajayi is only 26 years old and still has a lot of football left in him.
This one could perhaps be the most surprising free agent that hasn't been signed yet. Ndamukong Suh ranked 20th overall among interior defensive linemen according to Pro Football Focus. He had an overall grade of 82.6 and a run defense grade of 86.7, which ranked 13th among defensive linemen.
Suh was selected to four Pro Bowls and has been a First-Team All-Pro twice in his career. He was a menace last year with the Los Angeles Rams, where he recorded 4.5 sacks, 59 combined total tackles, and 19 quarterback hits. He has also been one of the most consistent players throughout his career and he's only 32 years old. It can be considered on the older end and in decline for some players. However, 37-year-old Cameron Wake just signed a big deal with the Tennessee Titans.
Suh would be a great asset for any team that is looking to bolster their interior defensive line. This has been something that he's shown throughout his career and really brought his talent out last year with the Rams.
Kelvin Benjamin hasn't been able to show a lot of production in the last few years of his career. However, Benjamin has shown that he has the tools and the ability to be a playmaker and a strong asset to any teams wide receiving core.
During his rookie year in Carolina, Benjamin was able to put up a 1,000-yard season with nine touchdowns. In 2016, Benjamin almost put up another 1,000-yard receiving season, with 941 receiving yards and seven touchdowns. Benjamin was then traded to the Buffalo Bills, where he worked with conservative quarterback Tyrod Taylor. Once Taylor was traded to the Cleveland Browns, Benjamin didn't seem to fit with the Buffalo Bills offense anymore.
Benjamin was expected to be a starting receiver with the Kansas City Chiefs, but the Chiefs only had him play in three games where he only caught two passes for 26 yards. It could have been because of the fact that the Chiefs already had playmakers Tyreek Hill, Kareem Hunt, and Travis Kelce. Benjamin didn't seem to fit in their offense as they had originally intended.
Benjamin has shown that he has the skills to be a star receiver on any team that can place him within the right system. His seasons in Carolina have been enough to show that.
Last Word
Even though there's still a lot of time left in the off-season, it's surprising that these players haven't been picked up by any team yet. These players still have the ability to be highly productive players and any team could benefit from these players. Where do you think some of these players could end up? What are some other notable free agents that are still available?
Main Photo:
Embed from Getty Images