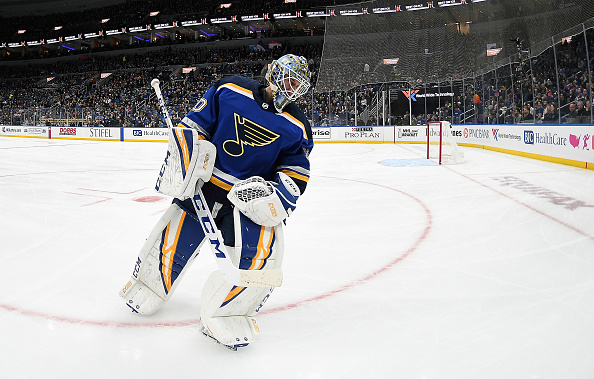 St. Louis Blues goaltender Jordan Binnington is taking the league by storm. He has received Rookie of the Month for the second time in two months. Binnington has proven that he can be a starting goaltender in this league and his numbers back it up. He might not be the only reason for the Blues turnaround but he is a big part of it. The St. Louis Blues are now in the 2019 Stanley Cup Playoffs.
Jordan Binnington Is Yet Again Rookie of the Month
A Look At The Numbers
Ever since Binnington has come into the league, he has lead this team and got the job done. The past two months have been great for Binnington and the two awards prove it. In the Month of February, he leads all goaltenders in wins as he posted an outstanding record of 10-1-0, with a 1.44 GAA (goals against average), a .945 SV% (save percentage), and four shutouts in 11 games. He had a nine-game winning streak that extended from January 23rd to February 19th. Binnington is the ninth rookie goaltender in NHL history to earn ten-plus wins in a month.
Binnington didn't stop as he continued his fantastic play to earn the award in the month of March. He went 6-3-0 while posting a 2.37 GAA and an SV% of .912. These numbers aren't like last months but they're still impressive for a goaltender who has been putting up unreal numbers. He allowed three or fewer goals in eight of his nine games in March. He won the award over guys like his own teammate Robert Thomas (4 goals, 8 assists, 12 points) and Ottawa Senators forward Brady Tkachuk (6 goals, 4 assists, 10 points).
His Overall Numbers
With the shootout win against the Colorado Avalanche on Monday, he tied Jake Allen for the Blues record for wins by a rookie with 22. Binnington leads the league in GAA at 1.85 and he is second in SV% with .928. His goals against average is the lowest by a rookie goaltender since the 1950s. This team has been through tough stretches and game after game he has proven why he is the starting goaltender. He also joins Vancouver Canucks forward Elias Petterson as the only two rookies to win the award twice in one season. He leads the league in almost every major category for goaltenders in the 2018-19 season.
Last Word
Jordan Binnington is clearly a strong candidate for Rookie of the Year and the only player standing in his way is Elias Petterson. If Binnington doesn't win it it's not necessarily a bad thing but it would be almost a crime to put him anywhere else but second in the voting. His strong play has propelled the St. Louis Blues from dead last in the NHL to clinching a playoff berth as a top three team in the division. If he brings something to this team that hasn't been brought to St. Louis in their 50+ year history, then he will undoubtedly be one of the best stories and will be one of the best rookies in NHL history.
Main Photo:
Embed from Getty Images