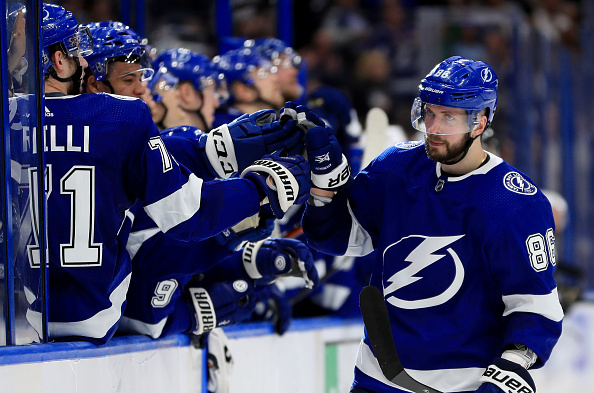 Lots of surprises have taken place during the season, which means these NHL awards should be nothing but unpredictable. Here are my choices for each NHL award. Note that I am staying awards that are given to players with the most points, most goals, etc. These awards listed below are not based on total points/goals/assists, although that may help. I will focus on what I believe to be the top awards in the NHL; Hart, Jack Adams, Calder Memorial, Selke, and Vezina trophies.
Who Wins What?
Hart Trophy
Meaning: MVP
Winner: RW Nikita Kucherov (Tampa Bay Lightning)
Nikita Kucherov is the definition of an MVP. He has totaled an astonishing 121 points so far this season. Not only has he had personal success, but he is on his way to leading the Lightning to yet another number one seed in the Eastern Conference. He averages just over 1.5 points per game and has one of the best shots in the NHL. He is looking to surpass the 40 goal mark for the second time in his young career. This will be Kucherov's third straight year finishing top five in total points. There is no question in my mind that he is the most valuable player to not only his team but the game of hockey as well. He's my pick for the Hart trophy.
Jack Adams
Meaning: Best Coach
Winner: Bill Peters (Calgary Flames)
Quite possibly the most crowded race is the Jack Adams award. There is no question that coaches such as Jon Cooper (TBL), Barry Trotz (NYI), and others deserve this honor as well. However, no coach in this league has impressed me as much as Bill Peters, the coach of the Calgary Flames. The Flames were projectedat the bottom of nearly every NHL preseason ranking done. They now stand first place atop the Pacific Division and look to lock up a playoff spot for just the third time in nearly 10 years. This is a very dangerous squad and Bill Peters is much to thank for that. With five 70 point scorers and four being under the age of 26, Peters has proven every critic in the book wrong. Bill Peters has turned this Flames team from a just over .500 team a year ago, to a powerhouse in the west. He's my pick for the Jack Adams.
Calder Memorial Trophy
Meaning: Rookie of the year
Winner: C Elias Pettersson (Vancouver Canucks)
This is yet another runaway race, as Elias Pettersson has become a fantastic contributor for the Vancouver Canucks. He has amassed 62 points and is looking for just three more goals to give himself a 30-goal season. He has a chance at cracking the top-50 for most points in a rookie season. If he can crack the 70-point mark, he would be nearly players like Patrick Kane and Eric Lindros who totaled just over 70 in their first season. Not bad company if you ask me. Pettersson has all the traits of a fantastic hockey player and he's using all of them this year. He should be a unanimous pick for the Calder Memorial Trophy.
Selke Trophy
Meaning: Best defensive forward
Winner: C Patrice Bergeron (Boston Bruins)
Nothing exemplifies defensive play from a forward quite like Patrice Bergeron. He has already won this award four times and I believe he makes it five this year. Arguably robbed of this award last year, Bergeron has always been thought of as the best faceoff/defensive forward in the game. Since 2014 only Anze Kopitar has beaten Bergy in the Selke race. I don't see that happening this year. Bergeron has a CORSI of 57.1 at even strength, meaning that his team controls the puck 57.1% of the time when he's on the ice. That is attributed to his great faceoff and defensive skills. He sits atop the Bruins first line penalty kill for good reason and has brought the Bruins to the top ten in penalty kill percentage. He not only leads this Bruins team off the ice, but he is a fantastic example for young guys on the Bruins squad. His stickwork is some of the greatest we've seen in this game and that hasn't changed since he first entered this league. He is my pick for the Selke Trophy in 2018-19.
Vezina Trophy
Meaning: Best goalie
Winner: G Andrei Vasilevskiy (Tampa Bay Lightning)
The Tampa Bay Lightning are having one of their greatest seasons in franchise history, and you must credit goalie Andrei Vasilevskiy for making that possible. He currently sits at a .927 save percentage and a mere 2.36 goals against average. Not to mention he sits at an astonishing 37-9-4 record. Vasilevskiy has been lights out all year and is someone who I feel sits alone in this race. It all starts from the backend and there isn't anyone I would rather have back there for my team than Vasilevskiy this season. Don't get me wrong, guys like Tuukka Rask, Ben Bishop, and Robin Lehner have all played outstanding in net. But I view team success as something that directly stems from the goaltending and no team could compete with the Lightning all season. Andrei Vasilevskiy will win his first ever Vezina Trophy this year.
Last Word
These are just a handful of the awards that will be given out a the end of the year. These players/coaches listed above have had major impacts on both their teams and the NHL itself. All of them should continue to see success in the future. The NHL is so unpredictable and that's what makes this league fun. Did anyone expect Calgary to finish as the first seed in the Pacific? No, but Bill Peters and his team decided to prove everyone wrong. Did anyone see Nikita Kucherov putting up 120+ points? Absolutely not, but he wanted that MVP tag. This season we have seen breakout players, fantastic rookies, and some top talent in this league stand out. Any player who receives one of these awards should feel honored because not only did they deserve it, but they earned it.
Main Photo:
Embed from Getty Images