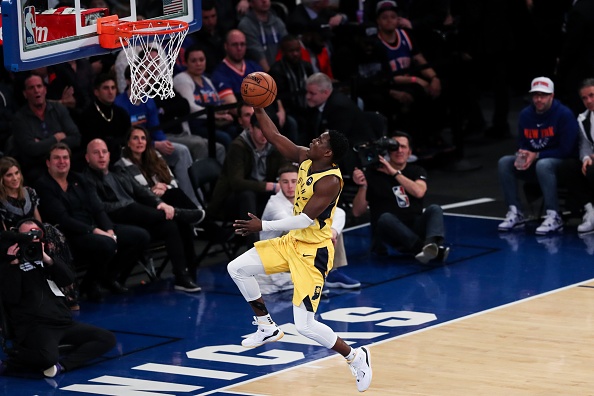 There are multiple NBA teams exceeding expectations set by viewers and critics. In this article, I will be mentioning the teams that I believe are surprising everyone this year. There are a few teams from each conference. In brief, they are teams that have been in the playoff conversation that normally aren't. More so all these teams in their respective conference standings are sporadically placed. In the Western Conference, it's more difficult because it's the tougher division.
NBA Teams Who Have Exceeded Expectations in 2019
Eastern Conference
In the Eastern conference, there are a few teams with bright futures. Even so, there are teams sitting where they are at without there All-Star caliber player(s). Not only are there teams who have exceeded expectations, but there are also players as well who have, whether on a playoff team or not. Hence, why quite a few teams have bright futures. In the Eastern Conference, there are two teams this season that seem to be surprising everyone. These two teams are the Indiana Pacers and Brooklyn Nets. Then in the Western Conference, the two surprise teams are the Denver Nuggets and Sacramento Kings.
Playoff Bound
Currently, the Pacers are fourth in the East and have clinched the playoffs. Their All-Star player Victor Oladipo is one of the reasons they are this high in the standings. Oladipo was injured in January with a leg injury, according to an article by CBS Sports. He has missed half the season. After the All-Star break, many critics expected the Pacers to behind fourth place or lower in the standings. One move that helped them is they acquired Wesley Matthews during the season.
Our ticket is punched for the postseason.#GoldDontQuit pic.twitter.com/MItnXRKPkQ

— Indiana Pacers (@Pacers) March 23, 2019
They still have a chance to plunge low or rise in the standings and are unstoppable at home, yet struggle on the road. They are 20-9 at home according to nba.com and 17-19 on the road. If they expect to advance in the playoffs without Oladipo they will want to earn home-court advantage.
Expect the Unexpected
D'Angelo Russell and the Brooklyn Nets have exceeded expectations from everyone by far. Except probably their own. They have not been to the playoffs since Kevin Garnett and Paul Pierce joined the team. Russell and the Nets are on their way to the playoffs. If they aren't a threat this year in the post-season they will be next season if everyone stays. Furthermore, they have defeated many playoff contending teams and have come back from large deficits as well to win games. Coach Atkinson in this tweet explains how the veteran leadership on this teams has made an impact on the team and season. These players include DeMarre Carroll, Allen Crabbe, Ed Davis, Shabazz Napier, and Jared Dudley.
🎥 Coach Atkinson on the impact the vets are making this season: "They hold all of our young guys accountable…they help our collective IQ, maturity." pic.twitter.com/GinsoISJfY

— Brooklyn Nets (@BrooklynNets) March 24, 2019
They have been rebuilding for a few years and now their development is being displayed this year in their games. They average about 111 points scored against them as well as how much they score. Hence, why many of their games are close. Also, they average 46 rebounds 24 assists per game according to nba.com. More so they have a winning record at home compared to on the road. They are a team that could surprise everyone in the playoffs if they hold on to make it.
First Place in the West
Denver is first in the Western Conference Standings. They are keeping pace with the defending champions the Golden State Warriors. It doesn't matter where they play they are dominant and are a showing why they are a favorite to win it all. They were one of the first teams to defeat the Warriors this season. They hold their opponents to 106 points per game which is six less than how much they score on average per game. Furthermore, they average about 47 rebounds and 28 assists according to nba.com.
The Denver Nuggets are back in the playoffs for the first time since 2013! pic.twitter.com/M1zO3gf9Cw

— NBA on ESPN (@ESPNNBA) March 19, 2019
Denver is a team full of young players who are athletic, talented, and hungry to win it all. Additionally, they acquired veteran Paul Millsap last year who missed some of the season due to a wrist injury according to nba.com. This year Milsap has been able to display his leadership and playoff experience to this young team. It has been ten years since the Nuggets made the playoffs. Not only is their post-season absence over; they have a chance to make it to the NBA Finals and win. They have a chance to win because they have depth on their roster and all the players understand what it takes to win.
Sacramento Kings Have Tremendous Upside
This team was in the playoff conversation all year long after having a rough season last year. The Sacramento Kings can consider this season a success especially if they end the season with a winning record. In a few games, they lost they kept it close losing by five points or less. They are another team at home who win more than they lose. Games played away from home are a different story. They average about 114 points per game according to nba.com and allow that many points as well. Also, they average 46 rebounds and 26 assists per game.
https://twitter.com/SacramentoKings/status/1109243366011822081
The Kings are a team who have tremendous upside. For one, they are one of the quickest teams in the league, are young, and can only improve. Additionally, the more they keep improving perhaps they can attract one or multiple star caliber players. If not then they can make the playoffs and eventually the finals as a young team with a core which to them would probably make the journey much sweeter. This season they acquired Corey Brewer and Harrison Barnes amongst a few other players via trade and waivers.
Overcoming Adversity
Denver has proven why they are NBA Finals contenders. Indiana has overcome the loss of their injured All-Star Victor Oladipo and have managed to clinch a playoff spot with his absence. Brooklyn has proven everyone wrong as a young team even eliminating the Los Angeles Lakers from the post-season. Sacramento has turned around their basketball program in a year, showing us that being patient works out in the long-term. These are my four teams who have been surprising everyone all year long.
Concluding Remarks
These are four teams who have exceeded expectations and have a bright future ahead of them. All season long these teams were in the conversation of playoffs. Brooklyn and Sacramento have yet to make the playoffs. Whether they do or don't they should consider their seasons a success. All four teams are young and have tremendous upside. They have each faced their own tests and all have responded differently.
Main Photo:
Embed from Getty Images