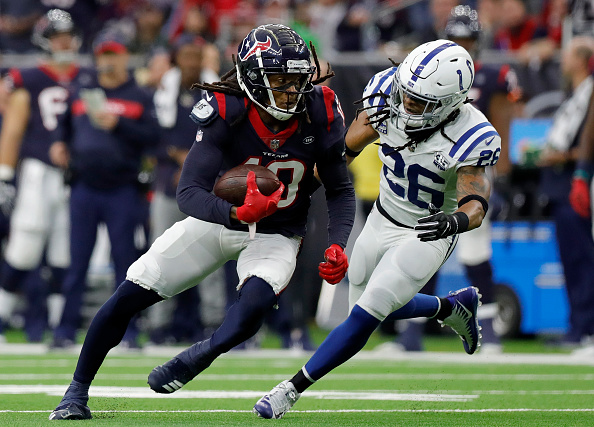 The 2013 NFL draft is an interesting draft. In hindsight, there's a lot of players who never reached their potential and many who rose above their expectations. Knowing this information on draft night would have changed things dramatically. Here is a re-draft of the 2013 NFL draft.
2013 NFL Draft Re-Draft:
1. Kansas City Chiefs: DeAndre Hopkins WR, Clemson:
The Chiefs select the top offensive weapon available first overall. The Chiefs found success in 2013 after drafting Eric Fisher. Despite this, Deandre Hopkins could have put this offense over the top.
2. Jacksonville Jaguars: Lane Johnson OT, Oklahoma:
The Jaguars missed on Luke Joeckel in 2013. The Eagles got the best tackle in the draft two picks later so this time Jacksonville gets it right. Joeckel only played five games his rookie season while Lane Johnson started all 16 games in Philadelphia.
3. Miami Dolphins: Tyrann Mathieu S, LSU:
The Dolphins took a chance on Dion Jordan third overall in 2013. Jordan never got into form in Miami and is considered a bust by many. This time they improve the secondary with Tyrann Mathieu. Getting a top safety is much better than a below average pass rusher.
4. Philadelphia Eagles: Xavier Rhodes CB, Florida State:
Philadelphia may have lost out on Lane Johnson this time, but their consolation prize is fantastic. Xavier Rhodes is one of the best corner backs in the entire NFL and he lands with the Eagles now. The 25th overall selection goes 4th in the re-draft.
5. Detroit Lions: Darius Slay CB, Mississippi State:
Darius Slay stays with the team that drafted him, but the round he got drafted in changes. Detroit got Slay for a steal in the second round, but now they must use their fifth overall pick to keep him on the roster. They loose Ansah as a result, but they don't have him anymore in real life, which means it isn't a big loss.
6. Cleveland Browns: Le'Veon Bell RB, Michigan State:
Cleveland had a rough drafting ability from 2012-2016 and Barkevious Mingo in 2013 was no exception. In the re-draft, their offense gets immensely better with Le'Veon Bell. Bell is the third player in the new top six that was drafted outside the first round in the real 2013 NFL draft.
7. Arizona Cardinals: Travis Kelce TE, Cincinnati:
The trend continues with Travis Kelce going to Arizona. They took Jonathan Cooper originally, but Copper didn't last very long in Arizona, so Kelce is a much better option. Kelce is a major upgrade from the 215 yards and 2 touchdowns they got from Jim Dray in 2013.
8. St. Louis Rams: Keenan Allen WR, California:
The Rams stick with receiver in the re-draft, but instead of Tavon Austin they get Keenan Allen. Allen is a dominant number one receiver for the Chargers and now the Rams get that production for their offense.
9. New York Jets: Desmond Trufant CB, Washington:
Like the Rams, the Jets also stay with the same position. Instead of selecting Dee Milliner, the Jets take Desmond Trufant away from Atlanta. Trufant moves from 22nd overall to ninth. This move will help the Jets avoid decisions they may make down the road as well. Decisions such as Trumaine Johnson.
10. Tennessee Titans: Travis Frederick C, Wisconsin:
The Titans get the most dominant center in the last several seasons. Travis Frederick has been great for Dallas since his rookie season in 2013 and that high-level production goes to Tennessee in the re-draft.
11. San Diego Chargers: David Bakhtiari OT, Colorado:
The Chargers got DJ Fluker at this spot originally, but this time they get a different tackle. David Bakhtiari is an upgrade from Fluker and that makes the re-draft a positive for the Chargers roster.
12. Oakland Raiders: Zach Ertz TE, Stanford:
The Raiders have also had a rough time drafting in recent memory. This time they avoid selecting D.J. Hayden and select a dominant offensive weapon for their offense. It isn't gonna put them over the edge, but Zach Ertz is a fantastic player for Oakland in a very weak draft.
13. New York Jets: D.J. Swearinger S, South Carolina:
The Jets already got an upgrade in the secondary with Desmond Trufant, but that doesn't stop them from taking D.J. Swearinger at 13. The Jets lose Sheldon Richardson as a result, but defensive tackle was never really a huge need for them. Swearinger offers much more improvement.
14. Carolina Panthers: Jamie Collins LB, Southern Miss:
The Panthers had talent at linebacker in 2013, but they take best available here with Jamie Collins. A team can never have too many linebackers with the physicality that the position brings. Collins Kuechly, and Davis is a scary good linebacker group.
15. New Orleans Saints: Terron Armstead OT, Arkansas at Pine Bluff:
Terron Armstead lands with the Saints in the re-draft two rounds earlier than in the real draft. Armstead was a force on the Saints' offensive line his entire career. The Saints wouldn't want to lose that.
16. Buffalo Bills: Alec Ogletree LB, Georgia:
The Bills traded down in this draft which hurts them in this re-draft. Buffalo misses out on Keenan Allen, Desmond Trufant, or Travis Frederick at their original spot and instead get Alec Ogletree. Ogletree is still a much better than their real pick of E.J. Manuel.
17. Pittsburgh Steelers: Johnathan Hankins DT, Ohio State:
The Steelers needed help on the defensive interior in 2013 and in this re-draft they filled the need. Johnathan Hankins would have flourished in the Steelers' system and would have been a great pick at spot 17.
18. San Francisco 49ers: Robert Alford CB, Southeastern Louisiana:
The 49ers had a large need for a cornerback in 2013 and Robert Alford would have been the best choice at 18. Alford is a solid corner who would produce efficiently for the eighteenth choice in a weak draft.
19. New York Giants: Sheldon Richardson DE, Missouri:
The Giants pass rush in 2013, led by Justin Tuck, needed a partner for Tuck. They also needed to get younger on the edge. Introducing Sheldon Richardson to that group would have fixed both these issues.
20. Chicago Bears: Kyle Long OG, Oregon:
The Bears stick with Kyle Long who was effective for the Bears during his career. A solid piece to their interior offensive line, Long always seemed like a leader on the offense while in Chicago.
21. Cincinnati Bengals: Kawann Short DT, Purdue:
The Bengals needed interior defensive help badly in 2013. They had a solid edge rush group, but lacked talent inside. Geno Atkins was injured a lot in 2013 and Kawann Short would have filled in nicely and been a nice piece for their defensive line for a long time.
22. Atlanta Falcons: Ezekiel Ansah DE, BYU:
The Falcons edge rush needed help in 2013. Osi Umenyiora led their defense in sacks with 7.5, but at 32, they needed youth at the position. Ezekiel Ansah has been a solid player in the NFL so far. Injuries have held him back a bit, but in this re-draft Ansah gets to go to a new environment in Atlanta.
23. Minnesota Vikings: Robert Woods WR, USC:
Minnesota didn't have a very good passing offense in 2013. They didn't register a 1,000 yard receiver and the touchdown leader was Greg Jennings with four. Robert Woods would bring a new feel to the Vikings offense in 2013 and would have shown his skill set earlier in his career.
24. Indianapolis Colts: Star Lotulelei DT, Utah:
The Colts had a successful 2013 season. One spot they could have used was a defensive tackle. The group they had was aging and ineffective. Star Lotulelei would be a nice addition to their roster.
25. Minnesota Vikings: Datone Jones DT, UCLA:
The Vikings had three selections in this first round and they add to the group with a nice addition on defense with Datone Jones. They lose Cordarrelle Patterson as a result, but they still needed receivers after this draft so adding to their defense makes more sense here.
26. Green Bay Packers: Eric Fisher OT, Central Michigan:
The Packers don't get David Bakhtiari in this draft, so they need to address offensive line. The real 2013 first overall selection is still available and he goes to Green Bay at 26. Eric Fisher is still a nice piece for an offensive line, even if he fell 25 spots in this re-draft.
27. Houston Texans: Micah Hyde S, Iowa:
The Texans address their need of Safety with Micah Hyde. Originally drafted by Green Bay, Hyde is playing extremely well in Buffalo currently which makes him worthy of a first-round selection in this re-draft.
28. Denver Broncos: Kenny Vaccaro S, Texas:
Another team needing a safety, Denver gets Kenny Vaccaro. Vaccaro went in the top fifteen selections originally, but the talent from later rounds has pushed him to number 28 here. Denver is getting a solid player this late in the round.
29. Minnesota Vikings: Jordan Reed TE, Florida:
Minnesota has already addressed their passing offense with Robert Woods in this draft. Now, they get a significant upgrade at tight end and give their offense a clear number one option. Jordan Reed has suffered from injuries in his career, but when healthy, Reed is a dominant player.
30. St. Louis Rams: DJ Fluker OT, Alabama:
Adding a starting offensive lineman at pick 30 is always a solid move for a team. The Rams get Fluker here now that Alec Ogletree is unavailable. Fluker would easily start on the Rams 2013 offensive line.
31. Dallas Cowboys: Latavius Murray RB, UCF:
Dallas goes with the best available player at number 31 with Latavius Murray. Getting another weapon for their offense isn't a terrible move for the Cowboys so late in the round.
32. Baltimore Ravens: Jordan Poyer S, Oregon State:
Similar to his partner Micah Hyde, Jordan Poyer is another 2013 safety who had a career resurgence in Buffalo. Poyer has played outstanding football since joining the Bills and in this re-raft he helps the Ravens secondary improve.
Main Photo:
Embed from Getty Images