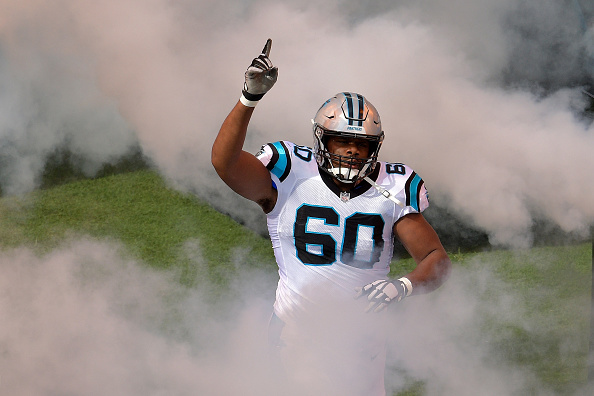 Carolina Panthers fans are reeling after just over one month of off-season moves. Any good, available prospects seem to have passed the organization by without them wasting a second look.
What Carolina has done, is make sure they are signing the right people, getting rid of the right people, to give them their best shots on offense. Let's grade the Panther's off-season moves so far.
Grading the Carolina Panthers Off-Season
Releasing Matt Kalil
Releasing Matt Kalil gets an A because it's something the team has needed to do for a couple of seasons now. Kalil has been riddled with injury and bad play–two things fans didn't think he should get paid $55 million for.
The reason it gets such a high grade is that this saves the team $5 million against the salary cap in 2019 and $9 million against the salary cap in 2020, according to Danny Jalliet, writer of Panthers' Fansided page Cat Crave. The cap space allows the team to put the focus on other areas. It may even get other players to help out on the offensive line.
Signing tackle Daryl Williams
Daryl Williams was a player fans weren't sure would be coming back and were surprised to hear that he was signed to a one-year deal, for about $6 million according to Charlotte Observer's Jordan Rodrigue. The deal was only signed for one year as a tryout; a way to see if Williams will play the same way he did in 2017. This signing gets a B+.
In 2017, Williams started at right tackle for the Panthers earning himself second-team-All-Pro honors that year. Getting hurt in 2018 put a halt on his career and may have been what pushed him to come back to the Panthers. Having Williams for one more year is something good for both he and the team.
Signing center Matt Paradis
Before coming to the Carolinas, Matt Paradis was the starting center for the Denver Broncos. He's a solid pick up but he suffered a broken fibula midway through last season which leaves the Panthers concerned. Still, they signed the center to a three-year, $29,030,000 million contract, according to Spotrac.
Paradis is 29 years old which means he should have about three to four good years left in his career. The Panthers securing him for that allotted time gives them a guy with experience and also keeps Tyler Larsen around as the solid number two. Larsen could have been the starter but doesn't have as much experience as Paradis. For this reason, I give the Paradis signing a B-.
Signing quarterback Taylor Heinicke
Tyler Heinicke signs a one-year deal worth $805,000 as of March 12, according to spotrac. He's under contract with Kyle Allen, who's already signed with the Panthers. Newton may not play in 2019 which is why they decided to sign both quarterbacks. Let Newton rest a year and give the team time to evaluate two guys for the number two behind him.
Heinicke's season was cut short by injury last season. He's been given an extended amount of time to prove himself. It will be interesting to see what role he assumes this season. This signing gets a C+.
Last Word
The off-season hasn't been what fans thought it would be but has certainly been what this team needed. From signing offensive line help to adding quality guys to the defense, the Panthers have made it clear that they are committed to making the team better.
Stay tuned to the draft April 27- April 29 to see what else the Panthers have in store for the guys.
Main Photo:
Embed from Getty Images