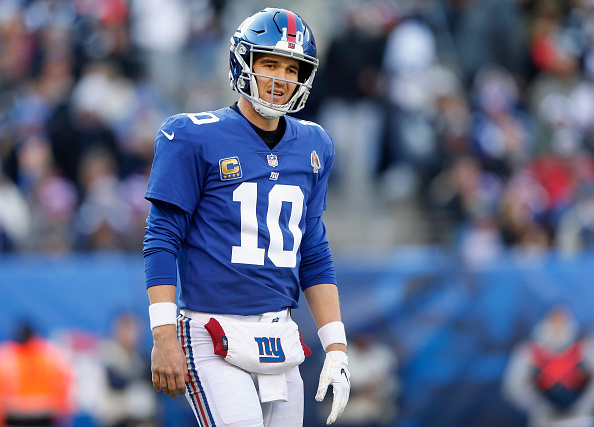 Whether they're tanking or not, these are the few things that the New York Giants absolutely must do to call this off-season a success.
Crucial New York Giants Needs Remaining This Off-Season
1. Trade for Josh Rosen
I get it, a lot of people don't want to do this. Josh Rosen had a rough rookie season. But during the draft process, he was seen as the most pro-ready of all rookies. He played behind a turnstile at offensive line. His offense wasn't made for his playing style or the weapons he had around him. But he looked like he had the tools to be the next great quarterback. He could also come cheap, and using a third or fourth round pick on him would greatly endear him to the mass populace of Giants fans.
2. Restructure Eli Manning's Contract
This one is not so easily done. You would need to convince the best quarterback in the history of the franchise to take a massive pay cut. Manning is due a ridiculous 23.2 million for one season, which is more than Golden Tate is guaranteed in his next four seasons. For a quarterback of his age and talents, this seems a bit absurd. A possible solution, besides for cutting him, would be to restructure his deal to include more incentive-based paydays. The Giants could get a guideline from what the Denver Broncos did with his older brother, Peyton Manning. Instead of getting all that money regardless, he could have a smaller deal guaranteed and then earn more money the better he plays. This opens up more cap flexibility for the Giants organization. Especially in a year where fans are clamoring for more.
3. Find a New Right Tackle
This has been a need for the Giants that has been long overdue. Gone is Ereck Flowers, a name that most fans would rather forget. This leaves a gaping hole in our offensive line that the Giants must restore, through free agency or the draft. Some remaining free agents to look at are Mike Remmers and Donald Penn. Remmers, who went to a Super Bowl with the Carolina Panthers in 2015, is a versatile player who can play almost anywhere along the line. Penn was a stalwart presence on the Oakland Raiders offensive line for the past few years and earned Pro Bowl honors thrice in his career. Players like Dalton Risner, Greg Little, and Cody Ford are all players that could be good value in the second or third round. All of them have their strengths and weaknesses but have shown that they could be quality starters on a team.
4. Draft Defense, Defense, Defense
Defense wins championships. Everyone knows this. Unfortunately, the Giants don't have one right now. After losing Landon Collins and Olivier Vernon this offseason, the Giants don't have a defensive superstar. They boosted their defense with the additions of Markus Golden and Jabrill Peppers, but the draft this year is stockpiled with defensive talents. They have two first round picks and could look at LSU's Devin White and Kentucky's Josh Allen. The secondary can also use a boost, with the Giants looking to 2018 supplementary draft pick Sam Beal for expertise at that position. They absolutely need another interior presence to go with rising stars Dalvin Tomlinson and B.J. Hill. The New England Patriots have proved countless times that pressure on the quarterback can help win the Super Bowl.
5. Add a Speedy Outside Receiver
After losing Odell Beckham Jr. to the Cleveland Browns, the Giants lost one of their biggest playmakers and best outside threat. They tried to replace him with the Tate signing, but that was just a filler. There are a couple of free agents left that can fulfill this position, such as Randall Cobb and Aldrick Robinson. Cobb was a reliable member of the Green Bay Packers offense and was one of quarterback Aaron Rodgers' favorite targets. Robinson has been floating around the league, playing for a couple of different teams, but was always a reliable outside threat. The draft also has some late-round speed talent, like the two receivers with the fastest 40 Yard Dash time in UMass's Andy Isabella and Ohio State's Parris Campbell. 
Last Word
To sum this up, the G-Men have 12 picks in this draft. They have room on their team for free agents. And after a couple of questionable moves, they have a fanbase that is hungry for something big to happen. If Dave Gettleman doesn't make at least three of the above moves, his job security can and will come into question.
Main Photo:
Embed from Getty Images