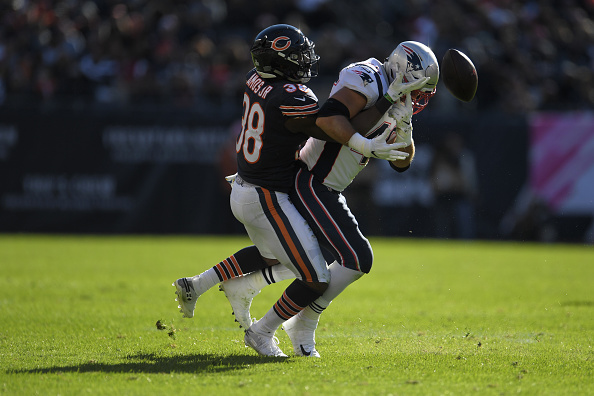 No, this is not a joke. The Green Bay Packers spent big in free agency. The Packers went out in free agency and picked up four players, three of which are big signings. They picked up two pass rushers they needed in Za'Darius Smith and Preston Smith. They also picked up a safety in Adrian Amos and versatile offensive lineman Billy Turner. We don't know if they're done in free agency but the moves so far that they made have been excellent for this team.
Packers Free Agent Signings of 2019
Billy Turner, OL
Versatile offensive lineman Billy Turner was signed by the Packers for a four-year, $28 million contract on Tuesday. Turner isn't a big name around the NFL but can certainly do his job when called upon and fills a position of need for the Packers. The 27-year-old played for the Denver Broncos last season where he played in all 16 games and started 11 of them. He is a versatile player that can play almost anywhere on the line. Turner is best known for the run blocking, creating big lanes for his running backs which will help the run game a lot which is what the Packers have been needing for a while.
Za'Darius Smith, LB
The signed linebacker Za'Darius Smith to a four-year, $66 million contract. The Packers have invested a lot of money on a player that had a breakout year last year with the Baltimore Ravens providing 8.5 sacks, 45 combined tackles, and 25 quarterback hits. The soon to be fifth-year vet has played 12+ games in each of his four seasons. He has the agility and by looking at his stats, he can get to the quarterback. He will prove as a much-needed pass rusher and provide a strong presence inside for the Packers.
Preston Smith, LB
Linebacker Preston Smith signed a four-year, $52 million deal with the Packers. Another big deal for the Packers at a position of need. Smith's name is the biggest of the four free agents they signed and he has proven to be worth the contract year in and year out. He has played all 16 games in each of his four years with the Washington Redskins. He hasn't had double digit sacks yet but he has created a lot of pressure and turnovers over his career. He had had 30 or more combined sacks in each of his seasons and 20 or more solo tackles each year. His pressure rate last season was more than some of the best pass rushers in the game. He lined up with Za'Darius Smith will certainly give apposing qbs trouble.
Adrian Amos, S
Adrian Amos was an enemy for many years playing for the Chicago Bears for four seasons but now he is a Green Bay Packer and fans are glad to have him. He signed a four-year, $37 million deal with the rival Packers. Although he isn't the flashiest safety in the game, he can certainly bring what they need. He has played 12+ games each of his four seasons. He has had 60+ combined tackles in each of his seasons. He has only had three interceptions in his career but has had a lot of pass breakups. Amos is a big upgrade from what they had a year ago in Kentrell Brice. He has been a top 10 safety in the NFL according to Pro Football Focus. Amos pared in that backfield with the uprising talent has certainly made that backfield better.
Last Word
These signings the Packers made are significant for the team and the defense who has been struggling in years past. These are not signings that guarantee a Super Bowl but it certainly can get them into the conversation if the rest of the team lives up to expectations.
Main Photo:
Embed from Getty Images