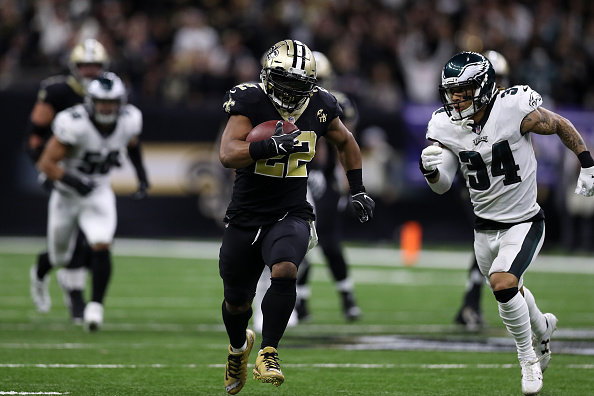 This week, the NFL begins their official start of the 2019 NFL free agency. Teams have already begun using franchise tags to secure the players they are wanting to keep apart of their future. There are many players that are key free agents who are either looking to prove their worth in the league or looking for a financial boost based on their previous input on past seasons.
Teams for Mark Ingram to Potentially End His Career With
Not often are teams going to sign a nearly 30-year old running back, who might be on the decline of their career. New Orleans Saints running back Mark Ingram Jr. is no ordinary running back. Despite being a player where he has split reps all throughout his career, Ingram has shown to be a huge impact while playing for the Saints.
Ingram still has incredible speed and athleticism as he approaches an age where running backs start to deteriorate. In the 2017 NFL season, he rushed for 1,1124 yards and 12 touchdowns on 230 carries. This was the year when then-rookie Alvin Kamara exploded on the scene for New Orleans and become a diverse flex player. Last season, Ingram was suspended for four games as he played in 12 games and started 6 of them. In 138 carries (60% fewer snaps than 2017), Ingram rushed for 645 yards (57% of 2017) and six touchdowns. This shows that he still has the level of impact in the running game as the Saints are looking to get even more explosive on offense. The Saints finished the 2018-2019 NFL season ranked eighth in the league in total yards per game (379.2).
Baltimore Ravens
One of the teams where their biggest need is the running back position are the Baltimore Ravens. The Raven used to have the strongest rushing game within the past few seasons due to their devotion to the run game and the lack of elite passing game. Midway throughway the season, the Ravens turned into a run-orientated option offense with rookie quarterback Lamar Jackson as their starter. Their main rusher in Alex Collins broke his foot as well. To make matters worse for Baltimore, they had to release Collins due to his arrest. Ingram can bring his impact in the running game and his leadership that wide receiver Michael Crabtree and quarterback Joe Flacco couldn't be.
Indianapolis Colts
The Indianapolis Colts have made significant improvements to get themselves to become a playoff-worthy team. One key factor of need that remains since Andrew Luck's rookie season is the running back position. Last season, the Colts were 20th in the nation in rushing yards per game (107.4). This was due to the combined talent of the interior offensive line of center Ryan Kelly and guards Mark Glowinski and Mike McGlinchey. Adding a talented, veteran running back like Ingram will create an impact on an offense that lacks run support and provide coverage in the passing game. Ingram will also help the Colts become a more consistent team as they play in one of the toughest divisions in the NFL in the AFC South.

Philadelphia Eagles
The Philadelphia Eagles suffered a huge hangover from their Super Bowl LII victory in 2018. The Eagles took a hit on the offensive line, with another injury to quarterback Carson Wentz, and in the running game. Even with running back Jay Ajayi, Corey Clement, and Josh Adams, the Eagles' offense ranked 28th in the league in rushing yards per game (98.1) and 30th in rushing yards per rushing attempt (3.9). Ajayi only played in four regular season games until he suffered an ACL tear. He is now a free agent. Clement and Adams never became the star rushers like head coach Doug Peterson wanted them to be. Adding a veteran like Ingram will make the Eagles' offense more efficient and give less pressure from Wentz.
San Francisco 49ers
After missing out on Pittsburgh Steelers wide receiver Antonio Brown, the 49ers are looking to add more veteran offensive talent. Quarterback Jimmy Garoppolo is the only player on the 49ers offense that has any sort of success on a Super Bowl contending team. Last season, the 49ers only accounted for seven total rushing touchdowns, which is tied for second-lowest in the league. In the 2017 NFL season, Ingram accounted for 12 total touchdowns. Ingram can provide serious offensive production to an offense that lacks talent and overall production. San Francisco has enough in their cap space to make Ingram happy financially and make one of the key faces of their franchise.
New Orleans Saints
The New Orleans Saints are the team that will likely acquire Ingram when the 2019 NFL free agency starts on Wednesday. The Saints do have the cap to get Ingram his money as well as resign star wide receiver Michael Thomas a huge contract extension. They also have the emotional connection and experiences with Ingram for eight seasons. Ingram is the Saints' all-time touchdown leader with 50 total touchdowns accounted for. He is also only 79-yards behind former Saints running back Deuce McAllister for the title of the all-time career franchise rushing yards leader. Ingram does want to become the career rushing leader for the Saints when he retires. Ingram has stated that he wants to return to the Saints. He also said he will not accept anything less than $5 million a year.
If the Saints resign Ingram, he will provide more consistent yardage and offensive production in the rushing game. Last season, the Saints were ranked sixth in the league in rushing yards per game (126.6). The Saints were first in the league last season in rushing touchdowns accounted for with 26 touchdowns. They do have areas to address as they were 17th in the league in rushing yards per rushing attempt (4.3). The Saints and Ingram could possibly have a final contract for a few seasons with Ingram still having steam being near 30-years old. New Orleans would resign their offensive veteran, a key voice in the locker, and mentor to Kamara. Ingram would receive his money, become the Saints top franchise running back, and get another attempt for a Super Bowl title.
Main Photo:
Embed from Getty Images