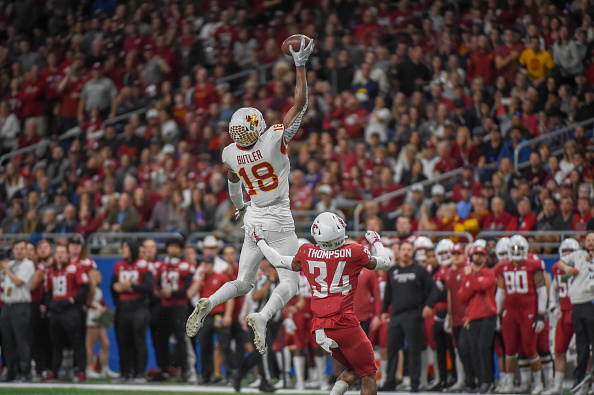 Now that the NFL combine is over, there were some clear winners that everyone is talking about including D.K. Metcalf, wide receiver from Mississippi State and Montez Sweat, the defensive end from Mississippi State for example. But what about some of the other names that performed very well at the Combine and maybe aren't getting as much attention? Here, we'll look at Hakeem Butler, the 6' 6", 225-pound wide receiver from Iowa State.
Hakeem Butler: The Versatile Iowa State Wide Receiver
The Statistics
Butler put up a monster season in his junior year at Iowa State, with 60 receptions, 1,318 receiving yards, and nine touchdowns. From his highlight reel, Butler showcased his abilities to catch in traffic, be versatile in the routes that he can run, and his ability to break tackles and get yards after the catch.
In Iowa State's Valero Alamo Bowl game versus Washington State, Butler put up 192 receiving yards with nine receptions. Another big game for Butler was Iowa State's game versus Kansas, where Butler put up 164 receiving yards and two touchdowns.
NFL Draft Analyst Tom Downey, evaluated some of the bigger names of wide receivers that were at the combine, and puts them in a certain percentile based on their stats in the following categories: 20-yard shuttle, three-cone drill, bench press, height, weight, wingspan, arm length, hand size, 40-yard dash, vertical jump, and broad jump. In terms of this evaluation, Butler seemed to match up pretty evenly with Metcalf and sporting a more well-rounded batch of combine stats, measuring very well in terms of wingspan, arm length, hand size, etc, all stats being at least in the 80-98th percentile of wide receivers.
To further the point that Butler is a versatile wide receiver, Butler put up strong numbers both as a deep threat and a slot receiver in 2018. He was ranked No. 1 in the nation in terms of deep passing receptions (19) and deep passing yards (721). In terms of slot yards, he ranked 24th with 573 receiving yards. PFF gave Butler a grade of 82 overall, a grade of 82.2 in receiving, and also a grade of 75.6 in terms of run blocking, one of the stronger receivers in this class in terms of run blocking.
While Butler shows a lot of positives, the biggest downfall of Butler is his drop rate. He had a total of 17 dropped passes in his four-year career, and 12 dropped passes alone last season and a drop rate of 16.7%, which ranked him 157th in the league last year. If this is something that he can work on and adjust, Butler could be a dangerous receiver in the NFL.
What His Future Could Look Like
Who could we see drafting a receiver like Butler? The Washington Redskins, a team that ranked 29th in terms of total receiving yards in 2018, could use a strong receiver. With the departure of Jamison Crowder, Butler is a strong receiver that could be a huge asset to this team due to his versatility and production. The Carolina Panthers could also be a potential team to draft a receiver. Kelvin Benjamin and Devin Funchess only combined for 929 receiving yards and five touchdowns in 2018. Adding a 6' 6" receiver like Butler could be another tall, versatile receiver that could pair well with Cam Newton.
Last Word
Hakeem Butler could potentially be the next stand out receiver in the league. He probably won't end up a first round pick, but he could go early into the second round to a team looking to bolster their wide receiving core. How did you rate him with his Combine performance? Where could you see him ending up after the NFL Draft?
Main Photo:
Embed from Getty Images