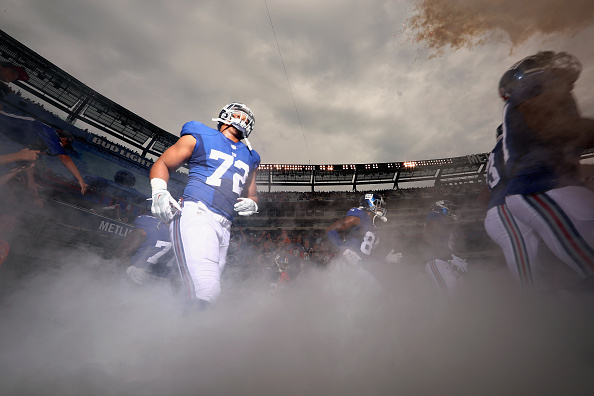 Defensive end Kerry Wynn has been a valuable part of the New York Giants' defense since being signed as an undrafted rookie free agent out of the University of Richmond back in 2014. In five years Wynn has played in 63 games with 15 starts. Throughout his NFL career, Wynn has accumulated 131 tackles, 4.5 sacks, and 2 forced fumbles. This is the third time Wynn has been a free agent in his five-year career.
The New York Giants Should Re-sign Kerry Wynn
Wynn's Production In 2018
Wynn was one of the few bright spots on an underperforming Giants defense in 2018. He collected 39 tackles, along with 1.5 sacks and two forced fumbles. For a guy that signed a one-year deal worth $1.25 million last year, Wynn has performed well above his standards. On special teams, Wynn was on the field for 48% of plays. At 6-foot-5, 263 pounds he is often one of the first downfield on a punt or kickoff.
Wynn has been with the Giants all five years of his career. His teammates have also praised him and are amazed by his production. "People get scared of Kerry. They fear for their lives, so they give him everything they've got," Giants wide receiver and fellow special teams coverage contributor Russell Shepard said on the final day of the season. "He is the most athletic defensive end probably on all of (NFL) special teams."
The Patriots Have Recently Showed Interested In Wynn
The New England Patriots were interested in sign Wynn in 2017 when he was a restricted free agent back in 2017. He was tendered at the original-round/$1.797 million level, but as a UDFA carried no compensation if signed away. The Patriots chose not to match the tender price and Wynn signed back with the Giants.
Re-Signing Wynn Won't Be Easy
"The Giants defensive end and special teams standout is expected to have a much deeper market this year that should lead to a multi-year contract, according to a source familiar with the situation," wrote NJ.com's Ryan Dunleavy. "The market includes the Giants, who are interested in retaining the 28-year-old Wynn for more than just one year, the source said."
Last Word
Wynn is a versatile player who can play inside and outside in defensive coordinator James Bettcher's 3-4 defensive scheme. Re-signing him won't be easy as he is slated to be a free agent on March 13. Judging by his productivity this past year, the Giants would be wise to re-sign Wynn to multi-year deal soon.
Image Credit:
Embed from Getty Images