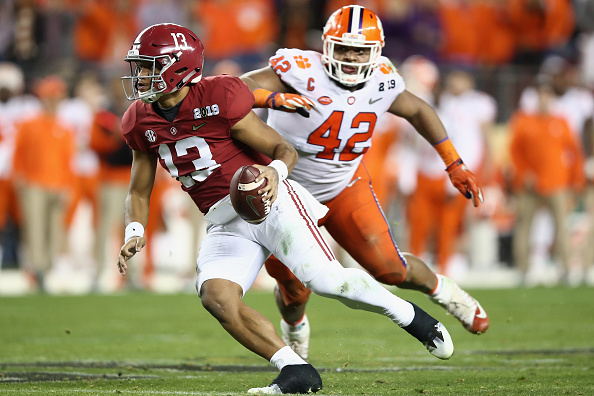 The 2018-19 season was not ideal for the Carolina Panthers. After starting out 6-2, the team lost seven straight, finishing 7-9. The NFL draft isn't until April, but let's look at some way-to-early potential draft picks.
Looking Forward to Carolina Panthers Off-Season
Offensive Line
The Panthers didn't pick any offensive line players in 2018. Not only that but they lost probably their most valuable player on that line when Ryan Kalil announced his retirement at the end of the season. Matt Kalil sustained a knee injury early on which prompted Carolina to go after offensive tackle, Chris Clark. This is good for the Panthers because his versatility allows him to play both the left and right side.
Although the Panthers should pick their offensive lineman early, they will probably wait until pick 77 or 108. If they can get a guy like Jonah Williams out of Alabama, they're getting a solid pick. He's not big in stature and doesn't have long arms like offensive linemen often do but mechanically he's sound at just about every aspect. He has good foot technique and can transition well with defensive ends. His only downfall is that where he sets up, leaves him vulnerable against explosive plays on the inside. Williams is considered a top draft prospect so Panthers might not get him but he would be a great addition.
Another good prospect for Carolina? Isaiah Prince out of Ohio State. He is a swing tackle but he requires a lot of work–something the Panthers have no problem with. He has a 6'7 frame and long arms which help to mask some of his weaknesses. The Draft Network marks Prince as an underachiever though, which could really hurt his draft stock. The last thing a coach wants to see is that a potential piece of their team underachieving.
The problem with both Williams and Prince is that they are both not very imposing. Williams' arms aren't long so it's harder for him. But with Prince, he has the size and the arm length. Prince has no grit. If Prince wants to make it in the league, he needs it.
Defensive End
Looking forward to the Carolina Panthers draft, another area desperately needing to be addressed is the defensive end position. Although they signed Efe Obada to a one-year extension to play in 2019, the Panthers also lost hall-of-fame defensive end, Julius Peppers who announced his retirement.
Of course, when it comes to defensive ends you want to look at players from Clemson and Alabama considering both teams were truly dominant in 2018, each making it to the College Football Playoffs of 2019.
I'd like to see the Panthers go after Dexter Lawrence or Christian Wilkins both, both from Clemson. Both made huge plays during their run, Wilkins edging Lawrence out with dominance and ability to get to the ball. I think Wilkins would be a great pick in the second round because of what I think he will bring to the Panthers defense. They already have some young guys out there, in the secondary for instance. If they can add a guy like Wilkins, they add someone who has already performed at a high level, that they can develop. The problem will be trying to get him before another team does. Maybe he's a player worth moving up for.
Quarterbacks
Kyle Allen did something no other Panthers quarterback did the second half of the season by beating the New Orleans Saints. Could he be the next number two behind Cam Newton? That remains to be seen.
Another possible candidate that everyone is talking about is Colin Kaepernick. He's had his share of controversy in the league but his 12,271 yards, 72 touchdowns and 1,011 completions over his career paint a good picture of what he could be in Carolina. It's a long shot but the Panthers are also known for signing people regardless of their controversial histories.
Free agency isn't the best place for the Panthers to look at for backups; most of the quarterbacks in this free agency are looking to become starters. If Carolina is looking though, they might consider Teddy Bridgewater. Allen beat Bridgewater in the last game of last season but he has the throwing mechanics that Newton lacks. If nothing else, they could bring him in to compete against Allen for that backup spot.
Cornerbacks/Safeties
Perhaps the biggest news in the Panthers camp this week are the releases of both Captain Munnerlyn and Mike Adams. Doing so puts the focus on the younger guys. Donte Jackson was a vital part of the defense with his four interceptions.
Carolina needs to add some vital young veteran pieces to help with the younger guys. Earl Thomas is the top defensive back available and he's a good age at 29. What's better is he won Super Bowl XLVIII so he has that experience. He suffered an injury last year though, so the Panthers need to consider that if they decide to sign him.
Are the Panthers ready to give Tyrann Mathieu a chance? He is only 25 and still has plenty of football left in him. Also, his ability to play multiple positions on defense would be good for the Panthers defense.
Wide Receivers
The Panthers are moving on from wide receiver, Devin Funchess, who had a rough go of it last season. Now, Carolina has some decisions to make.
David Tepper might be able to make a go at Antonio Brown. But are the Panthers ready for a diva? Because that's exactly what they'll get with Brown. They'll also get a receiver who already has over 11,000 yards in his career, 74 touchdowns and six consecutive seasons of 1,000 plus yards. If the Panthers can find the money to pay Brown, they would have a definite weapon for sure
Last Word
The Panthers have plenty of needs in the draft and plenty of decisions to make. Through free agency and the draft, let's see how they handle the team in an attempt to get what they need for the 2019 season.
Main Photo:
Embed from Getty Images