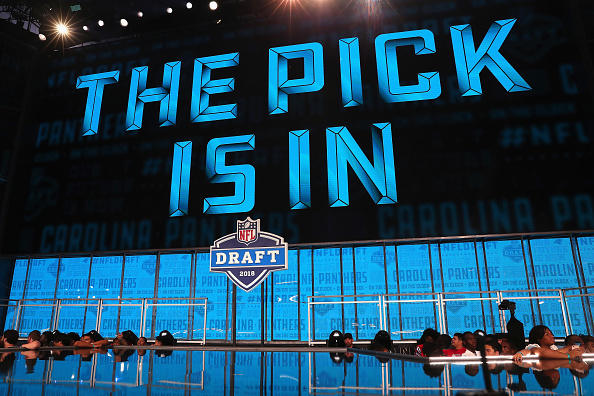 No question about it, the Carolina Panthers had a pretty decent draft. Looking across the major sports sites, including CBS Sports, you'll find that most of them gave the Panthers an A grade for their performance. So just what did the Panthers do? Let's take a look at the Carolina Panthers draft.
A Look at the 2018 Carolina Panthers Draft Class
Round One
The Panthers drafted Moore 24th overall but he was definitely the best wide receiver in the draft. He's fast, always finds a way to get open, and he's not afraid of going up against guys on defense.
One negative against him is that he could stand to gain 10 or so pounds. If he did that, it would probably make defending him that much harder. One thing is for sure, he's the best receiver to replace Steve Smith Sr. Just ask him.
Round Two
Ok, so Donte Jackson isn't the biggest cornerback we've seen, so it's going to be tough watching him against some of the big guys like Julio Jones. But what Jackson does have is speed. He ran a 4.3 40 in the combine which was fast for his position. I think speed is something the Panthers need in their secondary. Plus, it'll be good for competition having him out there. If he really wants to play opposite James Bradberry, he'll find a way.
Round Three
There are so many things to like about Gaulden. He's not as fast as Jackson, but he always seems to find himself around the ball. If a play was happening, he probably had something to do with it. He's a couple of inches taller than Jackson, standing at 6 feet so he has a better chance of posing the threat.
If speed is what the Panthers are looking for then Gaulden loses the battle, but they shouldn't sleep on his strength and pure football IQ in terms of ability to make plays.
Round Four
Ian Thomas is a good pick to sit behind Greg Olsen. He's four pounds heavier than the seven-year Panthers vet and two pounds so watch how he addresses the issue. In some cases, guys want to play with the size, while others slim down and tone up. If he wants to make it as a long-tenured tight end it would probably be best to try the latter.
What is in favor of Thomas' weight, is his blocking ability. He appears to be a more physical tight end so being heavier may help him. Still, he could stand to slim down some.
The thing about Haynes is that you can use him at either linebacker or defensive end. The Panthers are pretty set at the defensive end position so look for them to try to find other uses for him. I imagine Carolina might use him on special teams. He's another player who usually finds himself around the ball.
Round Five
Carter is at the ideal weight for a linebacker. His problem is I'm not sure how fast he is. Thomas Davis and Luke Kuechly are two of the fastest linebackers I've seen; they move quickly across the field. It's too soon to tell if Carter has what it takes to be a linebacker for the Panthers. A guy who stops the run, someone who is physical.
Round Seven
Smith is another player being considered for linebacker. He has about 13 more pounds than Carter which would normally be considered a good thing. It will all depend on how he responds to the team. Also, Smith had a season-ending knee injury that is significant to Carolina. Of course we know what players can come through with the help of this franchise, but are they sure they want to go through that again?
Norton was the Panthers last pick. What does this say about him? Nothing necessarily. He has the ability to make big plays and was instrumental in orchestrating one of the most explosive defenses last season. The question I have is how effective can he be? Does he have enough put him the mix with the other defensive tackles? But not only that, will he put in the work? Miami has produced some good players, but not all of them pan out.
Last Word
Overall, I'd say Carolina had a decent 2018 draft. I think picking up DJ Moore first at 24th is going to be beneficial to Newton's success. The rest of the Panthers' picks could use some maintenance, either losing or gaining weight. However, they all have something special that could add to Carolina's value for the 2018-19 season.
Main Photo: