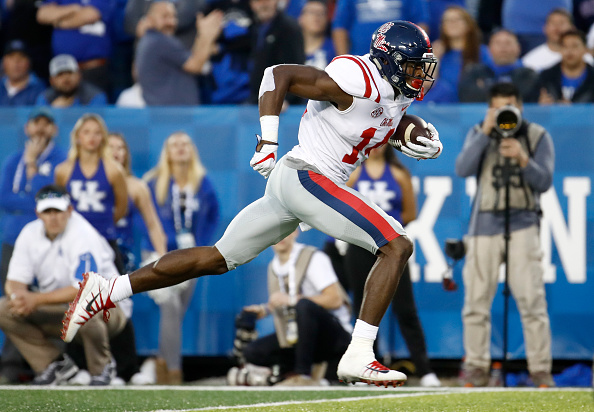 The NFL draft is approaching fast, and the Buffalo Bills are in a critical position to hit on their draft picks this off-season. If Buffalo acquires the right talent this off-season, they can find themselves competing in the AFC. With a deep draft class at multiple positions of need, Buffalo is in a good position heading into the 2019 NFL draft. Here is the seven-round Buffalo Bills full mock draft:
Bills Full Mock Draft
Round 1: D.K. Metcalf WR, Ole Miss
The Bills take D.K. Metcalf to give Josh Allen a proper number one option in the passing game. Metcalf will join Zay Jones and Robert Foster as the Bills' starting wide receivers. Buffalo needs to add to their receiving corps desperately. Although the draft is deep at receiver, getting who they deem to be the best of the class is important for their offense. Metcalf's size and ability to get open will help Josh Allen complete more passes in his sophomore season.
Round 2: Dalton Risner OT, Kansas State
Buffalo had trouble protecting the quarterback in 2018. They went through a number of quarterbacks throughout the year after injuries plagued the position. Improving the offensive line would help Buffalo avoid these problems in 2019. Dalton Risner is a talented prospect who improved his stock in the senior bowl. He could go in the first round, but the offensive tackle position is also deep in this draft. Risner has an impressive technique which makes up for his seemingly smaller frame.
Round 3: Julian Love CB, Notre Dame
It is tough to know if Julian Love will be available for Buffalo in round three, but if he is the decision to draft him is easy. Love is an impressive press corner who can help Buffalo's defense with depth at a position that lacks it. Love sticks to receivers with his ability to track a route as it's being ran. His speed is solid and he should become a respectable starter in the NFL.
Round 4: Lil'Jordan Humphrey WR, Texas
Lil'Jordan Humphrey is an intriguing prospect. He doesn't possess incredible athleticism, but he has great hands. He makes plays out of the slot as good as anyone. Buffalo needs major depth at the receiver position and taking two in the first four rounds is not out of the question. Humphrey is 6'4" and uses his size to make up for his lack of elite athleticism. Humphrey is a talent that could go anywhere in the draft outside of the first round, but the depth of his position will place him around the fourth round.
Round 4: Caleb Wilson TE, UCLA
Caleb Wilson is a reliable pass-catching tight end with very solid route running. After releasing Charles Clay, Buffalo is in the market for a tight end. The free agent tight ends are weak this off-season so Buffalo looking to the draft for a tight end makes sense. Wilson needs to improve his blocking to become a well-rounded player, but he can make plays in the passing game right away.
Elijah Holyfield is the latest Georgia running back to enter the NFL. Elijah could have returned to school and played on an impressive Georgia offense to help raise his stock but decided to enter the draft off his 1,000-yard season and the recent success of Georgia running backs in the NFL. Holyfield is a powerful back with explosiveness early in his runs but lacks the ability to reach the next level. He rarely goes down on the first contact. Buffalo needs a young running back in their current group and Holyfield would be a great compliment back for LeSean McCoy who will develop into a starter later on.
Round 5: Khalen Saunders DT, Western Illinois
Khalen Saunders is another senior, which Buffalo is known to prefer, who can play a solid role on Buffalo's defense. Saunders has excellent power but is a raw talent in terms of technique. If he can mold his power into a technical skill set, he can be an explosive pass rushing interior lineman for Buffalo. He could play similar to recently retired Kyle Williams in a few years.
Round 6: 
Sean Krepsz C/G, Nevada
Another addition to Buffalo's offensive line with yet another senior. Sean Krepsz had an underrated season in Nevada this year. Krepsz can become a starting center in the NFL, especially on Buffalo where the position lacks a definite starter on the current roster. Filling out the offensive line would be a great accomplishment for Buffalo and all depth counts. The more lineman they bring in, the bigger the chance they find their guys for the future.
Round 7: L.J. Collier DE, TCU
L.J. Collier is a senior who recorded 11.5 tackles for loss and six sacks in his final season for TCU. He lacks explosiveness but has the moves to get past opposing lineman. If he can gain strength and channel it into an explosive first step, he can be a solid rotational player for the Bills' edge rush.
Round 7: Ulysees
 Gilbert III LB, Akron
Ulysses Gilbert III is an underrated linebacker from Akron who dominated the MAC conference. He has 342 tackles over his last three seasons. He has great speed and his skill set makes up for his lack of size for the linebacker position. Gilbert III could be a great steal for Buffalo at the end of the draft.
Main Photo:
Embed from Getty Images