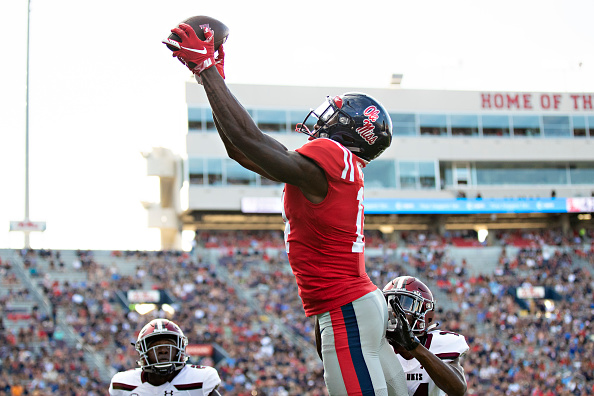 The 2019 NFL draft is only a few months away and teams are looking to see who they will add to their roster for the upcoming season. It is crucial for all teams to hit on their draft picks in order to properly improve their team. This draft is heavy on defensive talent, but teams who need offensive players will not shy away from taking who they feel they need. Here is my first attempt at a 2019 NFL mock draft.
2019 NFL Mock Draft 1.0
Arizona Cardinals: Edge Nick Bosa, Ohio State
Nick Bosa is clearly the best prospect in this draft. Exceptional skills as an edge rusher and will make a huge impact on day one. Pairing with Chandler Jones will be scary.
San Francisco 49ers: DT Quinnen Williams, Alabama
Quinnen Williams has the talent to be a first overall pick, but Nick Bosa happens to be in this class. Dominant at Alabama this year, Williams' only knock is that it was his only good year. He hasn't shown his dominance for very long, but it was undeniable this year. 
New York Jets: Edge Rashan Gary, Michigan
Rashan Gary is a collection of talent that just needs the right guidance. He can play inside or on the edge. The Jets could use him anywhere and he may just play all around the line. 
Oakland Raiders: Edge Josh Allen, Kentucky
Josh Allen is possibly the most unique player in this draft. He has a dynamic skill set that allows him to fit into most schemes. I see him as a 3-4 outside linebacker who will get to the quarterback for Jon Gruden.
Tampa Bay Buccaneers: DT Jeffery Simmons, Mississippi State
Jeffery Simmons has a lot of talent and some think he has more potential than Quinnen Williams. Simmons has had off-field issues that are keeping him lower than Williams in most mock drafts. Simmons would be a great replacement for Gerald McCoy if he becomes a cap casualty for Tampa.
New York Giants: QB Dwayne Haskins, Ohio State
The Giants make Dwayne Haskins the first quarterback taken in this draft. Haskins is a big body passer who will work well with Odell Beckham Jr. and Saquon Barkley. Haskins will take over for Eli Manning when his time comes. 
Jacksonville Jaguars: QB Drew Lock, Missouri
Jacksonville takes the next quarterback on the board after New York claims Haskins. The Jaguars take Drew Lock who will develop while Jacksonville continues to decide what they want to do at the position long-term.
Detroit Lions: LB Devin White, LSU
Detroit continues to build its defense with the best linebacker in the draft. Devin White can stop the run, pass, and get to the quarterback. Detroit needs more help stopping the run and White can help them in that department. 
Buffalo Bills: OT/OG Jonah Williams, Alabama
The Bills have one of the worst offensive lines in the NFL and Jonah Williams can offer much-needed help at multiple spots on the line. He can play tackle for them or move inside where his size is a better fit. Buffalo needs to improve its offense and any offensive position would work at this spot.
Denver Broncos: WR Marquise Brown, Oklahoma
Denver traded away Demaryius Thomas to Houston at the trade deadline and their offense struggled afterward. Emmanuel Sanders cooled off and dealt with injuries while Courtland Sutton was not ready to adopt the number one receiver role for Denver. Marquise Brown is a Tyreek Hill type player who can offer a big play at any time with his speed.
Cincinnati Bengals: OT Jawaan Taylor, Florida
Jawaan Taylor is the best run blocker in the draft and he has a better size to play tackle than others. His pass blocking isn't elite, but it can get the job done. Taylor will be a starter for a long time in Cincinnati and Joe Mixon will be pleased with this choice.
Green Bay Packers: Edge Clelin Ferrell, Clemson
Clelin Ferrell is a top 10 talent in the draft and would be a steal for Green Bay here. The Packers need a pass rush and Ferrell can provide. Ferrell had 21 sacks over his last two seasons with Clemson.
Miami Dolphins: QB Kyler Murray, Oklahoma
The Dolphins take the chance on Heisman trophy winner Kyler Murray at pick 13. The Dolphins desperately need to move on from Ryan Tannehill and get a young quarterback who can develop into a long-term starter for them. Murray is perfect for today's NFL and can be just like Russell Wilson as long as his size doesn't cause too much trouble.
Atlanta Falcons: DT Ed Oliver, Houston
Ed Oliver was once talked about as the number one overall pick in the draft. His stock has steadily fallen since those days with his lack of effort, attitude problems, and weight issue. Oliver is still a dominant player in this draft and if he can put on some weight and maintain it, then he could easily be the best player to come out of this draft.
Washington Redskins: WR D.K. Metcalf, Ole Miss
Washington needs a solidified target on the outside for their offense. None of their receivers have emerged as the go-to target for Washington. D.K. Metcalf showed his potential this season before an injury ended his year. Metcalf will make some Odell-like plays in his early career and can only get better from there.
Carolina Panthers: OT Andre Dillard, Washington State
Andre Dillard is one of the offensive lineman prospects who will definitely play outside in the NFL. He is a pass blocking tackle with powerful hands and explosive athleticism. His core strength could use some work, but he will play well on day one. The Panthers desperately need to protect Cam Newton better and Dillard will help immensely. 
Cleveland Browns: DT Christian Wilkins, Clemson
The Browns had one of the best drafts in recent memory last year with two top four picks. They walked away from the 2018 draft with Baker Mayfield, Denzel Ward, and Nick Chubb among other solid rookies. The Browns continue to get solidified top-tier talent by selecting Christian Wilkins out of Clemson. Wilkins is another player who could easily go earlier than this, but Cleveland gets their steal at 17.
Minnesota Vikings: OT/OG Cody Ford, Oklahoma
Cody Ford is most likely going to play inside at the NFL level. He lacks the size to play tackle and has more athleticism than power. He blocked for Kyler Murray and carries the tools to be an outstanding interior blocker.
Tennessee Titans: CB Greedy Williams, LSU
The Titans get a steal with Greedy Williams to fill one of their bigger needs. Williams comes from LSU which has produced really good defensive backs time after time. Williams has great size and great skills in man coverage. The perfect set of skills for today's NFL.
Pittsburgh Steelers: CB Deandre Baker, Georgia
Deandre Baker is a very competitive player. He has the skills to play man and zone coverage in the NFL. His man coverage skills will make him a standout player who can cover a number one receivers. 
Seattle Seahawks: Edge Montez Sweat, Mississippi State
Montez Sweat is a player who has been rising up rankings for a while. Sweat is a senior who had a career resurgence after transferring from Michigan State to Mississippi State. Sweat posted 22.5 sacks against SEC talent in his final two seasons and is now projected as a first-round pick. He'll be able to contribute a pass rush for Seattle right away. 
Baltimore Ravens: WR A.J. Brown, Ole Miss
A.J. Brown was D.K. Metcalf's partner in crime at Ole Miss emerging even more after Metcalf's injury. Brown recorded 2572 receiving yards over his last two seasons at Ole Miss. He also averaged 16.1 yards per reception. Brown can cover a large amount of space very quickly and he can gain yards after the catch which makes him a very unique weapon. 
Houston Texans: TE Noah Fant, Iowa
Noah Fant is a big-bodied target who knows how to score touchdowns. Fant scored 19 touchdowns in three years at Iowa with 18 coming in his final two seasons. Fant has shown that he can contribute in the passing game and will add another option for Deshaun Watson. He can cause trouble in the middle of the field and open things up for Deandre Hopkins. 
Oakland Raiders: LB Devin Bush, Michigan
Devin Bush provides a unique set of skills for a linebacker. He is smaller than the average linebacker but has better coverage skills than most. He is explosive and can play every snap for the Raiders. He's disruptive in his pass rushing and can help to fill the void left by the Khalil Mack trade.
Philadelphia Eagles: CB Byron Murphy, Washington
Byron Murphy is a talented corner who excels in the slot. He has some speed issues and would benefit from a scheme that plays more zone than man coverage. What Murphy lacks in speed he gains in quickness. His ability to stick to a receiver at the line of scrimmage makes him perfect for the slot. He will contribute much-needed help for the Philadelphia secondary. 
Indianapolis Colts: WR Kelvin Harmon, NC State
Kelvin Harmon is a big 6-foot-3 receiver who can be another weapon for Andrew Luck. Harmon was top 10 in receiving yards this season and had 81 receptions this season for NC State. Indy needs another weapon to pair with T.Y. Hilton so that Andrew Luck can better work the offense. 
Oakland Raiders: Edge Jachai Polite, Florida
The Raiders help rebuild their defensive line by grabbing Jachai Polite here. Polite had 11 sacks his final year at Florida and showed lots of potentials. The Raiders wouldn't mind getting a high potential pass rusher to help them avoid being last in team sacks for a second straight season. 
Los Angeles Chargers: DT Dexter Lawrence, Clemson
Dexter Lawrence is a run stopping tackle who needs to work on his pass rushing skills. Lawrence is disruptive in the middle and can keep running backs at bay with his large size. Lawrence could go earlier than this, but a failed drug test may push him down draft boards in a draft that has so many talented defensive linemen.
Kansas City Chiefs: Safety Nasir Adderley, Delaware
Nasir Adderley would fit into a Chiefs defense that struggled last season in all phases nicely. Adderley is a senior safety who also played cornerback which helps him in coverage. He is aggressive against the run and is not afraid to get around the line of scrimmage. He would learn a lot from Eric Berry and would be a great compliment to a secondary that lacks elite talent.
Green Bay Packers: WR N'Keal Harry, Arizona State
N'Keal Harry is similar to Kelvin Harmon except he is slightly taller. Harry has a large frame to help fight off defenders one on one. Harry lacks breakaway speed, but he can use his size to gain separation. He will compliment Davante Adams nicely as Randall Cobb looks more and more like his days in Green Bay are over.
Los Angeles Rams: DT Dre'Mont Jones, Ohio State
Dre'Mont Jones has a similar style to Ndamukong Suh. Suh is a free agent at the end of this year and Jones could become his replacement in L.A.
New England Patriots: TE T.J. Hockenson, Iowa
The Patriots always pick at the back end of the draft and often select the best player available. That might just be T.J. Hockenson here. He is a fantastic run blocker and is good enough in the passing game. With New England showing that they are becoming a run dominant team this post-season, Hockenson would fit well on the Patriots roster. Also, don't forget the Rob Gronkowski retirement rumors will be starting up again this off-season.
Main Photo:
Embed from Getty Images