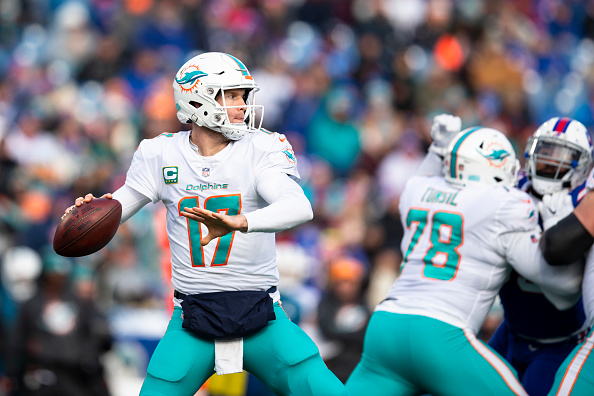 There is quite a list of interesting names at quarterback ahead of the upcoming NFL free agency. Rumors of who will land where have been swirling around social media since before the conclusion of the 2018 season. As less starting spots have become unavailable, it could be quite a riveting sight when free agency officially begins on March 13. Below is the examination of the free agency quarterback scenarios.
Free Agency Quarterback Scenarios
The Baltimore Ravens have made it clear that they intend to move on from Joe Flacco this off-season. Reports have stated that the Ravens organization is comfortable moving forward with Lamar Jackson as their starting quarterback and are opportunistic that they can shape him into the pocket passer they know he can be.
While the Ravens could look to find a trade partner for Flacco, he will more likely be released and open to signing with any team he pleases.
Scenario: There are a handful of teams looking to add a quarterback in the free agency or draft, as well as teams hoping to add a veteran who can help mentor a young quarterback. Flacco is likely going to be looking for a team that needs an immediate starter and that is where the Washington Redskins come in. The Redskins traded for Kansas City Chiefs quarterback Alex Smith at the end of 2017 season but a devastating leg injury has left his career in jeopardy. Flacco could just be the guy that Washington needs to lead their offense. He is an experienced pro with a super bowl title under his belt. The question is if the Redskins will have enough cap space to sign him.
If a Washington deal becomes out of the question, keep an eye out for the Miami Dolphins or Jacksonville Jaguars, who are expected to move on from their starting quarterbacks as well.
While all signs point to the Miami Dolphins moving on from Ryan Tannehill, there still is a slight chance that they decide to keep him for at least another year, especially with new head coach Brian Flores coming in. Injuries have certainly kept him from making an impact but the quarterback position isn't the primary place to blame for the team's struggles.
Scenario: Keeping Tannehill would be in the Dolphins best interest. They certainly could try and trade him but the best option would be to let him start for another year or two while developing a young QB like Daniel Jones or Jarrett Stidham from the upcoming 2019 NFL Draft.
The Jacksonville Jaguars could be a potential landing spot for Tannehill depending on the direction they decide to go between free agency and the draft. NFL analyst Benjamin Allbright seems to think that the Cincinnati Bengals could potentially make a run at Tannehill. Maybe Cincinnati and Miami decide to swap QBs?
Keep an eye out, #Bengals fans. https://t.co/tt0ym9WlXd

— Benjamin Allbright (@AllbrightNFL) February 1, 2019
Blake Bortles is likely going to have a small market in 2019. He's had quite the story since being drafted by the Jacksonville Jaguars in 2014 and many question why he has remained a starter for five years and they have the right to be. He's thrown 75 interceptions in five seasons with 11 interceptions as his season low so far.
Bortles' benching this past season was a sign of unrest within the Jaguars organization. If he's lucky, they may decide to keep him on as insurance to the new quarterback likely coming in.
Scenario: Bortles has starting experience but that's pretty much it. He could easily backup an incoming rookie if the Jaguars decide to target Dwayne Haskins or Drew Lock early in the draft. If Bortles lands with another team, he's likely going to be a backup there as well. There's not many starting spots available within the league. There have been rumors where Bortles could go to the New York Giants and learn from Eli Manning, but it's likely the Giants will look to add a QB through the draft.
A lot of opinions have been spewed around social media about the Philadelphia Eagles quarterback situation. Many feel that Nick Foles has proven to be a starter in place of Carson Wentz as he has battled various injuries since his rookie season. Foles helped lead the Eagles to a super bowl win which landed him as super bowl MVP.
The Eagles have picked up Foles' 2019 option but Ian Rapaport reports that Foles will void it and become a free agent unless he is hit with the franchise tag. Most sources note Jacksonville as a potential landing spot.
Sources: #Eagles QB Nick Foles is, in fact, buying back his freedom for $2M, voiding the new and final year of his contract. Now, he's a free agent… unless Philly hits him with the roughly $25M franchise tag.

— Ian Rapoport (@RapSheet) February 6, 2019
Scenario: The Eagles could decide to trade Nick Foles to Jacksonville in exchange for Blake Bortles, who would then backup Carson Wentz, allowing the Jags to draft their franchise quarterback and let him develop under the super bowl MVP. Bortles would also be insurance for the Eagles if Wentz goes down again. Philly also has enough pieces to surround Bortles with a good offense, they would just need to find stability in the backfield.
At this point in his career, Sam Bradford could easily consider retiring. His career has been disappointing as it has been riddled with injuries. Bradford was last seen as a member of the Arizona Cardinals where he started early in the season but was soon benched for rookie Josh Rosen. Soon following, Bradford was released.
Scenario: There are a handful of potential landing spots for Bradford where he could go and backup up a younger QB. If the Eagles decide to trade Foles, they could look to Bradford for a potential reunion where he could back up Wentz. The Dallas Cowboys could also be a possible spot for Bradford. He would be a good option to help mentor Dak Prescott, whose sophomore and junior campaigns haven't been as impressive as his rookie one was.
Other Scenarios
Ryan Fitzpatrick: Keeping Fitzpatrick could be beneficial for the Tampa Bay Buccaneers. He had some really great games last season, but he also had some bad ones. The Bucs offense was inconsistent going between Fitzpatrick and Jameis Winston as their QB, the latter having spent the first three games of the season on the suspension list. It all depends on what new head coach Bruce Arians wants to do.
Robert Griffin III: The Ravens may decide that they want to keep Robert Griffin III as a backup to Lamar Jackson once Joe Flacco leaves the building. Considering the current quarterback situation around the league, Griffin won't see a starting spot. But a team like the Seattle Seahawks could use Griffin as a backup to Russell Wilson who share similar attributes.
Teddy Bridgewater: The New Orleans Saints need to keep Teddy Bridgewater as the backup to Drew Brees. Before Bridgewater's devastating injury, he showed tremendous star potential as part of the Minnesota Vikings organization. When Brees decides to retire, Bridgewater could be a valuable option. But it all depends on time as Bridgewater is years old and Brees has at least a few years left.
Main Photo:
Embed from Getty Images