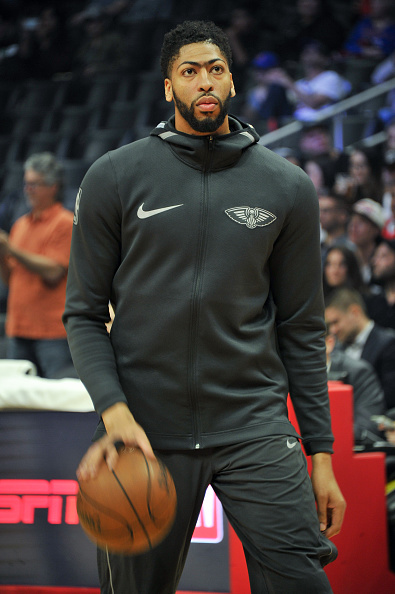 This week huge news broke as New Orleans Pelicans big man Anthony Davis has requested a trade. It seemed like a foregone conclusion that Davis would eventually ask to leave New Orleans. However, the timing off it comes with the NBA trade deadline around the corner. The trade deadline is February 7th and it seems the Davis camp, would like to see him dealt by then. The two obvious teams that would take a run at Davis are the Lakers and Celtics. However, the Celtics cannot trade for Davis currently unless they include Kyrie Irving in the deal according to CBA rules, which seems unlikely.
The Lakers have emerged as the favorites to land Davis. With a roster of young talent and a first round pick to attach as well. The problem is that New Orleans may not view the Lakers talent favorably and would possibly wait til the summer when Boston could re-enter the sweepstakes armed with better young talent and a plethora of first round picks. When word broke of Davis' desire to leave New Orleans, apparently several other teams have been preparing offers and trying to make a deal for Davis. With that being said, I will take a look at three realistic trade ideas that would make sense for Davis if he is dealt by the deadline.
Top 3 Trade Destinations for Anthony Davis
Los Angeles get: PF/C Anthony Davis and PG Jerian Grant
New Orleans get: SF Brandon Ingram, PF Kyle Kuzma, SG Kentavious Caldwell-Pope, SF Jonathan Simmons and an unprotected 2019 first round pick
Orlando gets: PG Lonzo Ball
The Lakers give up a lot to get Davis here, but matching him with LeBron James will be worth the risk. Davis would give the Lakers a legit superstar to play alongside James and help them compete in the Western Conference immediately.
New Orleans gets to build with two first round picks(theirs and the Lakers) and some young building blocks. it probably doesn't get them into the playoffs right away, but may be a step in the right direction to restarting this process. The Pelicans are not in a very good spot, especially if Davis forces them to deal him to Los Angeles.
Orlando's involvement will just be to upgrade their point guard position. They are unlikely to be in position to get a top point in the draft and this may be the right way to do it. Lonzo Ball supposedly doesn't want go to New Orleans and land somewhere they need a starting point guard.
Projected starting lineups
Lakers-PG Rajon Rondo, SG Josh Hart, SF LeBron James, PF Anthony Davis, C JaVale McGee
Pelicans-PG Jrue Holiday, SG, Kentavious Caldwell-Pope,SF Brandon Ingram, PF Kyle Kuzma, C Jahil Okafor
Magic-PG Lonzo Ball, SG Evan Fournier, SF, Jonathon Isaac, PF Aaron Gordon, C Nik Vucevic
Knicks get: PF/C Anthony Davis, SF Soloman Hill
Pelicans get: PF Kristaps Porzingis, SF Kevin Knox, SG Tim Hardaway Jr., C Enes Kanter and  2019 unprotected first round pick
New York wants to make a splash and getting Davis would classify as one. Making Davis the face of the franchise in New York would be a huge win for the Knicks and Davis. Unloading an unprotected pick could be risky with the Knicks near the bottom of the standings right now.They would bank on Davis helping get them out of the bottom and fetching New Orleans a for sure top 8 pick.
Porzingis doesn't seem to thrilled with New York and a fresh start could be good for both. Porzingis is coming off a torn ACL and could return sometime late this season. He is also due to sign a rookie extension and New Orleans could lock him up long term. Knox has looked like a nice rookie and Hardway has been the most consistent Knick all season. Kanter would be a throw in for salary reasons and bought out because he is in the final year of his contract.
Projected starting lineups
Knicks-PG Emanuel Mudiay, SG Frank Ntilikina, SF Soloman Hill, PF Anthony Davis, C Mitchell Robinson
Pelicans-PG Jrue Holiday, SG Tim Hardaway, SF Kevin Knox, PF Kristaps Porzingis, C Jahlil Okafor
Trailblazers get: PF/C Anthony Davis and SF Soloman Hill
Pelicans get: PG/SG CJ McCollum, C Jusuf Nurkic, SG Anfernee Simons and unprotected 2019 first round pick
I call Portland a dark horse in the Anthony Davis sweepstakes. They have a good player in McCollum who could become a star in New Orleans and a solid center who has proven himself. This keeps New Orleans in the playoff mix and relevant and in a rebuild.
Portland could team Davis with Lillard and become a lot better in the tough Western Conference. The Blazers would be so fun to watch and play such an up tempo game that could really make them a tough team to beat.
Projected starters
Trailblazers–PG Damian Lillard, SG Evan Turner, SF Maurice Harkless, PF Al-Farouq Aminu, C Anthony Davis
Pelicans-PG Jrue Holiday, SG CJ McCollum, SF, E'Twaun Moore, PF Julius Randle, C Jusuf Nurkic
Last Word
I am not sure if the New Orleans Pelicans will deal Davis before the deadline, but these are likely the best options should they. It seems Davis would rather play for the Lakers, but it seems teams like other teams can make better offers. In what was looking like a boring deadline may have some big team shakeups if someone can pry Davis away from New Orleans. I guess we shall see.
Main Photo: Embed from Getty Images