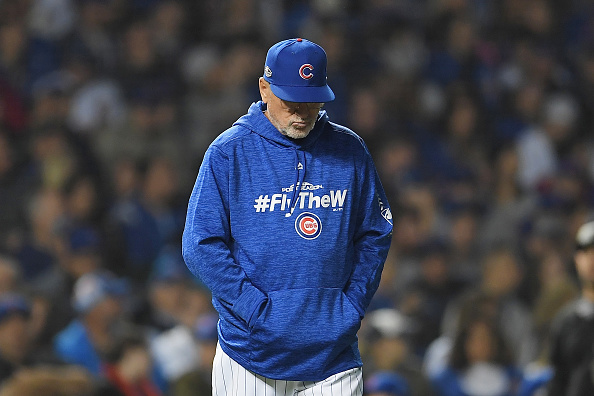 Why the Cubs Will Contend For A Division Title
Okay. We are a little less than six weeks away from the Cubs' first spring training game on February 23rd, 2019, and I'm already looking forward to next October and seeing the Cubbies in the playoffs as the NL Central Division winner, thereby avenging this past season's Wild-Card loss and prior squandering of the division title to the Screwers. I mean the Brewers. Anyway, although there are still definitely some needs to fill for Epstein & Co. in what's left of this offseason (cough, cough, offense, cough, cough), ya still gotta like their chances entering the 2019 campaign, even with the Deadbirds—I mean Redbirds—adding Paul Goldschmidt. Here's why I think the Cubs will continue to contend for a division title in 2019:
Count Cubs IN in 2019
Starting Pitching
The Cubs still boast a pretty good lineup and a fairly potent pitching staff. Though the loss of Jesse Chavez back to the Rangers is definitely a no bueno, there's still some good depth there. Here's my starting pitching rotation prediction:
1. Cole Hamels
2. Kyle Hendricks
3. Jon Lester
4. Jose Quintana
5. Mike Montgomery
5a. Yu Darvish
Now, of course, the big question mark here is Yu Darvish. He (along with Tyler Chatwood) was obviously the biggest bust of 2018, but if he's healthy and returns to his pre-2017 World Series form, and if everyone else stays healthy and performs to his potential, this is a rotation that can rival any team in either league.
Starting Lineup
If the season started today, here's what we're looking at, in my humble opinion:
1. Anthony Rizzo 1B
2. Ben Zobrist 2B
3. Kris Bryant 3B
4. Javier Baez SS
5. Jason Heyward RF
6. Ian Happ CF
7. Kyle Schwarber LF
8. Willson Contreras C
9. (pitcher)
This, of course, is not set in stone, and for all I know, you could put David Bote or Almora Jr. in there too, not to mention new acquisition Daniel Descalso and rookie Mark Zagunis. I'm not going to speculate any more on this; that's Joe Maddon's job. But, you look at this lineup I have, and go, "how in the world did these guys fail so epically down the stretch last year?" Baez had a career year. Zobrist most definitely silenced his 2017 critics. Heyward improved dramatically over 2016 and 2017. But the rest of the guys didn't live up to their potential and/or were bitten by the injury bug. So, once again, if these guys stay healthy and perform up to their potential, we could see some repeats of 2016.
Bullpen
In 2018 the Cubs' bullpen was actually pretty good. So, once again, IF everyone stays healthy, they should be a formidable foe once again for opposing batters. So far they've got veterans Cishek, Duensing, Edwards Jr., Kintzler, Montgomery, Morrow, Rosario, and Strop along with several newcomers and up-and-comers. In other words, PLENTY of depth which should make for some nice healthy competition come spring training. When pitchers and catchers report to Sloan Park on February 12th, I'll be keeping a close watch on that!
With so many returning veterans, and, as is the theme of this article, IF everyone stays healthy, look for the Cubs to be playing into October in 2019.
Main Photo:
Embed from Getty Images