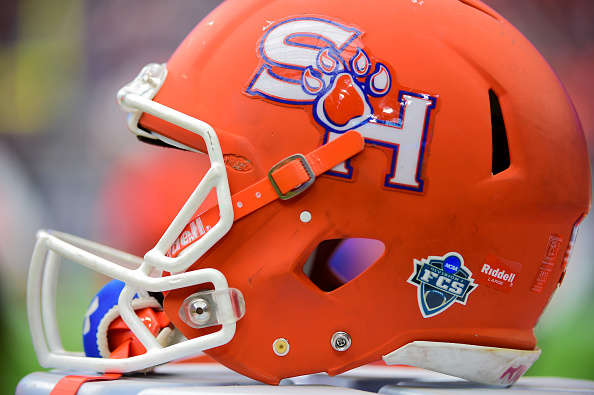 Last season, the Oakland Raiders spent a second-round pick on P.J. Hall. Hall was an ultra-productive defensive tackle out of Sam Houston State, finishing his senior season with 19 tackles for loss. This season, another defensive lineman from the Bearkats has played his way onto the draft radar. Defensive end Derick Roberson has accepted an invite to this season's Shrine Game where he will have the opportunity to showcase his talents against high-level competition.
Bearkats to the NFL: Derick Roberson
Background
Roberson was a four-star recruit and a top-100 recruit nationally. As a Texas native, Roberson stayed in state and signed with the Texas Longhorns. After playing as a redshirt freshman for the Longhorns in 2015, Roberson announced his transfer to Sam Houston State.
In the Southland Conference, Roberson has feasted on his competition. As one of the most talented players in the entire FCS, he has had the opportunity to grow into a player worthy of NFL looks. Being a Bearkat may not have the same prestige as a Longhorn, but getting to the NFL is the pinnacle of football, and he'll have the opportunity this offseason to make that a reality.
High School
Roberson attended William J. Brennan High School in San Antonio, Texas. He was awarded with ample honors in his high school career. Most notably, these accolades include being named AP First-Team All-State in 2013, as well as All-Texas Defensive Player of the Year. Ultimately, he was invited to participate in the 2014 Under Armour All-America Game, an all-star game for high school players from around the nation.
He put up impressive statistics, while presumably facing constant double teams. According to his Sam Houston State bio, he finished his senior season with 20 sacks, 39 tackles for loss, and one forced fumble. He was the leader of a defense that gave up five points a game on route to the state championship. They lost in the finals, closing out the season at 15-1.
College Career
Accolades
In his redshirt freshman season at Texas, he was named a member of the Big 12 Commissioner's Honor Roll in 2015.
In 2018, as a senior, Roberson has been widely labeled as an FCS All-American. He also finished this season as a runner-up for the Buck Buchanan Award. Awarded to the most outstanding defensive player in the FCS, Southeast Missouri State linebacker Zach Hall claimed the award. Regardless, being named a top-three defensive player in the entire subdivision is an honor in itself.
More congrats to Derick Roberson, today named to the 11-member FCS ADA All-America team as the top defensive lineman in FCS in 2018.

It is the fifth All-America squad Roberson has been named to this year. #EatEmUpKats #StandTall pic.twitter.com/lPoqzb5FGC

— Sam Houston Football (@BearkatsFB) December 20, 2018
Statistics
In 2015, playing as a redshirt freshman in the Big 12, Roberson recorded two sacks. He also forced a critical late-game fumble against Kansas State.
As a sophomore following his transfer, Roberson put up four sacks and a forced fumble in eight games. One of the most unbelievable things from last years' draft process was finding out about P.J. Hall's 14 blocked kicks at Sam Houston State. Roberson as a sophomore blocked a PAT in a win against McNeese.
Now, as a full time starter for the Bearkats, Roberson finished with 4.5 sacks and 5 passes defended. He came down with an interception as well and forced a fumble. He had eight tackles for loss and had his biggest game of the season in the playoffs, racking up two sacks.
In a huge statistical jump, Roberson's senior season was incredibly impressive. He had three tackles for loss and a sack in the season opener, which was just a preview of what was to come. He had two games with three sacks this season, one against Stephen F. Austin, and one against Northwestern State. He forced a fumble in the prior, but caused a safety in the latter. He finished the season with 15 sacks and 20.5 tackles for loss. Add in five forced fumbles and two passed batted down and you have an All-American defensive end.
NFL Traits
After watching Roberson's game against Northwestern State in which he tallied 3.0 sacks and 3.5 tackles for loss and a safety, it is obvious Roberson has what it takes to be drafted. Weighing in at 6'4, 250 pounds, he definitely could stand to add some weight. He's not necessarily undersized, but he is on the smaller side of defensive ends. Adding 10-15 pounds of muscle will help with his ability to win at the snap on the line.
Roberson doesn't have the size to play defensive tackle at the next level, but he lined up at all four spots along the line in this game and showed off his ability at each. His burst off the line is really impressive and he maintains an athletic pass rush position. Early in the first quarter, lined up as a tackle, he won on a swim move through the C gap. A little later in the quarter, he won a stunt inside and almost got to the quarterback. The next play, he won through the C gap again using Aaron Donald's arm over move.
He really is incredibly versatile, even dropping back into coverage on the second level every once in a while. Roberson does a very good job of preventing himself from getting pushed too far around the ark, but he looks like he is lacking some of the bend that would become even more important at the next level. It was also difficult to see his bend because it seemed as though whenever he had leverage around the edge he was held.
Last Word
There's a reason that Roberson was such a highly rated recruit, and ultimately the talent is still there. He is a little bit of an in-betweener size wise, but he has the pass rush moves and athleticism to win in so many different situations. It will be interesting to see if a team might consider moving him to the JACK in a 3-4. This season he played all along the line in a 4-3, but playing as the JACK would allow him to use his array of pass rush moves like he did this season, but from a single position rather than along the line.
Roberson is undoubtedly a development player, but the talent is definitely there to be drafted, and to possibly carve out a role in the NFL. If he train his body to a single position, or if he gets drafted by a team that wants to see him utilize his versatility, then there is a great chance he'll become a rotational piece at very least.
Main Photo:
Embed from Getty Images