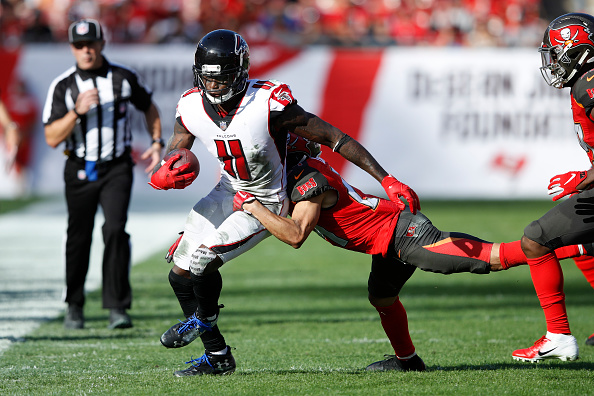 So, you are excited about the 2019 Fantasy Football season! Well, I'm sure you want more then! Well, you're in luck! In today's article, I will be going over my top five fantasy wide receivers for the season. Focusing mainly on Points Per Reception (PPR) formatted leagues.
Many fantasy football analyst and enthusiast believe that the "zero running back" strategy is the best strategy in fantasy. This strategy is built off the fact that there are enough valuable running backs later in the draft. Therefore, you don't need to use your early draft picks on "workhorse" running backs. This also is built knowing that running back position is the most likely to get injured. This would result in having a better chance that you pick up a backup running back later in the draft. This way you don't need to waste a high draft pick on a starter. For example, Matt Breida from the 49ers when Jerick McKinnon went down.
Although I am not a fan of this strategy, I do believe that it can work. Essentially you could draft two top five receivers in the league with your first two draft picks. This is extremely valuable in leagues where you need to start a minimum of three wide receivers. I truly believe that having a top five running back is more valuable than having a top-five wide receiver, you can read why here: https://lwosports.com/2018/12/31/top-five-fantasy-mvp-running-backs-for-2019/ 
But the strategy has proven to work, so you may want to consider it depending on your draft spot. Regardless of what your plan is to get these players, it will be a big asset to try and get at least one of them next year, as the NFL has seen an increase on pass plays compared to the year before due to the increase of Run Pass Option (RPO) usage.
Top Five Fantasy Wide Receivers for 2019
#1: Devante Adams (GB)
A big part of Devante Adams being my first pick is the ability to be such a consistent player. Here is a list of Adam's last seven games played starting from week 10 in PPR formats: 21.7, 26.6, 17.9, 23.3, 21.1, 21.9, 24.1. That kind of consistency can win you a fantasy championship. What's crazier about his consistency is that Adams did this during what was considered a "down year" for Aaron Rodgers. That itself is an even bigger reason that he will be considered my number one wideout this year. Rodgers gets a new coach next year, which means a shot at redemption for Rodgers. Therefore means more opportunities for Adams to have another great year.
He missed one game and he still ended up being the number three receiver for the year. Only DeAndre Hopkins and Tyreek Hill ended up with more fantasy points and they played all 17 games this year. Adams was only five fantasy points short from ending as the number one receiver for the year. With his consistency, he would've easily ended off the year as the number one wide receiver in fantasy this year. These reasons, along with his sheer talent, makes him my number one wide receiver going into the 2019 Fantasy Football Season.
#2: DeAndre Hopkins (HOU)
Again, consistency is a big part of my top five wide receivers, and DeAndre Hopkins is definitely one of the more consistent fantasy players from 2018. What's great about Hopkins is that he is 26 years old (just like Devante Adams) and coming off of his best year yet. He had 115 receptions with zero drops this year! He was second in yardage, fourth in terms of most touchdowns, and second in receptions by wide receivers.
These are great statistics as to why Hopkins will be my second wide receiver going into the 2019 Fantasy Football season, but the biggest contributor is his quarterback, Deshaun Watson. Watson is going into year number three, and for quarterbacks, it's really their year that shows the biggest jump from previous years, and he had an amazing year this year. So, to know that there is even more improvement to come from him in 2019 is just a great indication that Hopkins will have another great and consistent year. I would not second guess Hopkins being a top-five fantasy wide receiver for 2019.
#3 Antonio Brown (PIT)
Antonio Brown had an amazing season this year and it was highly unnoticed since JuJu Smith-Schuster stole some of the spotlight from him. Brown played all but one game and ended up with 15 touchdowns! That's two more than the next most by a receiver. He also had over 100 receptions and almost 1300 yards.
Brown was nothing but clutch and incredible in 2018. If he played week 17 (didn't play due to behavioral issues during practice – benched by head coach and staff) he also would've had a chance to end off the year as the number one fantasy wideout for the year. His talent along with his ability to create space is one of the things that separates Brown from other receivers and I don't see it changing.
Now, there are rumors that he and his quarterback (Ben Roethlisberger) are having issues on and off the field. These rumors lead to the Steelers opening conversations to trading Brown. This potentially can be bad news for Brown as he would be going to a new offense, with a new quarterback, and probably a less superior offense.
This is why Brown is ranked as number three on this list. If he were to stay on the team, he could still be up for a "down" year as Smith-Schuster might take the reigns as the number one receiver on the team. Regardless of the situation, there's always that chance as he could end the year as the number one receiver. I see Brown being a top-five fantasy wide receiver for 2019.
#4 Tyreek Hill (KC)
Cheetah (Tyreek Hill's Instagram handle and nickname) had an amazing year with his new stellar quarterback under the helm. Hill's ability to be a "speedster" receiver equals BIG play potential. With that big play potential equals immediate return on his fantasy value. Hill had four games with 30+ fantasy point games and two of those games were 40+ games.
Those types of performances are week winning in the fantasy football world. However, he had eight games with 15 fantasy points or less, with three of those games being single-digit games. That inconsistency is one of the reason's why Hill isn't higher on this list even though he finished as the top fantasy receiver for 2018 in PPR.
He ended the year with only 87 receptions, almost 1500 yards and 12 touchdowns to the year. He led all wide receivers with 334 fantasy points. This was only .5 more points than DeAndre Hopkins. The fact that he had only one more reception than the number nine receiver shows that he is a big play machine. This is the main reason Hill finished the year as the number one fantasy receiver in 2018.
His receptions alone indicate that he had fewer opportunities but was super-efficient and made the best of all his receptions in 2018. His quarterback is technically going into his third year, which is a big reason why I think Hill can land in the top five list again this year.
Patrick Mahomes has had an amazing year in 2018. When you are the number one receiver under the number one quarterback in the league, that only means that he will have the opportunities to have number one type statistics for 2019. Mahomes is set for positive regression in 2019; therefore, it will likely take a toll on Hill's performances. However, both players are so talented and young that it's always a possibility that they do even better in 2019. So, keep an eye on these two for years to come. He will have a great chance to be a top-five fantasy wide receiver for 2019.
#5: Julio Jones (ATL)
Sticking with the trend of consistency, Julio Jones only had six games out of the season with less than 20 points per game. That means he had eleven 20+ fantasy point games. Now there is a lot to love about Jones, but there are a lot of things to be concerned about going into the 2019 season.
One of my concerns if the change of offensive coordinator. Jones' quarterback, Matt Ryan is known to have somewhat of a "down" season on the first year with a new offensive coordinator. This means that Jones' statistics also are somewhat "down." Here are Jones' stats in 2017 (when they changed to a new OC): 88 receptions for 1,444 yards, and three touchdowns. Here are his stats in 2018 (second year with their OC): 113 receptions for 1,677 yards, and eight touchdowns. Now does that mean it will happen next year? Not necessarily because his best year in the NFL was during Kyle Shanahan's first year as their offensive coordinator.
Also what's concerning is Jones' inability to get double-digit touchdowns. This is hard when he is one of the most double covered – sometimes triple covered – receivers in the league. Can he be a top-five wide receiver in 2019, of course, in my opinion, he is the best receiver in the game due to his talent, size, and the offense that he is in.
With Calvin Ridley going into his second year, it would mean more teams will cover him more often. Which could result in Jones having more opportunities for 1 on 1 coverage. This means that he will have more opportunities to score. This means he would definitely be considered to be a top-five wide receiver for 2019.
Honorable Mentions:
Here are some players that could creep into the top five for 2019. These players have the ability, talent, and the offense power to be in the top five. However, these players might be known to be injury prone, or may have other issues that could prevent them from getting there. Here is the Honorable Mentions:
Main Photo:
Embed from Getty Images