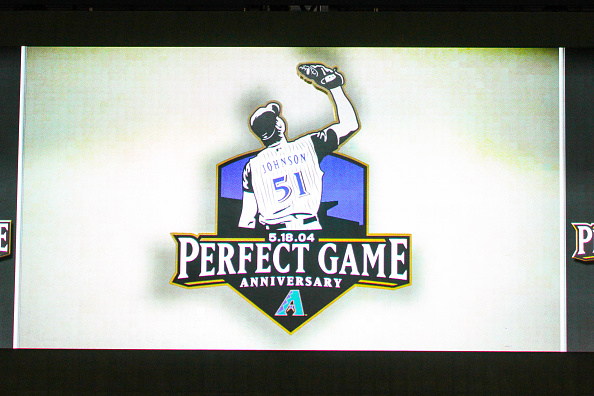 Over the next month, LWOSports will be breaking down the top five MLB players in franchise history for all 30 teams. This article will rank the top five Arizona Diamondbacks players from least to best by who had the biggest impact for the team. You can check out the other series articles here.
The Arizona Diamondbacks are still a relatively young team, but the organization has already surprised many by their early success and being a destination for many big-name free agents. Unfortunately, most of those signings did not work out the way the team probably envisioned, leaving the Diamondbacks stuck in the middle of mediocrity for now as they try to find the formula that helped them win a World Series in 2001. We won't mention the one trade that sent away one of the best pitchers on the planet.
Top Five Arizona Diamondbacks Players
5. Steve Finley
Talk about the ultimate supporting player for a team! Steve Finley played for eight teams in his 19-year career but easily had his best years in Arizona. In six years, "all he did" was average more than 150 hits and 25 homers per season. He was a threat to hit a homer (34 and 35 in 1999 and 2000, respectively) and a threat to get an extra base hit (he led the league in triples six times during his career). Not only that, Finley was as solid as they come in the field, posting a career .982 fielding percentage.
4. Paul Goldschmidt
Until the Diamondbacks traded him, Paul "Goldy" Goldschmidt was quickly becoming the face of the franchise.  In his eight years with Arizona, Goldschmidt was a .300 hitter and averaged 25 homers and just under 90 RBIs a year.  He made six All-Star teams, and received MVP votes five times, including two runner-up finishes.
3. Luis Gonzalez
Luis "Gonzo" Gonzalez will always be able to say he got the game-winning and series-winning hit in the 2001 World Series against the Yankees. In fact, it was certainly the most important "bloop hit" of his career. That year was easily the most productive of his career.  He hit 57 homers and had 142 RBIs to go with a .325 batting average. He played every game. Amazingly, those numbers were only good enough for third place in the MVP voting. While he never quite achieved those numbers again, his eight years in Arizona were nothing short of magical, and he will forever be a name synonymous with the Arizona Diamondbacks.
Who wouldn't want these two at the top of their pitching rotation?
2. Curt Schilling
There's a reason why Curt Schilling is number two on this list and you'll realize why when you read about number one. Schilling played just under four seasons for the Diamondbacks, but any pitcher would love to put up the numbers he did. He finished second in the Cy Young voting in 2001 and 2002 and helped the team win a World Series title in 2001. In those two years, he went a combined 45-13, averaged more than 300 strikeouts, and completed 11 games. On any other team, he'd easily have been the ace.
1. Randy Johnson
The Big Unit, Randy Johnson, was a big time for the Diamondbacks and delivered big results. The reason Curt Schilling finished second in the Cy Young voting in 20001 and 2002 was that Randy Johnson WON the award in 1999, 2000, 2001, and 2002. During those four years, Johnson was 81-27, averaged a .250 ERA and threw 31 complete games.  Johnson also AVERAGED 350 strikeouts a year and AVERAGED more than 12 strikeouts per nine innings. There's a reason he is in the Hall of Fame and in the conversation as one of the top pitchers in history.
Last Word
The Arizona Diamondbacks have a unique place in baseball history. Having grown up in Phoenix, this big city has had trouble delivering big results. Yes, the early 2000s were magical and helped bring in some bigger names later, many of those players stay a couple years and then move on, leaving the Diamondbacks always searching for ways to make a splash. Many people thought they were on their way when they signed Zack Greinke, but without the right supporting cast, he has not put up the numbers many hoped.  But there's no doubt when this team found its magic, they used it to win a World Series, which can never be taken away.
Main Photo:
Embed from Getty Images