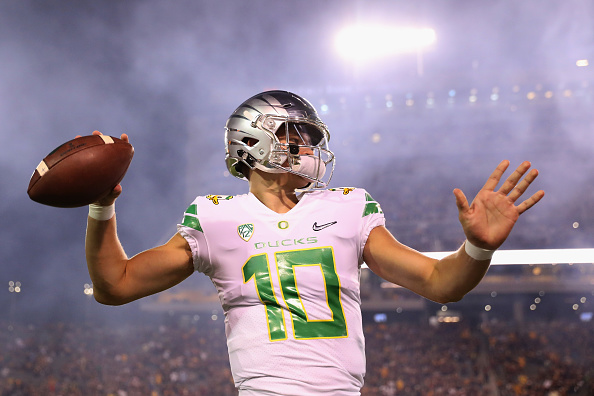 Generally, the NFL is in a good position regarding the quarterback position. The past three drafts have seen likely-MVP Patrick Mahomes selected, as well as Carson Wentz, who could have won MVP last season if not for a torn ACL. Other stars like Deshaun Watson, Jared Goff, and Baker Mayfield have also been drafted in the first-round.
For the upcoming draft, there are only two teams that seem to be in desperate need of a quarterback. The Jacksonville Jaguars need a replacement for the mess that makes up their signal-callers. The New York Giants also need a replacement but seem committed to Eli Manning until the 2020 draft. With Oregon's Justin Herbert returning to school, it leaves Dwayne Haskins as the top quarterback in the class.
Why Justin Herbert Decision Was the Right One
Quarterbacks in the Draft
Justin Herbert and Dwayne Haskins made up the top two quarterbacks in the draft for the entirety of the season. This past week though, Herbert announced that he will be returning to school for next season. Haskins is yet to make an announcement on his future.
After that, Drew Lock, Will Grier, and Daniel Jones make up some of the big names that could be selected in the first couple rounds. Brett Rypien and Easton Stick, as well as Jordan Love if he declares, are smaller school prospects who can rise up draft boards as scouts do their film work.
Team Needs
The Jaguars are not the only team in the market for a quarterback. While they need a starter, other teams need to have options at the quarterback position. The Cincinnati Bengals may be looking for someone to compete with Andy Dalton. The Denver Broncos could also be looking for someone to develop behind Case Keenum for a year before taking over at the helm. The Washington Redskins may also be in the market for a quarterback, but knowing that they were a playoff team with Alex Smith, they may be more in the free agent market then the rookie market.
2019 Quarterback Scouting Reports
Dwayne Haskins
If Haskins does declare, he seems like the clear-cut choice to be selected by the Jaguars early in the first round. In his short stint as a starter for the Buckeyes, Haskins showed off solid arm talent and impressive development. He uses his eyes really well to look off defenders, but his footwork needs work at the next level.
Lock's statistics fell off a bit from a year prior, but he showed the same traits that have gotten him looks from the NFL. He has a cannon of an arm and generally makes good decisions. He could use some work going through progressions, but his footwork and deep balls are both massive upsides of his game.
Grier has shown off his ability to make NFL level throws. Game after game he has shown that his name deserves to be in the conversation for one of the best quarterbacks in the draft. His decision making under pressure is questionable at best. His age is a big question mark as he won't take a snap in the NFL until 24 years of age.
Admittedly, I am significantly lower on Jones than most. With Jones, I see a player who goes through his progressions relatively well, but I find that he struggles with his accuracy all over the field. His front foot points away from his target, leading to stray passes. He is raw though, and at this point, he is nowhere near his ceiling.
Value Wise, Rypien is my favorite quarterback in the draft. He is very well-rounded and relatively refined. Rypien needs to work on his decision making and go through film with true professionals at the next level, but his traits are impressive. He has a good arm and compact mechanics.
The Decision for Herbert
Of the five quarterbacks above, only one of them graded out with a first-round grade. Haskins has low first-round value at this point according to my rankings, and Lock, Grier, and Rypien all have a third-round grade. Jones has a fifth-round grade, but it seems like I may be missing something with him, so I am hesitant to finalize that grade. Quarterback is the most valuable position though, and they will all surely be drafted comfortably by the end of day two.
Regardless, my viewing of Herbert had him graded out at a second-round grade. He would be towards the top of the second-round though, slightly behind Haskins in my rankings. His deep ball needed a little bit of work, and he needs to become more accustomed to blitz packages, but for the most part, he seemed pretty NFL ready. His mechanics are good and his decision making is above average.
Herbert and the NFL
My problem with Herbert through his tape was that he seems to be nearing his ceiling. All the traits are there to make a formidable NFL quarterback, but he may not have the same room for improvement that Haskins does as a one-year starter. With this, it's important that Herbert enters the draft at his best.
In a scenario where he stays, Herbert has the opportunity to continue developing as a quarterback. He can solidify his game in some areas that need some work. The deep ball and his accuracy need some work, especially under pressure. Come the draft in 2020, he is more likely to be selected as the second quarterback off the board, after Tua Tagovailoa, which could allow him to learn from a veteran quarterback before he steps in to play.
In a scenario where he declared, Herbert would have likely played early on in the season, whether it had been for the Jaguars, Giants or any other team, it would have been more difficult for him to make the necessary strides to become a franchise play-caller. Teams would dial up pressure regularly, and it would make it difficult for Herbert to adjust to the game speed.
Last Word
I like Herbert, a lot. I think he has all the tools a quarterback needs to succeed in the NFL. With that being said, he absolutely made the right decision by returning to the Ducks next season. He will greatly benefit from an extra year of development, combined with the stronger quarterback class coming out in 2020.
Herbert will be back in the same conversation next year as one of the most NFL worthy quarterbacks. The difference is, next year it will be due to his own talents, and not due to a lack-thereof in the class.
Main Photo:
Embed from Getty Images