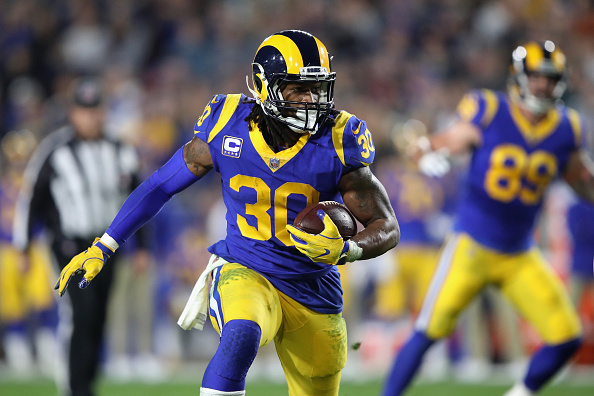 Are you already excited and starting to plan for the 2019 Fantasy Football Season? Me too! In today's article, I will be going over my top five fantasy MVP running backs for the 2019 season. Focusing mainly on leagues that are Point Per Reception (PPR), as most fantasy football formats are now standard PPR formats.
As RPO's continue to gradually trend up in the NFL, so does the value of the running back position in terms of fantasy football. This results in the running back to be used often as both a rusher and a pass catcher, doubling the value of a running back compared to your "non-super star" wide receiver. For example, your RB3 might be just as valuable as your WR2 in PPR formats due to the mere volume that he will get in the receiving game.
Another trend being used in the NFL is the ability to run a "running back by committee" type offense, which increases the value of the "workhorse" running backs in the league as well. There are few running backs in the league that have a true workhorse roll now. So, since this position is so important, we will be focusing on the running back position for this article.
Top Five Fantasy MVP Running Backs for 2019
#1: Todd Gurley (LAR)
This one is an obvious one, if Todd Gurley didn't miss any games in the 2018 season, he would've finished as the clear-cut running back one for the year. His consistency and ability to perform in such a high-powered offense, along with an outstanding offensive line only equals another big year for him. It is going to be exciting to see how coach Sean McVay will utilize him again next year.
In the 2018 regular season, he totaled 59 receptions for almost 600 yards and four touchdowns. These receiving statistics alone compares to the TE6 of the year: Austin Hooper. That's almost 150 fantasy points (PPR) just in receiving! Here are some notable receivers that these numbers would be comparable to Devin Funchess, Christian Kirk, Antonio Callaway, Michael Crabtree, Cole Beasley… You catch my drift.
#2: Christian McCaffrey (CAR)
PPR MACHINE! It would not be a surprise if Christian McCaffrey surpasses Todd Gurley in PPR formats in the 2019 season. Ron Rivera said they would use him a ton, and he wasn't kidding! Towards the 2nd half of the season (from week eight on) he averaged 8.25 receptions per game with an average of 69.5 receiving yards per game and .625 receiving touchdowns per game.
He totaled 107 receptions for the year! That puts him in the top a top 10 wide receivers category in terms of receptions for the year, as a running back! Along with those receptions, he added 867 yards in the air. That is huge! He is definitely an asset in PPR to any team trying to win their championship in 2019! He finished off the season as running back #1 with 387.5 PPR Fantasy Points.
#3: Alvin Kamara (NO)
Another PPR monster, with Mark Ingram most likely out of the picture for the 2019 season (he is set to be an unrestricted free agent at the end of the 2018-2019 season). Alvin Kamara is set to be the full workhorse back for yet another high-powered offense: the New Orleans Saints. For the first four weeks of the season, while Mark Ingram was suspended, Alvin Kamara proved he was more than capable of the workhorse role. He totaled 35 receptions in those first four games for 336 yards and a touchdown.
If you take those statistics, average them out, and generate a full 16 game workload, he would've totaled 140 receptions for 1,344 yards for four touchdowns which would place him as a WR8 in the year. Now, obviously, those numbers are not realistic. What would be realistic is him having a 90+ reception year. His rushing attempts would also increase which means he would have more yards and more attempts at goal-line touchdowns. This would only increase his fantasy points even more than what he was able to produce in 2018.
In 2018 he generated the 5th most total fantasy points of all fantasy players with 354.2 (PPR). Imagine what losing Mark Ingram would do to his value moving forward.
#4: Ezekiel Elliott (DAL)
We an all agree that Ezekiel Elliott is one of the best running backs in the league, and he in front of one of the best offensive lines in the game. It's obvious why he's in the top five. It wouldn't doubt anyone if he ends up finishing in the top two in terms of PPR. It appears the Dallas Cowboys and Jason Garrett finally figured out that Elliott can catch the ball towards the 2nd half of the season, and his reception totals increased from 3.625 RPG to 6 RPG.
That is great news for Elliott owners and future owners, as the team starts to utilize the RPO more often which will result in more receptions and air yardage from their true workhorse running back. In 2017 he totaled 26 receptions… he almost tripled that in 2018 so far and has 77 receptions for 567 yards and three receiving touchdowns. This workhorse running back is going to make another tier jump in 2019 for sure!
#5: Saquon Barkley (NYG)
Saquon Barkley carried the New York Giants on his back this year, he not only does he have almost 1200 rushing yards and 10 touchdowns in 15 games, but also has 87 receptions for 688 yards and four touchdowns. He is having a stellar rookie year, and I can only imagine that another year learning the offense, with potentially an upgrade at the quarterback position, it can only mean that he has a better year in 2019, wouldn't you think?
Barkley finished off the season as RB2 with a total of 385.8 PPR fantasy points for the year (more than all running backs except Christian McCaffrey). With the offense potentially gaining a new quarterback, along with possibly some additions to the already improving offensive line, Barkley is set for a big year in 2019 and you should make sure you have him on your roster.
Honorable Mentions:

2nd Tier Honorable Mentions:
The honorable mentions above are capable of taking the leap into the top-10 running backs in 2019. They do, however, have one or more factors that could prevent them from making that leap. Whether it's offensive line issues, coaching issues, quarterback issues or other things that might hinder their total value. 
Main Photo:
Embed from Getty Images