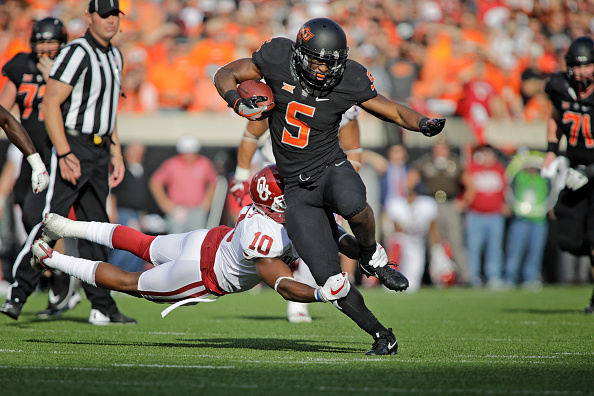 In one of my first articles ever written, I spoke about one of my favorite preseason prospects. Justice Hill was an absolute menace for opposing defenses as a sophomore in 2017. That didn't change this season as a junior. Oklahoma State finished the season at 6-6 and has clinched a bowl game against the Missouri Tigers. After missing the final two games of the season with a rib injury, Hill has announced that he will not be participating in the Liberty Bowl.
Finalizing Justice Hill's Profile, A Criminally Overlooked Prospect
Background
Hill was a three-star recruit out of Tulsa, Oklahoma. He wasn't recruited so intensely, only receiving offers from four schools. Kansas, Houston, and Louisville all extended an offer, but he chose Oklahoma State. He's played alongside the likes of some solid NFL players. In 2017, Pittsburgh Steelers quarterback Mason Rudolph and wide receiver James Washington, as well as Oakland Raiders wide receiver Marcell Ateman were all on the Cowboys roster.
Tylan Wallace earned AP All-American Second-Team honors. Wallace and Hill were the offensive stars this season, leading the Cowboys to the third-ranked offense in the explosive Big 12. They averaged 38.4 points per game, which sits only behind ranked Oklahoma and West Virginia teams.
High School
Hill attended Book T. Washington High School in Tulsa. They have produced a few NFL players, most notably Tyler Lockett. Hill rushed for just over 1400 yards in his junior season in 10 games. He hit the end zone 22 times and added two more scores through the air.
As a senior, Hill rushes the ball less often than his junior season, but for over 500 yards more. At just under 2000 yards, he averaged 9.9 yards per carry. He reached the 100-yard milestone in 10 of his 11 games and scores 32 touchdowns on the ground. Another 100 yards through the air allowed him to eclipse 2000 all-purpose yards, but he didn't add any scores as a receiver as a senior.
Averaging just under three touchdowns per game, he was named the 6A-II Offensive Player of the Year. With that, it seems absurd that he wasn't offered scholarships from several more notable programs, but the Cowboys have groomed him into a star at the collegiate level.
College Career
Accolades
In 2016 as a true freshman, Hill won the freshman rushing record. He was named the AP Big 12 Newcomer of the Year and the Coaches All-Big 12 Freshman of the Year. Additionally, he was named to All-Big 12 First-Teams by several voting parties.
As a sophomore in 2017, he continued to bring in the awards and honors. He was named an AP and Coaches All-Big 12 First-Teamer. With the likes of Rudolph, Washington, and Ateman on the team, he still managed to win the Thurman Thomas Award, which honors the team's best offensive player. He was a Doak Walker semifinalist, which is handed out to the nation's top running back. It ended up being awarded to Bryce Love of Stanford. Majoring in finance, he also won his first academic award, but it didn't stop there. He was an All-Big 12 Academic First-Teamer and a CoSIDA Academic All-American First-Teamer.
Not all accolades for 2018 have been awarded thus far, but Hill has been named the Big 12 Scholar-Athlete of the Year. He also projects to be a consensus All-Big 12 First-Teamer along with Iowa State's David Montgomery.
Statistics
Statistically, Hill has his least productive season as a junior this season, but his numbers are actually more impressive. He rushed for over 1100 yards and six touchdowns as a freshman. He averaged 5.5 yards per carry and led all freshman running backs in yards.
As a junior, he carried the ball 62 more times than the prior season. Once again averaging 5.5 yards per carry, he put up 1467 yards. His biggest improvement came in his ability to reach the end zone. He accounted for almost three times the touchdown, scoring a total of 16 touchdowns, one of which came through the air. He had a decent season catching the ball with 190 yards on 31 receptions.
The biggest question would come when they lost their three top playmakers to the draft. Hill didn't miss a step though. He will finish the season playing three fewer games. He missed the 1000 yard mark, but he upped his average yards per carry to 5.9. Hill also reached the end zone 9 times, which would project to nearly 12 with a full 13 game slate.
NFL Traits
Hill has shown his ability to translate his play to the next level. He has very good vision and balance. He regularly waits for the play to develop and he lets his offensive line open up holes for him. When the hole does open up, he's absolutely lethal. His agility makes him so difficult to tackle. He plants his foot hard into the ground and sells his fakes, he's incredibly fluid which makes it so tough to read his next move.
Oklahoma St RB Justice Hill: Liking his lateral agility and ability to make head up defenders miss – pic.twitter.com/2sJkzFukZG

— Michael Kist (@MichaelKistNFL) December 8, 2018
He breaks tackles with ease with a low center of gravity at only 5'10. If you doubt his power though, watch this squat from a freshman Justice Hill. He can run through defenders and pick up the extra yards when necessary. He is very effective with the short yardage third and fourth downs. By sitting out of the bowl game, he will have the chance to prepare for the combine. A 4.45 40 yard dash may be his absolute floor, and if that is the case, it will prove what's visible on his tape.
His tape checks off each of the boxes for running backs. He's a superb mix of vision and speed, as well as balance and strength. He may not be talked about as much as some of the other running backs, but tape doesn't lie.
Last Word
The draft is a long process, and I'm yet to evaluate all the running backs that are entering the draft. In my preseason rankings Hill graded out as my second running back, only slightly behind David Montgomery. Montgomery has not been one of my studies to this point, but Hill ranks as my top running back at this point.
The national media may talk about Montgomery, Rodney Anderson, Damien Harris and Myles Gaskin, but don't overlook Justice Hill. He has shown that he has the traits to become a very good back at the next level. Tape doesn't lie, and the tape has been saying superstar for three years now.
Main Photo:
Embed from Getty Images