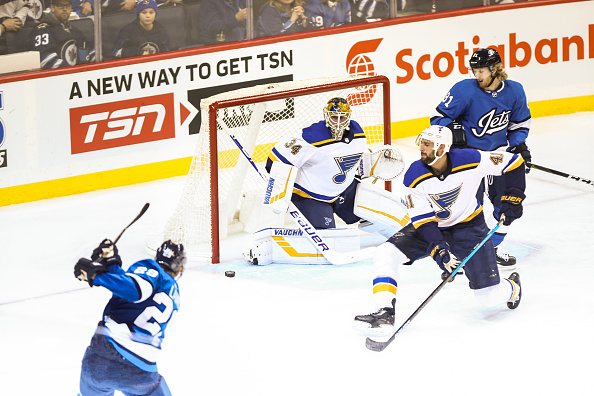 The St. Louis Blues lost big on Sunday afternoon at Enterprise Center, losing 6-1 to Vancouver. The lone goal came from Blues forward Jordan Kyrou. That goal was Kyrou's first in the NHL. The Blues have had a weird trend going lately, beating the league's top teams, and then turning around the next game, and losing to the league's bottom half. Where this is evident, is the Blue's 1-0 win in Winnipeg on December 7th, and then they went and lost 6-1 to Vancouver on December 9th.
What's Next For The Blues?
What Is The Root of The Problem?
The Blues have already fired Mike Yeo. It is looking more and more like Yeo wasn't necessarily the problem. Since Craig Berube has taken over the team, the Blues are 3-6. This is not to suggest that Berube is the problem. It looks like the root of the problem for the Blues is inside the locker room. The leadership group for the Blues has been invisible at times throughout this so far miserable season in St. Louis.
At practice on Monday, Blues forward Zach Sanford, and defenseman Robert Bortuzzo got into a fight during a drill. Assistant coaches Steve Ott and Mike Van Ryn broke up the fight.
After practice, Berube said: "Guys are frustrated and they should be. That's what happens because they do care and they want to be successful and they want to win."
Blues veteran defenseman and St. Louis native Chris Butler said: " You look at our game in Winnipeg and that was a very emotional win. Sometimes those games can be draining. You look at our game against Vancouver and I think we started well. I think we had four line changes to their one right to start the game. We kept them in their own zone, and pressured well offensively."
More Changes Coming?:
The Blues announced Monday that they have placed back-up goaltender Chad Johnson on waivers. Additionally, they have recalled goalie Jordan Binnington from San Antonio. Johnson has a current record of 2-6 with a 3.54 GAA and a .884 save percentage since joining the Blues.
The Blues need to regain their leadership group and start winning hockey games. Forward Alex Steen said after the loss to Vancouver that guys aren't showing up prepared, and it starts with a look in the mirror.
Who Should The Blues Acquire?
If the Blues were to make a trade, what players would make sense for them to acquire?
Here is a list of potential trade targets for the Blues:
Mark Stone – Right Wing – Ottawa Senators
David Backes – Center/Right Wing – Boston Bruins
Kasperi Kapanen – Right Wing – Toronto Maple Leafs
Nikita Zaitsev – Defense – Toronto Maple Leafs
Jimmy Howard – Goalie – Detroit Red Wings
Either way, if the Blues want to have any shot at all of making the playoffs, they need to do something very quickly. Statistically, it is hard for teams to jump back into the playoff race if they are in a bad spot after Thanksgiving. We will see if the Blues can get back to their style of winning hockey games. Maybe, a trade or two can help give the Blues the extra little pushed they seem to need right now.
Main Photo:
Embed from Getty Images