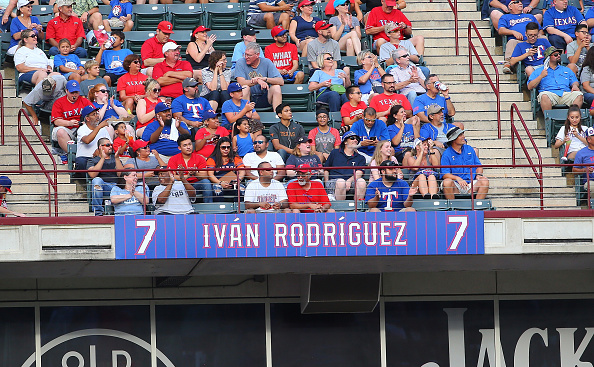 Over the course of the next month, LWOSports will be breaking down the top five players in franchise history for all 30 MLB teams. This article will rank the top five Texas Rangers players from least to best by who had the biggest impact for the team. You can check out the other series articles here.
Top Five Texas Rangers Players
5. Adrian Beltre
Quite possibly one of the most fun-loving players in MLB history, Adrian Beltre, finds his spot at number five. Beltre had spent the last eight seasons with the Rangers (before announcing his retirement this past year) and has racked up quite the numbers. In those seasons with the Rangers, Beltre batted .306 and posted a respectable .862 OPS. In 2012 Beltre was a top candidate for MVP batting .321 on the season. He was a two-time all-star as well as a two-time gold glove winner. Beltre tailed up more than 1100 hits during this tenure and will be known as one of the greatest third basemen to ever play the game. He will be known forever as one the most genuine and down to earth players to ever play the game. Mix that with his insane ability to play and that gives him number five on this list.
4. Juan Gonzalez
Juan Gonzalez, an absolute machine at the plate, comes in at number four. The former two-time MVP had an 11-year stint with the Rangers, before departing for a short time and rejoining the team two years later. Being an accused steroid user does bring his ranking down a bit, but he was still a monster at the plate. Gonzalez tallied nearly 100 RBIs ever season with the Rangers, capping it off with a 157 RBI year in '98. In that same here, he hit 45 bombs along with 50 doubles, which was good enough for the league lead. This five-time silver slugger winner will always be known as an RBI machine along with his ability to hit the long ball. Although his link with PEDs did bring him down a bit, he still ranks as one of the best Rangers to ever play.
3. Michael Young
Onto the top three. Michael Young starts it off. This Rangers captain spent nearly all of his career with the Rangers and did not disappoint. Young was a seven-time all-star with Texas and was one of the more versatile players the organization had ever seen. He was an all-star at third base, shortstop and as a DH/utility infielder. That is unheard of nowadays. Young was not a power hitter by any means but boy was he consistent. Young averaged a .301 BA with the Rangers and was a league favorite in the early 2000s. He led the league in total hits in both '05 and '11 and batted an AL-leading .331 in '05 as well. Michael Young was a fantastic leader for this Rangers team throughout the 2000s and is a legend in this organization. He is the most recent player in this list and is also one of the most impactful.
2. Nolan Ryan
I know, I know, how could one of the most dominant pitchers in MLB history not be #1? Nolan Ryan ended his career with a five-year tenure with the Rangers. Although he wasn't as dominant as he was earlier in his career he still averaged nearly 200 strikeouts per season, which is still great. He also kept his ERA fairly respectable at 3.43. There isn't too much to say about Ryan as he is known for being one of the greatest pitchers ever to play the gamer. It would be insulting to rank this man less than two even if he didn't play his best ball with this club. Nolan Ryan will still have a place in the Rangers heart, and he comes in at number two.
1. Ivan Rodriguez
I think everyone could have guessed who would come in at number one. Ivan "Pudge" Rodriguez was a 10-time all-star with the Rangers. He also was able to claim an MVP award as well in '99. Quite possibly the greatest defensive catcher of all-time was awarded 10 gold glove awards in his tenure with the Rangers. Although his defense was what he was known for, He was no joke at the plate. Pudge won six silver slugger awards as a Ranger and also posted an impressive .304 BA over those years. In his best season, Rodriguez tallied up 113 RBIs along with 35 home runs. Ivan Rodriguez is one of the greatest catchers to ever suit up and is undeniably the best Ranger of all time.
Last Word
The Texas Rangers have had their share of great players since being founded in 1961. The players listed above not only had monster careers with the Rangers but also helped the team in more ways than one. Whether that be leadership or image each player is respectable in their own way.
Main Photo: