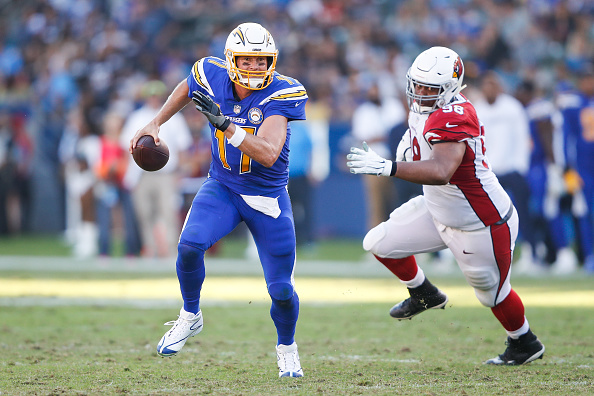 I hope everyone had a great Thanksgiving Day feasting on the Greens, Beans, Potatoes, Tomatoes while watching the traditional football. Here are my top five performances from the holiday weekend.
Tadi Abedje's Top NFL Week 12 Performances
Philip Rivers (Quarterback) – Los Angeles Chargers
Week Twelve Stats: 28/29 passing, 259 yards, three touchdowns
After losing a heartbreaker at home to the Broncos, Phillip Rivers felt motivated to do better from that game. Oh boy, the Chargers quarterback couldn't have played any better facing the Cardinals. He made history by completing his first 25 passes of the game surpassing Mark Burnell's first 22 completions in 2006 for the most all-time. Additionally, he threw for three touchdowns in the game. That meant that it was the 12th consecutive contest where he had at least two touchdown throws in a game. With Rivers' record-breaking 96.6 completion percentage, it meant that he had more touchdowns than incompletions. Look out, the Chargers are primed for a deep postseason run with number 17 at the helm.
Andrew Luck (Quarterback) – Indianapolis Colts
Week Twelve Stats: 30/37 passing, 343 yards, three touchdowns, two interceptions
Andrew Luck's renaissance season continues as he continues to show the world that he's still one of the best. For the eighth straight game, he threw three touchdown passes and had an 81 percent completion percentage. Also, Luck lined up at receiver and caught a first down pass on fourth down. The only negative was that he had three turnovers. He led his team down for a game-winning field goal by Adam Vinatieri despite being down 24-14 in the fourth quarter. The Colts are on a five-game winning streak and it's thanks to their quarterback. With his 32 touchdown passes this year, Luck is in MVP contention and is likely to win the Comeback Player of the Year award.
Russell Wilson (Quarterback) – Seattle Seahawks
Week Eleven Stats: 22/31 passing, 339 yards, two touchdowns
For Russell Wilson, it was another remarkable performance. First off, it was his first 300-yard passing game of the year and his 10th game with multiple touchdown passes. One of them came on fourth down in the fourth quarter as threw a 35-yard pass down in the left side of the field to David Moore in the end zone to tie the game up. Next, he would lead his team thanks to a 43-yard pass play to Tyler Lockett to set up a game-winning field goal as the Seahawks won. It was a huge win on the road at Carolina where they had regular season success. Don't sleep on Seattle as they can sneak into the playoffs as a Wild Card team.
Lamar Miller (Running Back) – Houston Texans
Week Twelve Stats: 12 carries for 162 yards, one touchdown 
Despite Deshaun Watson throwing for only 210 yards, it was his running back Lamar Miller that stole the show. In the second quarter, he took a handoff from their own three-yard line and burst through the Titans defensive line as he was off to the races 97 yards to the end zone. That was a changing point because that extended their lead to 21-10 and they never looked back. It was the second time in his career that Miller had a 90 plus yard touchdown run. His first one came in 2014 while playing with the Dolphins. The Texans are one of the hottest teams right now with an eight-game winning streak after starting 0-3. The running game helps out Watson and the defense led by the great J.J. Watt.
Amari Cooper (Wide Receiver) – Dallas Cowboys
Week Twelve Stats: eight receptions, 180 yards, two touchdowns
The four-year wideout out of Alabama had a Thanksgiving Day to remember. Cooper was feasting on the Redskins secondary as he led the team in yards and catches. He had two big highlight reels that demonstrated his game. In the third quarter, he caught-and-ran 40 yards to the house as Quinton Dunbar fell. On the next play, he caught a pass over the middle against tight coverage and outran three Redskins defenders 90 yards for another touchdown. He's been the difference maker for Dallas after being traded from the Raiders and has changed their offense for the better to help out their stout defense.
Main Photo:
Embed from Getty Images