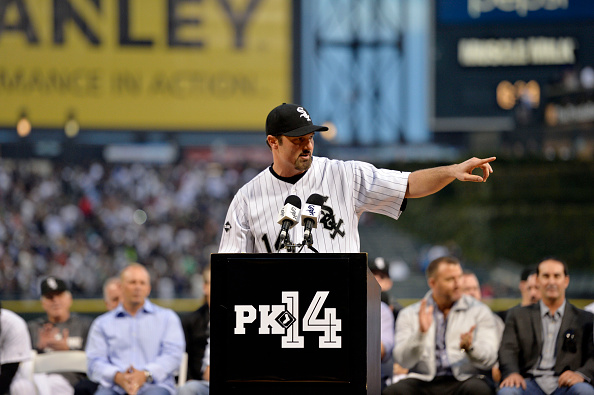 Over the course of the next month, LWOsports will be breaking down the top-five players in franchise history for all 30 teams. This article will rank from least to best the top five players in the history of the Chicago White Sox. You can check out our other player rankings here.
Top Five Players in Chicago White Sox History
Although Fisk is remembered mostly for his time with the Red Sox and is one of their better catchers. He spent a majority of his later years with the White Sox. The future Hall of Famer put up solid numbers on the south side and although he was past his best years in Chicago, he was a solid and dependable catcher.
I tried to keep this list free of players from the 2005 White Sox, but I had to include Buerhle. A consistent and dependable pitcher with ice instead of blood in his veins. He was one of the pitching workhorses that led the team on an 11 and 1 playoff run culminating in a sweep in the fall classic. He is also one of 23 pitchers to have ever thrown a perfect game.
An oft-forgotten trailblazer in baseball's long history, Minnie Minoso was not only the first Black man to wear a white sox uniform, but he was also the first Afro-Cuban man to play in the majors. For not only being a spectacular left fielder in his day, as well as being one of the many players to help break down baseball's colour barrier, but Minnie also deserves a place on this list.
The Captain, Paul Konerko was one of the most consistent sluggers in the league. He may have been one of the more underrated hitters in the league for a majority of his years, but one highlight earns his place here.
2005 World Series, Game 2, 7th Inning. Grand Slam.
"Now batting for the white sox, Number 35… FRANK THOMAS!" Every White Sox fan just heard Gene Honda's voice.
The Big Hurt was simply sensational. In both the final years of the old Comiskey Park and the New Comiskey Park (Now known as Guaranteed Rate field.) The Big Hurt's looming presence at the plate sent fear down opposing pitcher's spines. He was near impossible to strike out. Although injuries limited him to a designated hitter's role. Frank was one of the best sluggers of his era. Can we bring him back as a hitting coach?
Image Credit:
Embed from Getty Images