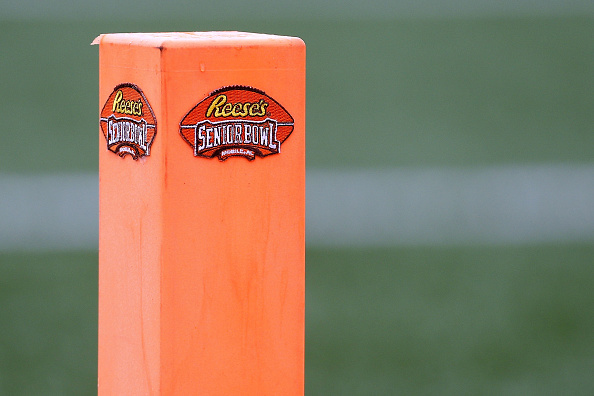 The Senior Bowl has become a very important step for the draft process. With the rise of social media, it has become easier to see players fight through their reps without attending the event. The first round of invites have made their way out. This won't be all the players that get invites, but there are a good amount of players that have accepted their offers.
Some of these players are stars. Some of these players will really benefit from the exposure that the Senior Bowl will give them. Josh Allen and Rock Ya-Sin both have a serious shot at the first round and Oshane Ximines and Charles Omenihu may find themselves as day two selections. Also, as always, there will be some players who are relatively unknown, and then they will fly up the draft board. Last year that player was Marcus Davenport.
We don't yet know who that player is, but with some lesser known names accepting Senior Bowl offers, let's look at a defensive end out the University of Charleston.
Senior Bowler: John Cominsky
Background
According to MaxPreps, Cominsky's recruitment had him ranked midway through the 7,000s. As a quarterback in high school, Cominsky weighed in at 218 pounds. Years later, he's gained just under 70 pounds and stands at 6'5 and 285 pounds. He's made a position change to defensive end, and now instead of throwing the ball, he's responsible for terrorizing the other team's gunslinger.
Cominsky struggled in his early move, getting manhandled by the left tackle in his early practices. Now, as a senior, he looks like he was born to play defensive end. Cominsky's trail to this point has driven him to strive for success. With the attendance to a D-II school and an early position change, he has done a tremendous job developing into a worthy Senior Bowl candidate.
College Career
Statistics
In 2017 he finished with the season with a conference-leading 23 tackles for loss. He was definitely put on the map as one of the best defensive playmakers in the Mountain East Conference. In ten conference games this year, Cominsky has been a playmaker. The three sacks may not stand out, but 16.5 tackles for loss is a ton of production.
This season he sits fourth in the conference for tackles for loss. There isn't a significant drop-off for him considering he has been facing more double teams this year than ever. He often gets chipped by a second man before even seeing the offensive tackle. Regardless, Cominsky has been a playmaker around the line of scrimmage.
NFL Traits
Cominsky absolutely dominates the competition in the Mountain East Conference. He uses a violent rip to throw offensive linemen off of him. He has a swim move that propels him past them with ease as well. Often times his burst off the line of scrimmage is powerful enough to beat offensive linemen off the edge.
He has long strides and good speed to chase down quarterbacks and running backs when they are on the move. The competition will be stronger at the Senior Bowl. It does seem though that Cominsky has all the tools necessary to put together a very intriguing draft case.
Conclusions
He may not have taken the most conventional route to the NFL. Division II college football has produced some very solid NFL players though, such as Matt Longacre and Denzelle Good. Cominsky looks to add his name to the list.
The Senior Bowl is huge for exposure and the director Jim Nagy made it very clear that Cominsky was an important player for them to get. With the way he has dominated Division II football, it's only right that we get to see him go toe to toe with some of the best offensive linemen in Division I. It's a treat for fans and draft geeks, and if Cominsky can prove himself against stout competition, he should hear his name called in April. He definitely has the traits to make it happen.
Main Photo