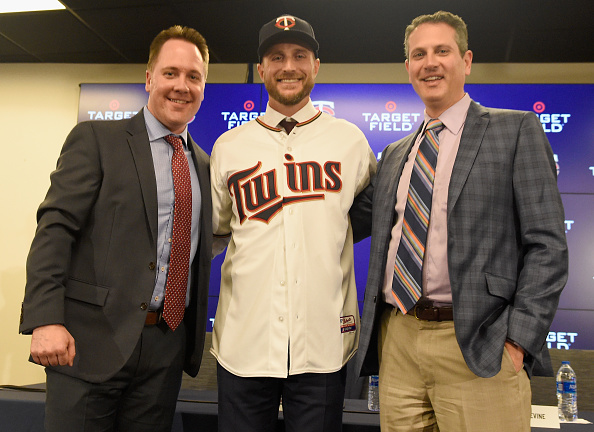 The Minnesota Twins fired Paul Molitor on October 2 after four seasons managing the ball-club. Molitor was replaced by Rocco Baldelli. On October 25, The Twins named Baldelli the new manager. He is the just the fourth manager the Twins have had since 1986.
Rocco Who?
The Woonsocket, Rhode Island native spent the majority of his playing days with the Tampa Bay Rays. Baldelli made his MLB debut on March 31, 2003.
Baldelli's career ended in 2010 as a result of a diagnosis of Mitochondrial Channelopathy. Mitochondrial Channelopathy is a cell disorder that causes muscle fatigue and can be life-threatening. Baldelli's case is considered moderate but is managed through the use of medication.
Baldelli wins the title of youngest MLB manager. The 37-year-old Baldelli became the youngest MLB manager when the Twins hired him in October. He was most recently the major-league field coordinator for the Tampa Bay Rays. Baldelli is a very analytical thinking manager. He worked in Tampa for four years and was very much involved in the use of analytics to develop prospects.
Twins General Manager Thad Levine and President of baseball operations Derek Falvey wanted to bring in a young manager to be well versed at communicating with the younger players on the Twins.
Baldelli finished assembling his staff a few days ago, adding former University of Arkansas pitching coach Wes Johnson to be the Twins pitching coach.
Baldelli's Coaching Staff:
Derek Shelton – Bench coach
James Rowson – Hitting coach
Rudy Hernandez – Assistant hitting coach
Wes Johnson – Pitching coach
Tony Diaz – Third base coach
Jeremy Hefner – Assistant pitching coach (Bullpen coach)
Tommy Watkins – First base coach
The Twins are looking to build off of their season last year. They missed the playoffs with a record of 78-84. They finished second in the American League central to Cleveland (91-71).
Key Departures:
The Twins lost quite a few players this off-season, most notably, franchise face, first baseman Joe Mauer. Mauer recently announced his retirement after playing 15 seasons in a Twins uniform.
Other players the Twins lost are Logan Morrison, Ryan Pressly, Brian Dozier, Eduardo Escobar, Lance Lynn, and Zach Duke.
The Twins added first baseman Tyler Austin in the trade that sent Lance Lynn to the Yankees. He will presumably fill the void left at first base when Joe Mauer retired. Last season in a Twins uniform, Austin played in 35 games, hitting nine home runs, and driving in 24 RBI.
The main focus for the Twins this off-season should be starting pitching. There are a number of free agent starters available that the Twins should, and need to go after. At the top of their list should be Patrick Corbin and Nathan Eovaldi. Corbin (ARI) had a successful 2018 season, going 11-7 with a 3.15 ERA in 33 starts. Nathan Eovaldi (BOS) started the season with Tampa Bay but finished with Boston. Eovaldi went 6-7 with a 3.81 ERA in 21 starts. Eovaldi would be a good player for the Twins to acquire because he is familiar with Twins new manager Baldelli from his time with Tampa at the beginning of the 2018 season.
The Twins have plenty of money to add valuable assets to their roster. It's time to use their money and get some top-end talent to get back into the playoff picture, and even contend for a World Series.
Main Photo:
Embed from Getty Images