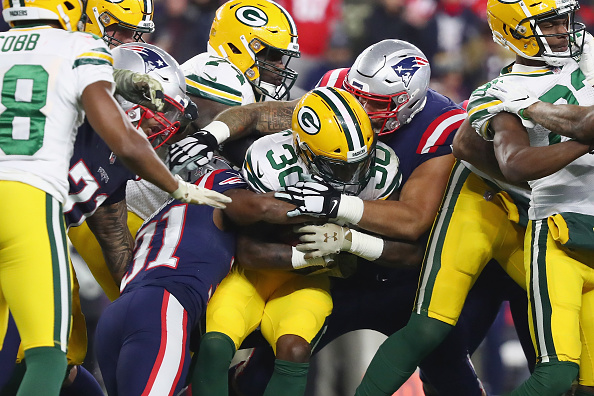 The Green Bay Packers record is currently 3-4-1. With the season at its midway point, can the Packers get back to the playoffs, or will they fail to make the post-season for a second straight year?
The Green Bay Packers Playoff Hopes
The NFC North still remains a tight race. However, the Packers seemingly will have to win out to have a chance at the division. Their wild-card hopes are not all that bright either. It is likely the NFC South will draw at least the New Orleans Saints and the Carolina Panthers for the division and the first wild-card spot. The second wild-card spot would go to the Falcons at this point, however, while it is unlikely three teams from one division make the playoffs, it is a possibility.
All in all the Packers cannot afford to lose any games at this point. Every game is important, especially in the division. Two other key games will be against the Seattle Seahawks and the Atlanta Falcons, both of which will be right there in the mix when it comes to the last wild-card spot. Lose either of those games and you can basically give up any hope of making the playoffs. Other than that, you have to hope the Chicago Bears and the Minnesota Vikings drop a few games along the way. This seems unlikely with the Bears in first place and for once looking like a complete football team. The Vikings have yet but hit their stride, but with that defense, and Kirk Cousins, an all-out collapse would be a pipe dream for Packers Nation.
Current NFC North Records:
Chicago Bears: 5-3
Minnesota Vikings: 5-3-1
Green Bay Packers: 3-4-1
Detroit Lions: 3-5
A Look at the Remaining NFC North Schedules:
Chicago Bears:
Nov. 11 vs. Detroit Lions, 1 p.m. (FOX)
Nov. 18 vs. Minnesota Vikings, 1 p.m. (FOX)
Nov. 22 at Detroit Lions (Thanksgiving), 12:30 p.m. (CBS)
Dec. 2 at New York Giants, 1 p.m. (FOX)
Dec. 9 vs. Los Angeles Rams, 1 p.m. (FOX)
Dec. 16 vs. Green Bay Packers, 1: p.m (FOX)
Dec. 23 at San Francisco 49ers, 4:05 p.m. (FOX)
Dec. 30 at Minnesota Vikings, 1 p.m. (FOX)
Minnesota Vikings:
Nov. 11 — BYE
Nov. 18 at Chicago Bears, 1 p.m. (NBC)
Nov. 25 vs. Green Bay Packers, 8:20 p.m. (NBC)
Dec. 2 at New England Patriots, 4:25 p.m. (FOX)
Dec. 10 at Seattle Seahawks (Mon), 8:15 P.M. (ESPN)
Dec. 16 vs. Miami Dolphins, 1 p.m. (CBS)
Dec. 23 at Detroit Lions, 1 p.m. (FOX)
Dec. 30 vs. Chicago Bears, 1 p.m. (FOX)
Green Bay Packers:
Nov. 11 vs. Miami Dolphins, 1:00 p.m. (CBS)
Nov. 15 at Seattle Seahawks, 8:20 p.m. (FOX/NFLN)
Nov. 25 at Minnesota Vikings, 8:20 p.m. (FOX)
Dec. 2 vs. Arizona Cardinals, 1 p.m. (FOX)
Dec. 9 vs. Atlanta Falcons, 1 p.m. (FOX)
Dec. 16 at Chicago Bears, 1 p.m. (FOX)
Dec. 23 at New York Jets, 1 p.m. (FOX)
Dec. 30 vs. Detroit Lions, 1 p.m. (FOX)
Detroit Lions:
Nov. 11 at Chicago Bears, 1 p.m. (FOX)
Nov. 18 vs. Carolina Panthers, 1 p.m. (FOX)
Nov. 22 vs. Chicago Bears (Thanksgiving), 12:30 p.m. (CBS)
Dec. 2 vs. Los Angeles Rams, 1 p.m. (FOX)
Dec. 9 at Arizona Cardinals, 4:05 p.m. (FOX)
Dec. 16 at Buffalo Bills, 1 p.m. (FOX)
Dec. 23 vs. Minnesota Vikings, 1 p.m. (FOX)
Dec. 30 at Green Bay Packers, 1 p.m. (FOX)
Main Photo:
Embed from Getty Images