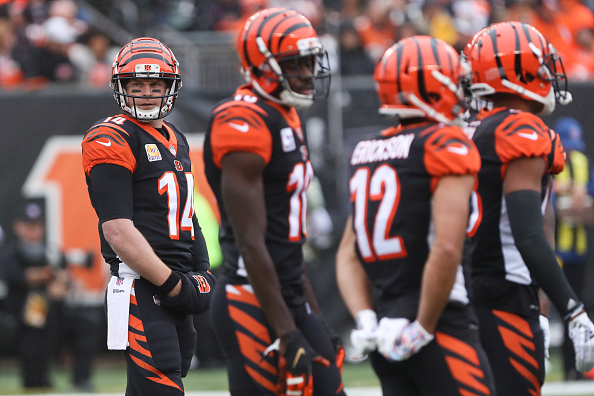 In the NFL, where parity reigns supreme, there are surprise teams every single season. This year has been no different with several teams getting off to starts through the season's first six weeks that have been in some cases better and in other cases worse than expected. Now, the big questions are what has contributed to these surprising starts and whether these teams will continue going against projections moving forward? Here is an analysis for the NFL's surprise teams through week six.
Sizing Up the NFL's Surprise Teams Through Week Six
The Surprisingly Good
Miami Dolphins: 4-2
Wins: vs. Titans, at Jets, vs. Raiders, vs. Bears
Losses: at Patriots, at Bengals
Many looked at the then-undefeated Miami Dolphin's week four matchup against the New England Patriots in Foxborough as a true measuring stick for just how good this team could be. A 38-7 drubbing in that game was followed by squandering a 17-0 lead against the Cincinnati Bengals. Just when it seemed the Dolphins were back where most expected them, they beat a first-place Chicago Bears team last week. Of course, the caveat to that win was that it came with Brock Osweiler playing quarterback as Ryan Tannehill sat with a shoulder injury. The defense and special teams units have been coming up big for the Dolphins thus far, evidenced in their number nine and three overall rankings respectively by Football Outsiders. This team is not without its issues, however, including the glaring one of an underperforming running back in Kenyan Drake. Miami will need to build up their ground game as it is tough to expect weekly heroics from Tannehill or Osweiler.
Projected Finish: 8-8
Things don't get any easier schedule-wise. Miami will see the Detroit Lions, Houston Texans, and Green Bay Packers in three of the next four weeks, and the Minnesota Vikings, Patriots, and Jacksonville Jaguars in the season's stretch run. The Dolphins have chalked up some quality wins thus far a home, but it's tough to envision that translating to road games against contending opponents.
Cincinnati Bengals: 4-2
Wins: at Colts, vs. Ravens, at Falcons, vs. Dolphins
Losses: at Panthers, vs. Steelers
If not for Antonio Brown's last-minute touchdown catch, Cincinnati could very well be 5-1 and in sole possession of first in the AFC North. The Bengals offensive line was expected to have improved compared to its awful 2017 showing, but through six weeks, the unit was ranked a disappointing 29th by Pro Football Focus. Yet, the Bengals are ranked sixth in points per game, averaging 29.0. Chalk up the offensive success to the emergence of the team's skill players. Andy Dalton is having one of the best seasons of his career so far, receiver A.J. Green has been his usual dominant self, and Tyler Boyd has emerged as a terrific and consistent second option in the passing game. Despite both missing multiple games with injuries, both Joe Mixon and Giovani Bernard have been sound out of the backfield when active. The Bengals have been fortunate to not be without both for any game so far. But can the offensive success be sustained if the O-line continues to struggle? A 24th overall defensive ranking by Football Outsiders doesn't bode well either.
Projected Finish: 10-6
Their 4-2 start may be a surprise, but the Bengals are for real. With no one exactly running away with the AFC North, Cincinnati is in prime position to be in the division race and in Wild Card contention down the stretch. Home games against the Tampa Bay Buccaneers, Cleveland Browns, Denver Broncos, and Oakland Raiders are all pretty good bets for wins.
Seattle Seahawks: 3-3
Wins: vs. Cowboys, at Cardinals, vs. Raiders (in London)
Losses: at Broncos, at Bears, vs. Rams
The Legion of Boom may be no more, and Earl Thomas may be out for the year, but the Seattle Seahawks have actually been one of the better teams in the league in several defensive categories. They are tied for fifth in points allowed per game at 19.5, rank sixth in yards allowed per game at 326.7, is ranked fourth overall by Football Outsiders DVOA adjustment, and have forced 13 turnovers to tie for the league lead in turnover differential at +7. These are some mind-blowing statistics for a unit that was purged of nearly all its big-name talent. On offense, Russell Wilson is one of the best improvisers in the game, and the running back tandem of Mike Davis and Chris Carson is picking up steam. However, you would think the offensive line must improve upon a 28th overall ranking by Pro Football Focus if Seattle is going to knock off some higher quality opponents.
Projected Finish: 7-9
It is fair to expect the Seahawks to handle the injury-ravaged San Francisco 49ers twice and their second matchup against the Arizona Cardinals. After that, it's hard to trust them in any more of their ten remaining contests. Seattle can beat anybody playing home at CenturyLink Field, but the Los Angeles Chargers, Green Bay Packers, Minnesota Vikings, and Kansas City Chiefs aren't exactly the easiest opponents to welcome in.
The Surprisingly Not So Good
Jacksonville Jaguars: 3-3
Wins: at Giants, vs. Patriots, at Jets
Losses: vs. Titans, at Chiefs, at Cowboys
Thanks, likely in part to Tony Romo, the Jaguars were a popular pick to reach the Super Bowl by many entering the season. To give them their due credit, Jacksonville has built one of the best defenses in recent memory, and an offense that, while void of superstar talent, has plenty of capable playmakers. While the defense ranks second in yards allowed per game (306.5) and ninth in points allowed per game (21.0), the offense has struggled to produce. Blake Bortles may be the 14th quarterback in Fantasy Football, but his real football grade by Pro Football Focus has him just 21st. He has particularly struggled when not facing pressure and having to throw into tight defensive coverage with a grade of just 59.1 when not being blitzed. The Jaguars have also been without a healthy star running back as Leonard Fournette has been hampered by hamstring injuries and has only seen limited action in two games thus far. An unhealthy back spells doom for an offense that is predicated on the ground game.
Projected Finish: 10-6
The Jags are home for three of their next four games with a bye week smack in the middle. However, those three home games are against the Texans, Philadelphia Eagles, and Pittsburgh Steelers. The schedule softens on paper after that, but it is crucial for Jacksonville to not fall on their faces until then.
Philadelphia Eagles: 3-3
Wins: vs. Falcons, vs. Colts, at Giants
Losses: at Buccaneers, at Titans, vs. Vikings
The defending Super Bowl champs certainly haven't come flying out of the gates to start the 2018 season. While a championship hangover is a possibility, there is the added factor of Carson Wentz having played just four games following last year's season-ending knee injury. Interestingly enough, Wentz has better marks in completion percentage (68.4), passing yards per game (298.0), touchdown to interception ratio (8-1), and passer rating (104.7) in his first four games this season than he did last year. The defense is performing satisfactorily, sitting tied for fifth in points allowed per game (19.5) and ranked 12th in yards allowed per game (352.8). But clearly, not all is going well for Philadelphia. The Eagles will be without running back Jay Ajayi for the remainder of the season due to injury. They also find themselves tied for 26th with a -3-turnover differential. Finally, the offensive line has been downright terrible. The unit has surrendered 18 sacks through six games. That's not exactly favorable when your quarterback is coming off an injury.
Projected Finish: 9-7
It's hard to feel great about the Eagles in most of their remaining matchups, among which are two games each against the Dallas Cowboys and the Washington Redskins, the other two teams in the current three-way tie atop the NFC East. It won't take a great record for Philly to again win the division, but they must take care of their competitors for that crown head to head.
Atlanta Falcons: 2-4
Wins: vs. Panthers, vs. Buccaneers
Losses: at Eagles, vs. Saints, vs. Bengals, at Steelers
Atlanta has an uphill battle this season, courtesy of being in the NFC South, arguably the best division in the NFL. Fortunately, they do sit 2-1 in the division despite the 2-4 start. While Matt Ryan has been electric, sitting third in passing yards with 1,956 and having the Falcons ranked sixth in passing offense by Football Outsiders, the backfield is in turmoil. Devonta Freeman was placed on IR earlier this week, so rushing duties will be in the hands of Tevin Coleman and rookie fourth-round pick Ito Smith going forward. And yet the backfield is facing nowhere near the challenges that the defense is. Atlanta ranks 30th in yards allowed per game (417.2), 31st in points allowed per game (32.0), and sits 31st in Football Outsiders' overall adjusted defense rankings. With just 10 total sacks (T-26th) and 7 total takeaways (T-20th), the Falcons aren't giving themselves any leeway for their poor yardage and points allowed statistics. The bottom line is the offense can score all day, but they will fail to outscore what the defense gives up most weeks unless something changes.
Projected Finish: 7-9
Given the strength of their divisional opponents and the array of contending teams across the NFC, the Falcons have likely dug themselves too deep a hole to climb out of. With four of their remaining ten games on the road to boot, Atlanta will miss the playoffs for the first time in three years.
Main Photo:
Embed from Getty Images