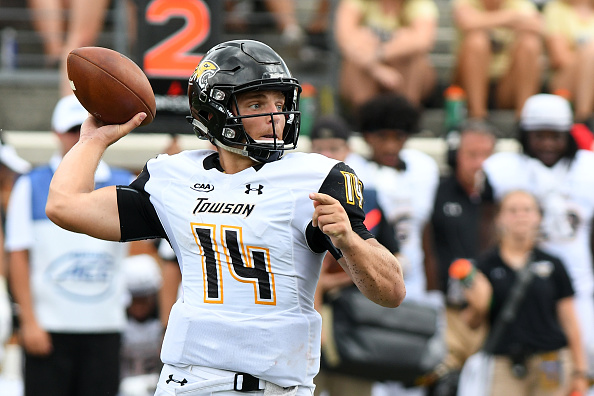 You have likely heard of Baltimore Ravens quarterback Joe Flacco. You have likely not heard of Towson Tigers signal-caller Tom Flacco. Tom is Joe's younger brother who has been very impressive so far this season. Unlike his brother, Tom is a dual-threat quarterback who has been as effective on the ground as through the air. Towson is just outside Baltimore, and the Tigers and Ravens both are off to strong starts. However, from his production on the ground, and his teams' success I believe Tom is the better Flacco.
The Most Mobile Quarterback in Baltimore
Move over Lamar Jackson, because Tom Flacco has become the best mobile quarterback in the area. He leads Towson in rushing with 326 yards and two scores, both against The Citadel. One was a 78-yard scramble down the left sideline after reversing the complete length of the field to avoid a sack. The other included a hurdle over the defender before stretching the ball across the plane. Tom averages 4.9 yards a carry which is a half yard better than the starting running back Shane Simpson. Tom rushed for 185 yards against The Citadel, breaking the all-time record for both Towson and the CAA. He averages 65 yards a game, 20 yards ahead of any running back. Tom is a quarterback, and when he throws the ball he's been effective.
In five games he's completed 69% of his passes for over 1400 yards and 14 TD. Towson has scored at least 40 points in their last three games, two against top 15 ranked opponents which the Tigers went 2-0. Six receivers have 95 or more yards, and four have at least 180. He has avoided multiple sacks with his Russell Wilson impression, and it has paid off as he has won the CAA offensive player of the week multiple times.
Hail to the Towson Tigers
Towson had not been ranked since 2014, but after a 2-1 start including a win over 10th ranked Villanova the Tigers finally were ranked #24 before their home opener. Celebrating their 50th anniversary, the Tigers knocked off The Citadel 44-27. They followed it up with a 52-28 victory over 13th ranked Stony Brook. Towson is now ranked 17th in the FCS. Tom won the starting job over Ryan Stover and has made coach Rob Ambrose proud. Towson was picked to finish 10th in the CAA before the season, they are now tied with Rhode Island for the lead. They are ahead of 8th ranked James Madison who has been as high as second in the nation. Ambrose has been impressed with Tom so far, "He's been able to do in games what he does in practice. Not many players are able to do this". Towson is on a three-game winning streak and for the first time in program history scored at least 44 points in each of those games. Towson will face William and Mary on 10/13 and has a chance to make a run at not only the CAA but the FCS.
Five years ago Towson faced North Dakota State in the FCS National Championship, the Tigers came up short but don't be surprised if it happens again. Towson has a dominant defense led by Monty Fenner, Mantriel Reeves, and Diondre Wallace. Aiden O'Neill has only missed two field goals so far. The Tigers like the FCS doesn't get much national attention, but so far Tom is proving to be the better Flacco.
Main Photo:
Embed from Getty Images