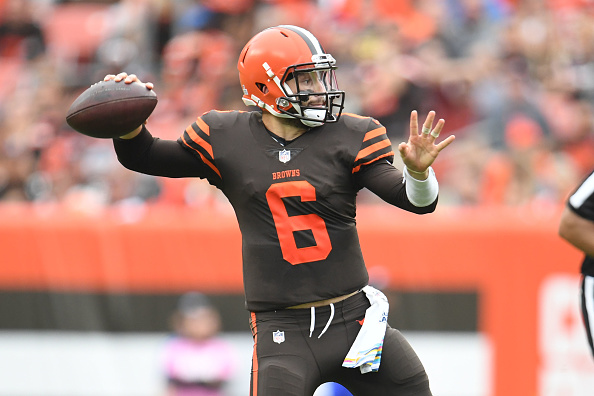 A Playoff Birth is Realistic for Baker Mayfield and the Cleveland Browns
The Cleveland Browns have not been to the playoffs since 2002. Their quarterback at the time was Tim Couch. Since then, the Browns have had 16 starting quarterbacks. Number one overall pick in this past year's draft Baker Mayfield will be the 17th on week 4. Baker Mayfield Brings a different dynamic to the Cleveland Brown's offense. A dynamic that hasn't been seen with Tyrod Taylor or any of the other 15 starting quarterbacks over the years. Baker Mayfield is a fearless gunslinger.
What's Different?
Mayfield has the key tools to make an explosive offense make noise in the AFC. With such a talented bunch of skill players, Mayfield's style fits into what the Browns need to do to make a run at the postseason.
During the first three games of the season, conservative starting quarterback Tyrod Taylor has only completed 48 percent of his passes. After coming out of the game against the Jets with an injury, Baker Mayfield came in to lead an explosive comeback to win the game. In his first game, Mayfield completed 73.9 percent of his passes and has a quarterback rating of 100.1.
Quarterback Is Important, but What About the Rest of the Team?
Aside from Mayfield, the Browns are one of the more talented teams in the NFL. Wide receivers Antonio Callaway, Jarvis Landry, tight end David Njoku, and running backs Carlos Hyde, Duke Johnson, and Nick Chubb can make up an explosive offense. Defensive studs include Myles Garrett, Christian Kirksey, Jamie Collins, Joe Schobert, Jabrill Peppers, Denzel Ward, Terrance Mitchell, and Briean Boddy-Calhoun.
As Jim Mora Would Ask, Playoffs?
It also helps that the rest of the division is inconsistent. The Steelers are having personal issues with their star players on offense, the Ravens gave up 37 points to the Bengals and have a below average run game, and the Bengals are well… the Bengals.
The Browns have the tools in place to not only make the playoffs but win the division as well. The Browns' success may rest on the shoulders of their golden child, Baker Mayfield.
Main photo:
Embed from Getty Images