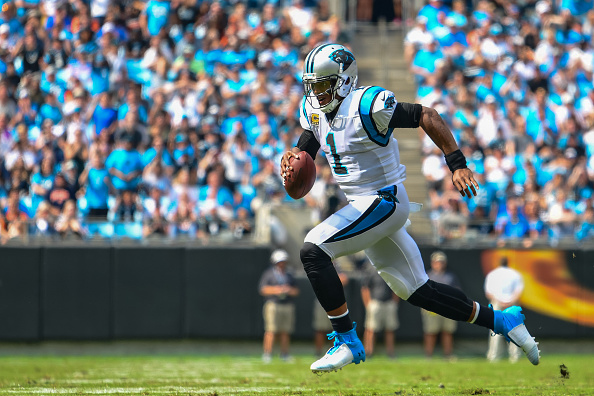 The Carolina Panthers' win versus the Cincinnati Bengals was by no means a perfect game. However, it may have been a taste of what could be the best Cam Newton the NFL has seen so far. It's no secret that Cam loves running the ball. Football analysts and media criticize his playing style because it doesn't fit the mold of traditional quarterbacks. However, his stats from this week's win prove that once again, he's the most dangerous when he uses his legs.
Why this is the best Cam Newton
Cam only passed for 150 yards and rushed for 36 yards but his impact on the game was much more than his numbers suggest. For starters, he committed zero turnovers and accounted for all four of the Panthers touchdowns. It was the sixth game of his career where he has rushed for at least two touchdowns or more. Also, it was the third game of his career where he threw for at least two touchdowns and rushed for at least two in the same game. Furthermore, he is currently completing 67.4% of his passes with a passer rating of 99.7, both career highs. This has arguably been one of his best starts so far in his career.
Newton did a much better job this week spreading the ball compared to last week. Devin Funchess had four receptions, while Ian Thomas and Torrey Smith had three each.
Even though Christian McCaffrey only had two receptions, he had a career day on the ground. He ran for 184 yards on 28 carries. Newton did not seem to be surprised by McCaffrey's big day according to Joe Person:
Cam on McCaffrey: "This is not a fluke. He's been doing it his whole career."

— Joe Person (@josephperson) September 23, 2018
This comment could be in response to the rumors claiming that McCaffrey is too small to run between the tackles. Newton has had his share of criticizers so it's no surprise to see him stand up for his fellow running back.
What makes this Offense different
McCaffrey can no doubt help elevate Cam to the next level, as seen so far this season. When Cam had DeAngelo Williams and Jonathan Stewart as his running backs, the offense was more predictable. Stewart was used to run between the tackles and Williams was used outside the tackles. Also, neither backs were prolific at pass-catching. The offense became even more predictable after Williams left the team. With McCaffrey, Newton now has a running back that can do all three. This takes immense pressure off of Cam when making read options and check-downs.
For the first time in a long time, Newton has a go-to wide receiver in Devin Funchess and an every-down back in Christian McCaffrey. Unlike his 2015 MVP season, he will not have to carry the entire offense. With this offense clicking on all cylinders, Cam Newton may very well be in the MVP discussion once again.
Main Image:Embed from Getty Images