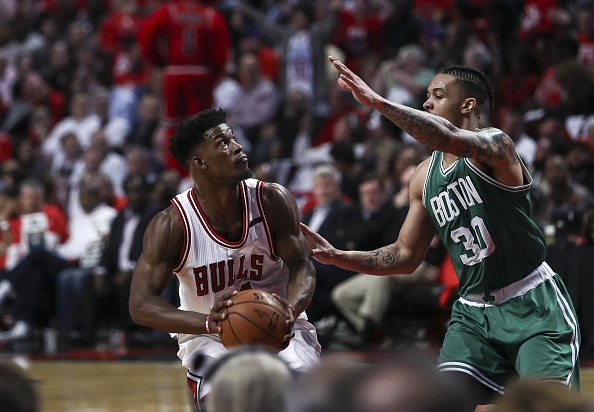 Why The Brooklyn Nets Need to trade for Jimmy Butler
It is now fairly common knowledge that Minnesota Timberwolves All-Star Jimmy Butler has requested a trade after only one season.  It is clear Butler wants to part to do with a Timber(bulls)wolves team that looks as if it will slip back out of the playoffs once again.  
Butler was the main cause that ended the 13-year playoff drought but has no intentions of staying.  If the Wolves are smart, they trade him before he walks away in free agency.
Best case scenario for Tom Thibodeau and his Wolves is that a team decides to take the risk and move for him, hoping a Paul George scenario will happen where Butler learns to love his new team.  
The Brooklyn Nets are one team that Butler put on his short list (along with the NY Knicks and LA Clippers, the Clippers being his #1 choice followed by the Knicks).  The Nets need to make a trade, and here are some reasons why:
Little Free Agency Appeal
The Nets are basically the Knicks less successful little brother, which is so embarrassing.  How could a team be less successful than the Knicks, who always start out promising to break their fans (like me) hearts?  It is no secret the Nets have little to offer outside of the fact that they're swimming in cap space, which is always an excellent thing to have.  Now, Kyrie Irving will probably not go to Brooklyn, as they have D'Angelo Russell as the future point guard, but Jimmy Butler and D'Angelo Russell, opposites attract, and these guys games are almost as close to the opposite as you can get.
The Nets could also do what the Lakers did, and hold out with hopes on getting him in a Brooklyn jersey next summer in July, but we all saw how that worked with the Lakers and Paul George.  Safety first, do the deal, assure you have Jimmy Butler. A year could be enough time to convince him to stay in the BK.
Get Some Real Talent
Let's face it, the Nets are awful.  They finally have their first-round pick, and you better believe they won't even consider trading it.  If the Nets can also snag Butler in a deal, then they're in good position to maybe have some talent next season.  Yes, it will make the 1st round pick worse, but if the Nets outplay the Knicks this year, free agents might take notice.  
Butler will play well paired up with Russell in the back court, and maybe they can squeeze into the playoffs with this roster.  They won't go far, but it will be something to be proud of for a Brooklyn team that has been a disaster for while now.
Sign of Good Things to Come?
It's more than fair to say the Nets have been the laughing stock of the NBA for the past 4 years.  They traded all their picks for washed up Celtics players. The Nets love trading picks, as they could also have Damian Lillard if they played their cards right, but they didn't.  If they finally can get an All-Star in the prime of his career, maybe it's a sign of things to come. Deron Williams, Paul Pierce, Kevin Garnett, all past their primes. Maybe Butler can be that very needed breath of fresh air.
Main Image: Embed from Getty Images