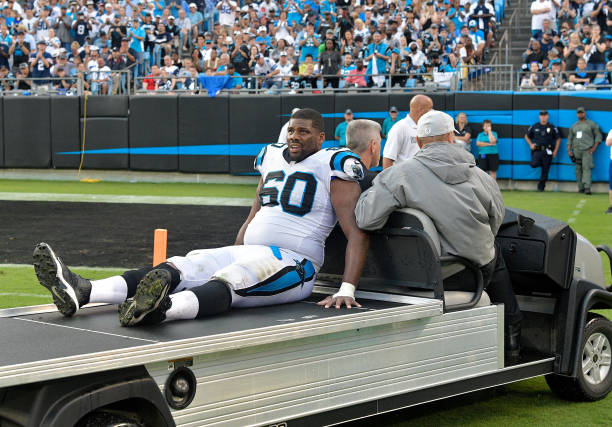 The Carolina Panthers will be playing their first conference game of the season against the Atlanta Falcons, Sept 16. They'll have to do it without two key starters on offense: tight end, Greg Olsen and right guard, Trai Turner. On the Falcons side, they lose Devonta Freeman to a knee injury. Injuries impact the Panthers versus the Falcons. Let's examine it.
Injuries impact Carolina Panthers
Turner has been a consistent part of the Panthers offensive line since 2015. The man has three straight pro bowl appearances each in '15, '16, and '17. Even though he's an important part of the offensive line, head coach Ron Rivera feels like they'll be prepared on Sunday telling a Panthers reporter he feels like they did a good job with the guys they decided to bring in. They signed Chris Clark, former Denver Broncos and Houston Texans offensive tackle, after placing Daryl Williams on injured reserve.
Adding insult to injury, Olsen finds himself injured as well. In the win against the Dallas Cowboys, he recorded two catches for 33 yards. During his second catch, he stepped on Kavon Frazier's foot re-injuring his right foot. This puts him out for the Falcons game but, according to ESPN's Adam Schefter, Olsen should be back in a few weeks.
How the injuries will impact the game
This is a big break for the Falcons who lost their first game to the Philadelphia Eagles. Having a hole in the offense means the opportunity for the defense to get Cam Newton. They are without Neal so they'll have to depend on the front line.
Olsen being out isn't so bad for the Panthers. Of course, he is Newton's favorite weapon to throw to but there are many different weapons including veteran Torrey Smith and rookie DJ Moore who should see more targets in Olsen's absence.
Injuries impact Atlanta Falcons
Freeman had eight touchdowns, seven rushing and one receiving, last year. Having him out doesn't guarantee the Falcons run game will be non-existent but it gives the Panthers only one runner to concentrate on. Freeman along with Tevin Coleman have combined for over 2,000 yards the last three seasons.
How injuries will impact the game
Coleman and Freeman have been the heavy-hitting running backs the last three seasons. Now that Freeman is out, the focus will shift to Coleman who will have help from Brian Hill, a third-year back from the Cincinnati Bengals and rookie Ito Smith out of Southern Miss. They haven't done much but the hope is that they can help carry the load in Freeman's absence.
Last word on Falcons-Panthers game
There are significant injuries on both the Panthers and the Falcons. The key to this game will be which team does better in their player's absence. It will be interesting to see if the Panthers are able to sustain with so many issues in their offensive front. They seemed to do well during the preseason and in the first game. Both teams will be depending on defense big time for this game.
Main Image: Embed from Getty Images