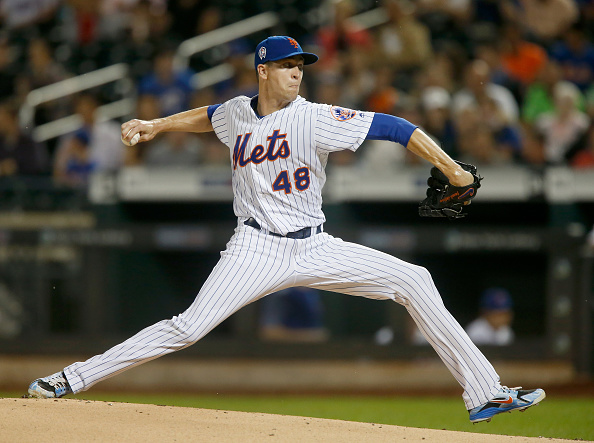 The National League Cy Young race has been one of the very best in recent memory. There are multiple starters who have pitched well enough to take home this award. However, only one of them can be the winner. Without further ado, here are your favorites for the 2018 National League Cy Young.
Jacob deGrom should be considered the favorite for the Cy Young. He has been the best pitcher in ALL of baseball this year. Lets ignore the fact that deGrom has an 8-9 record. If he were on a better team, his record would be much better.
To show you how well he has pitched this year… If you take away deGrom's eight winning starts, he is 0-9 with a 2.20 ERA which is still the best ERA in the National League. Not to mention deGrom has allowed three earned runs or less in 23 consecutive starts. When thrown into high leverage situations, deGrom is a different pitcher.
Nola has certainly made a very strong case for the Cy Young. He is enjoying a tremendous breakout season in Philly. He has a record of 16-4, and has recorded 24 quality starts in his last 27 outings. Nola also has a 2.29 ERA, which is second only to deGrom.
If Nola is able to record a win in each of his remaining four starts, he will reach the 20 win plateau. He also has posted a wins above replacement mark of 9.3, which is incredible for a pitcher. I personally think with his WAR Nola would make a nice MVP candidate as well, but as far as the Cy Young, he will just miss out.
Scherzer is a 3x-winner of the award, and has taken it home back-to-back years. In 2018, he has made a strong case for a three-peat. Scherzer is a bulldog, and absolutely dominates on the mound. He has 271 strikeouts, a 2.31 ERA, and a 0.833 WHIP over 202 innings.
Scherzer is just three wins away from being a 20 game winner for the third time in his career. He is also just 29 strikeouts away from 300 for the season, which would be a first for him. If Scherzer's taken home the award twice without completing such feats, why not this year?
Freeland is the dark horse in the discussions. The 25-year old has made a name for himself in 2018. Freeland has somehow mastered the art of pithing in the hitter friendly confines of Coors Field. In 13 starts at Coors, the 25-year old has pitched to a 2.21 ERA, which is more than a half run better than any starter has managed at home in the franchise's 26-year history.
Though Freeland might not match up with the other candidates just yet, he certainly deserves some praise for his tremendous season.
Last Word
All of the candidates have put on magnificent pitching displays in 2018… Scherzer is an animal, and always has been. Nola and Freeland are rising starts enjoying tremendous seasons. However, Jacob deGrom will, and absolutely should be your 2018 National League Cy Young award winner.
Wins are a pointless stat when it comes to the Cy Young, on a good team deGrom could easily be a 20 win starter. What deGrom has done, posting a 1.71 ERA, with that team around him is incredible. He has been the best pitcher in all of baseball during the 2018 season.
Main Photo: