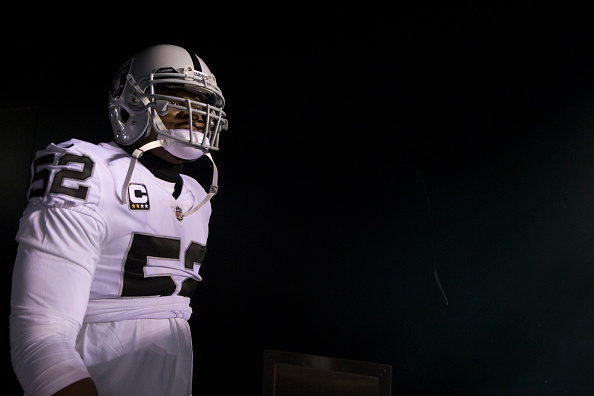 In a stunning move that has surprised many in NFL circles, the Oakland Raiders have traded Khalil Mack to the Chicago Bears. The fact that the Raiders were unable to get a deal done with one of the top five defensive players in the league is mind-boggling. In fact, it is asinine. Multiple teams were reportedly in on Mack, including the 49ers, Jets, Bills, Colts, Packers, and Browns.
Khalil Mack Traded to the Chicago Bears
Cost to the Bears
The Bears are certainly paying the price for Mack. They are giving up two first-round draft picks, likely in 2019 and 2020. Additionally, it appears the Bears are preparing to offer Mack a deal that eclipses the enormous deal Aaron Donald just received from the Rams. That contract is worth $135 million over six years including $87 million guaranteed. It is a huge price to pay, but one the Bears feel they have to pay.
What Mack Brings to the Bears
The Bears front seven already could have been considered a strength, particularly the linebackers. By adding Mack, the Bears LB group may have become one of the top five in the NFL. Danny Trevathan accumulated 89 tackles in 12 games along with five pass deflections last season. Leonard Floyd enters his second season with lots of promise. Rookie Roquan Smith, who is similar to Mack in a lot of ways, is thereafter signing late in the summer. Plus Sam Acho and Nick Kwiatkoski add quality depth.
Despite Akiem Hicks contributing 8.5 sacks last season, the Bears pass rush was considered an area of obvious opportunity. Leonard Floyd was really their only premier pass rusher. Thus the need to add a player like Mack to the Bears 3-4 scheme. He adds so much versatility to what the Bears want to do in their defense.
Khalil Mack is entering his fifth season in the NFL. So far in his tremendous career, he has not missed a single game, playing all 64. Mack has registered 303 tackles, 40.5 sacks, one interception (which he returned for a TD), 11 pass deflections, nine forced fumbles and four fumble recoveries. He is a three-time Pro Bowler, two-time All-Pro selection and won the Defensive Player of the Year Award in 2016. Not too shabby, right?
What does all of that mean? It means that the Bears are getting a premier pass-rushing outside linebacker to pair with Leonard Floyd. They add another sideline to sideline player that when combined with Roquan Smith gives Vic Fangio plenty of flexibility in what he wants to do scheme wise. Fangio can send Mack and Floyd together on blitzes while allowing Smith to be a reactionary player in the middle as he learns the NFL game. Or he can send just one of those guys and drop the other back in coverage to help stop the run. Offenses will have a hard time knowing who is coming from where. Danny Trevathan can focus on stopping the run. Good luck going up against that group! All of these guys are extremely athletic, quick and have tremendous instincts.
The talented linebacker group that the Bears now have allows pressure to be relieved from both the defensive line and the secondary. This group is extremely versatile and dangerous with Mack in the fold.
Khalil Mack stats can be found here.
Raiders Defense Without Mack
The Raiders defense already struggled mightily with Khalil Mack on the field. Now they lose their best pass rusher and player on that side of the ball. They added veteran Derrick Johnson to the mix, who comes in after 13 seasons in Kansas City. His production has dwindled and he has injury concerns. The linebacker corps appears to be a major weakness at this point. They do not have much of a pass rush anymore without Mack. This hurts the team significantly, no matter how they will spin it. Another factor is how the players are taking it. Needless to say, they are not happy. Huge loss for them.
Last Word
Khalil Mack has established himself as one of the top three to five defensive players in the NFL. He deservedly wanted to be treated as such. It appears the Raiders were all too willing to let him go, which honestly makes no sense. Reportedly, there was a lack of communication for quite some time between Jon Gruden and Mack. Seriously?
The Bears are absolutely paying a steep price, both in draft picks and reportedly with a huge contract as well. With that said, it is incredibly nice to see the Bears going all in. They clearly want to win and do not want to wait around to do it any longer. They are sure hoping it pays off. With Vic Fangio's scheme, play calling and coaching prowess combined with loads of talent on this young Bears defense, expect the Bears defense to be nasty.
Main Photo:
Embed from Getty Images