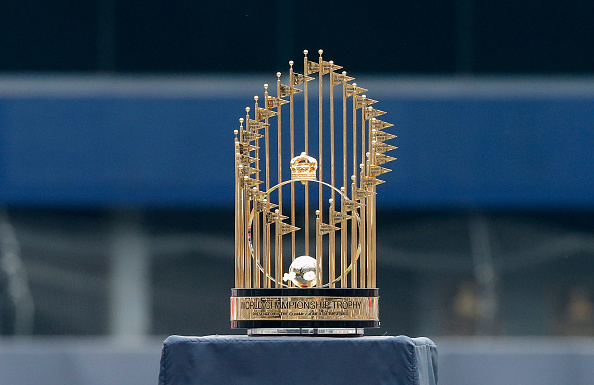 We spent the previous two columns looking at which National League division leader is best prepared for a World Series run (you can read that article here). We did the same for the American League (here is that article). You can see how we came to the conclusions we did, based on numbers that do not lie. Or you can read this one and figure it out quite quickly. Either way, read on to figure out who will be the 2018 World Series champs.
Before we go any further, I must say that the Arizona Diamondbacks have since fallen back into a tie for the National League West with the Colorado Rockies. It doesn't change the substance of this article, but it hasn't gone unnoticed. It makes one wonder if another team will slip down the stretch.
The Atlanta Braves might be too young to realize what they are doing this season.
Ronald Acuna is only 20-years-old and has 21 homers in 80 games, while batting .287. Ozzie Albies is 21-years-old and has 21 homers with a .272 average. Throw in Johan Carmargo (24-years-old, 13 homers in 108 games), and Dansby Swanson (24-years-old), and you have a young core that finds itself ahead of its time (much like the Chicago Cubs of 2016). Add in Freddie Freeman and Nick Markakis, who are hitting .313 and .312, respectively, and you have a formidable lineup. Freeman has been "Steady Freddie" all season, hitting .308 at home and .318 on the road during what has become a breakout season for the 28-year-old.
Don't tell Nick Markakis he's 34 as he is experiencing a rebirth hitting .304 at home and .318 on the road. He has become a strong leader for a team of youngsters.
Longtime fans of the Braves know the team found its best success with strong pitching. Granted, guys names Greg Maddux, Tom Glavine, and John Smoltz are not walking into the clubhouse, but they do have guys named Mike Foltynewicz, Sean Newcomb, and Julio Teheran. If these names don't ring a bell, they make up a staff with a near – .600 winning percentage since the All-Star break, along with an ERA of 3.38, which is a half run better than the first half of the season. It must also be said Braves pitchers have an ERA of 2.96 in August, easily their best month of the season. So they are getting better. Not only that, Braves pitchers have a better winning percentage on the road (.574 compared to .556) with a better ERA (3.67 compared to 3.74).
What's that mean?
It means home or away, The Braves are a threat at the plate, and on the mound.
But that doesn't mean the Red Sox are just going to roll over and give up. Don't forget, the Red Sox were down 3-0 to the Yankees in 2004 before winning four straight to go to the World Series where they beat the Cardinals to break the "Curse of the Bambino."
This year's Red Sox are (most likely) not going to lose three straight to any team in the playoffs, which is why they're going to be in the World Series. They have only lost three games three times this season. (note: our previous article stated Boston had only two such losing streaks, which at the time was true, they lost three straight again August 24-26)
They have a young core of their own in Jackie Bradley, Jr. (28), Mookie Betts (25), Andrew Benentendi (24), Xander Bogaerts (25), and Rafael Devers (20). Even seasoned slugger J.D. Martinez (31-years-old with 38 homers) has a few prime years left.
It is a core with a home batting average of .281 compared to .257 on the road.
But don't think that means the Red Sox are any more beatable when they leave Fenway Park.
The team's winning percentage at home is .723 and "falls" to .647 on the road. The only other division leaders with at least a .600 home winning percentage (where the Red Sox would appear to be weaker as the visiting team) are the Indians (.625) and the Cubs (.652) which means the Red Sox will win one, and most likely two games on the road.
They have been successful this season because of consistent hitting, and an even better rotation.
The Red Sox have four starters who could make a solid case for the Cy Young Award.
Chris Sale (12-4), Eduardo Rodriguez (11-3), David Price (14-6), and Rick Porcello (15-7) give the Red Sox a likelihood to win nearly every night. It doesn't matter if they are playing at Fenway or on the road, either. Red Sox pitchers are 45-18 at home and 44-24 on the road. The team ERA is nearly identical at 3.53 and 3.47 respectively.
Both the Braves and the Red Sox have put together fantastic seasons.
The Red Sox have an Advantage the Braves Cannot Match.
With four Cy Young caliber pitchers, they can pull one guy out if he gets off to a bad start and replace him with someone just as strong (or stronger). In a possible seven game series, it gives them the advantage of using someone (or everyone) on short rest to close it out. That's an advantage the Braves do not have. That's why the Braves will fall short and the Red Sox will toast a championship.
Main Photo: