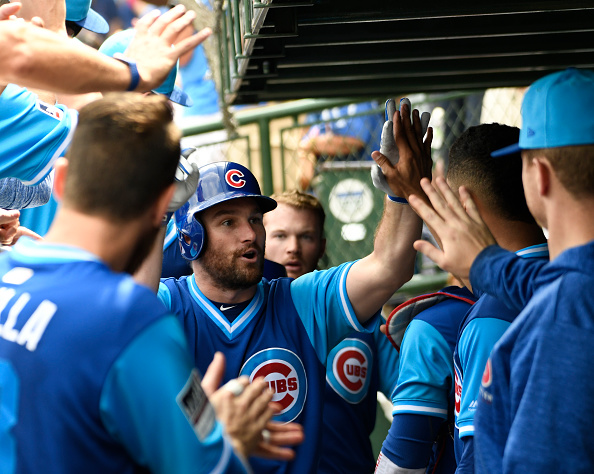 As the baseball season winds down, it's time to take a more serious look at how the current division leaders might fare if the playoffs started today.  Last week, we looked at the American league (read that article here: 
https://bit.ly/2MxIEM6
).  Today we'll take a look at the National League.
In all transparency, I am a Cubs fan, but that being said the numbers being used in this column will not lie when it comes to showing whether the Braves, Cubs, or Diamondbacks are ready to make a run for the World Series.
Let's start with the Arizona Diamondbacks who are holding onto the division lead by the skin of their teeth:
If you think the Diamondbacks snuck up on everyone, you're are correct.  The National League West was supposed to belong to the Los Angeles Dodgers, and it still might before all is said and done because the Dodgers are only 2.5 games back (Colorado is one game back).
The Diamondbacks are quietly becoming a force in the National League because they were very quiet in the first half of the season. Before the All-Star break, Arizona had a team batting average of .229.  Since then, the team is hitting .273.  Some of that success can be credited to
David Peralta
. He has somehow worked his way into the MVP conversation by hitting .371 since the All-Star break, including a .395 clip in the month of August.  Add in the production of
Paul Goldschmidt
who, despite starting the season ice cold (he hit .297 in April but .144 in May), has put together another productive year.
Arizona pitchers Zach Greinke and
Patrick Corbin
are keeping things together on the mound. While not stellar, Greinke's 13-8 record won't intimidate opposing teams, but the fact he is getting better as the season wears on, should make teams worry.  Before the break, Greinke had a 3.18 ERA. Since then, it's 2.30. Patrick Corbin has been just as solid.  He is making the most of an opportunity to be in the rotation. Corbin is 10-4 with a 3.17 ERA.  Just like Greinke, he is getting better as the season wears on. Corbin was 6-4 before the break with a 3.24 ERA.  Since then, he's only gone 4-0 with an ERA of 2.97.
The Diamondbacks aren't flashy, and don't make a ton of headlines, but their team of grinders has them on top of their division.
Next up, let's talk about the Chicago Cubs:
They lead the Cardinals by four games, have the best record and the second best run differential in the National League at +114 (the Dodgers are +121).  They have done all this with a flare for the dramatic and finding a way to win late in games.  Twice in the last month,
David Bote
hit a walkoff homer to win the game (including the game winning grand slam against the Nationals). Another time, he hit a homer to tie it, only to have
Anthony Rizzo
win it with a homer a few pitches later.  But this is where the Cubs can struggle.
If they do not put up a bunch of runs by turning the game into batting practice, they can struggle to score.  That is why the numbers for the Cubs can be misleading.  The team's best month for homers was May when they hit 36, but the team went 14-13.  That month describes their season, even though they are 15-8 in August.  The Cubs play in streaks, good and bad.
The lack of consistency comes from their pitching staff.  They have two parts to their pitching staff, those who are named
Jon Lester
, and those who are not. But even he has hit hard times.  Before the All-Star break, Lester was 12-2 with a 2.58 ERA.  Since then, he's 2-2 with a 7.08 ERA.  Lester also performs better on the road (3.05 ERA) than at the "friendly confines" of Wrigley. (4.23 ERA) 
Kyle Hendricks
is a far cry from leading the league in 2016 in ERA.  This year, he's 10-10 with a 3.86 ERA. 
Jose Quintana
was supposed to strengthen the rotation and this season he has been another symbol of hit or miss results.  He is 11-9 with a 4.33 ERA and pitches better on the road (3.91 ERA) than at Wrigley (4.88 ERA)
A flare for the dramatic will only get a team so far, especially if that team faces off against a team whose pitchers can shut it down!
The Braves might be too young to know what they're getting into:
Ronald Acuna
is 20-years-old all he has done this season is hit .290 with 21 homers.  The scary thing is he seems to be getting better.  Before the All-Star break, he hit .249 with seven homers in 169 at-bats. Since then, he is hitting .341 with 14 homers in 138 at-bats.  Not bad for someone too young to drink.
Ozzie Albies
is 21-years-old and has 21 homers with a .272 average. He has slipped a bit since the All-Star break, hitting .281 beforehand with 20 homers, compared to .237 with just one homer since. Opposing pitchers have found a way to pitch to him.
Pitchers have not found a way to solve
Freddie Freeman
and
Nick Markakis
, who are hitting .313 and .312, respectively.  Freeman has been "Steady Freddie" all season, hitting .308 at home and .318 on the road during what has become a breakout season for the 28-year-old. Don't tell Nick Markakis he's 34 years old. He is experiencing a rebirth among a team of youngsters hitting .304 at home and .318 on the road.
But the hitting is just half the story for Atlanta. Their pitching staff of no names has been as strong as any in the league.  They have no superstar names on the mound, but all their staff has done is post a second half ERA of 3.33, better than the other two division leaders.
The three division leaders compare pretty well… but…
If the Cubs are hot going into the playoffs, their experience will go a long way to help them. But this season they played too hot and too cold that I see them. It pains me to say this, they are more representative of 2015 when they got swept in the NLCS by the Mets than 2016, when they won it all.
The Diamondbacks have two solid starters, but will need a third if they want to make a serious run for the World Series.  In this case, the Braves have too much offense and enough solid pitching to protect a lead.  The youngsters will Brave-ly take Atlanta to the World Series.
Main Photo: