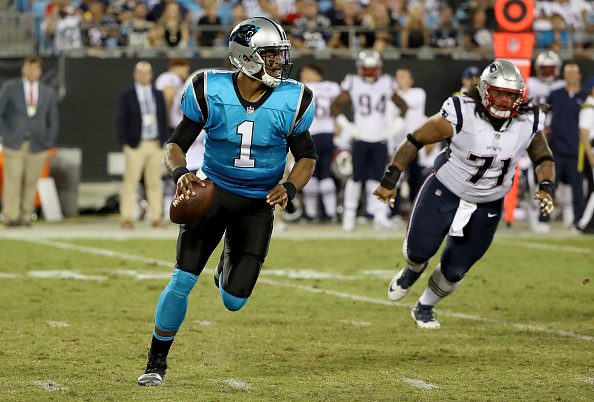 The Panthers won yet another preseason game; this time against the Patriots 25-14. We aren't crowning the Panthers super bowl champions just yet, but let's look at three positives and one negative of their latest win.
Three Positives
3. Cam Newton is ok
Panthers fans held their breath as they watched replay after replay of Newton crashing face first into the grass. The team originally determined that the quarterback sustained a concussion and would go into the protocol. Once inside the pop-up tent, it was determined that his helmet was the culprit (made apparent by the shiner he wore because of it). He played the remainder of the first half, to the dismay of his fans, but put together three drives that each ended in Graham Gano field goals.
2. Doss making a name for himself
Lorenzo Doss has been trying to find a home in the Carolinas after playing in Denver the last three seasons. According to Bleacher Report's 2015 scouting report, his small size and below-average strength made him a suitable backup at best. Friday night he led the defense with eight tackles and stayed all over the field. It will be interesting to see if he sustains this type of play if he is awarded a starting position. It's obvious that there is a great need at the corner spot.
Doss should be careful though because rookies Donte Jackson and Rashaan Gaulden are holding their own as well.
1. The offensive line played their best ball
Remember when I said the biggest problem for the Panthers was their offensive line? The way they played on Friday would have you thinking the complete opposite. Taylor Moton, who played a backup role last year, told Kevin Donnalley that he's been practicing hard, trying to make sure he is prepared. He, along with the rest of the line, held up for the offense and made playcalling easy.
The offensive line still has to perform and there is no doubt that the Panthers need to find permanent starters, but the line showed that they can hold their own in the meantime.
One Negative
One negative for the Panthers is they have one preseason game left and have serious decisions to make regarding the team. DJ Moore has a lot to prove if he hopes to live up to his $11 million rookie contract.
The backup quarterbacks are both in a battle for their football lives. Will Taylor Heinicke or Garett Gilbert be the Panthers number two? It comes down to the last game.
Main Photo: