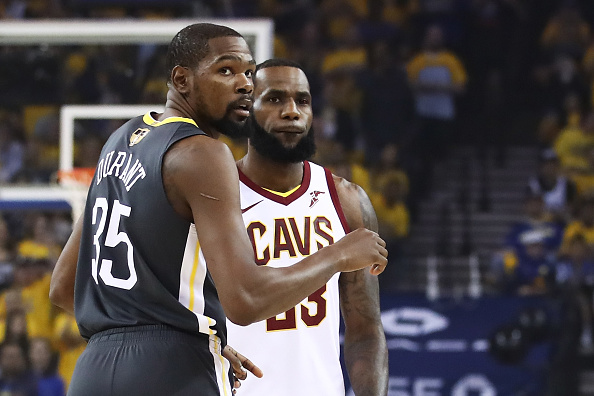 The NBA Finals since 2015, and really 2011, have been very similar.  The similarity: LeBron James is there. Whether it is with the Miami Heat or Cleveland Cavaliers, LeBron manages to always play in the finals. In a stacked Western Conference, though, on an otherwise below average Lakers team, it is safe to say the Finals will be without LeBron.  Though LeBron has been in all of them but one this decade, he has not won them all, going 3-5 since 2011. (He also lost 4-0 to the San Antonio Spurs in 2007 with the Cavs.) Now, without LeBron in the Eastern Conference, we will see who will lose to the Warriors in 2019 (KD and Boogie, you two are class acts) and then see how free agency could shake up the next 4 years.  Here are the teams who will play in the next 5 NBA Finals:
2018-19 NBA Finals: Golden State Warriors-4, Boston Celtics-0.
Every person even somewhat involved in the NBA, whether it was a player, a person who works for the league, or a fan, screamed in horror when Demarcus Cousins joined the Golden State Warriors.  The Warriors did it: they have a starting 5 of all-stars. Cousins, coming off a ruptured Achilles, left Anthony Davis, the man who wore Cousins' jersey in the All-Star Game out of respect for his teammate.  Cousins posted a picture of it on Instagram with the caption "My Brother." "Brothers" are supposed to be through thick and thin together, not abandoning each other for other families. All in all, a starting 5 of Steph Curry, Klay Thompson, Kevin Durant, Draymond Green, and Demarcus Cousins will beat anyone in 4.  The Celtics do have superstar Kyrie Irving, all-star Al Horford, and some great young talent in Jayson Tatum, Jaylen Brown, Terry Rozier and Marcus Smart will not be able to deal with Golden State.
2019 Off Season Marquee Moves
Kyrie Irving re-signs on a 2yr/75mil deal with the Boston Celtics

Kawhi Leonard leaves the Toronto Raptors, signs with the Los Angeles Lakers on a 4yr/132mil deal

Klay Thompson re-signs on a 5yr/188mil deal with the Golden State Warriors

Kevin Durant mans up and signs 2yr/70mil(2nd-year player option) deal with the Philadelphia 76ers

Jimmy Butler runs screaming from Minnesota and signs with the NY Knicks on a 4yr/128mil deal.

Demarcus Cousins sees Durant leave, so he again weasels out to the Lakers on a 2yr/58mil deal

Kristaps Porzingis returns to the Knicks on a max deal

Karl-Anthony Towns returns to the Minnesota Timberwolves on a max deal

The great Dwyane Wade decides it is time to hang 'em up and retires
2019-20 NBA Finals: Los Angeles Lakers-4, Philadelphia 76ers-2
The insane big 3 containing LeBron James, Kawhi Leonard, and Demarcus Cousins take down LeBron vs KD part 4, evening the two up at 2-2.  With Lonzo Ball improving as a playmaker and Cousins and Embiid essentially canceling each other out, Kawhi locks up KD, leaving LeBron to put all of his efforts into the offense, where he tears apart everyone in his path.  The only Process this year for Philly was the process of elimination as the Lakers tie the Celtics with 17 banners.
2020 Offseason Marquee Moves
Kevin Durant opts out of his deal, then re-signs with the 76ers to the exact same deal as the year before

Kyle Lowry signs a 2yr/42mil deal with the Indiana Pacers, leaving the Toronto Raptors who enter a rebuild

Carmelo Anthony at 36 years old and without a ring, decides to join up with fellow Banana Boat member in LeBron James, signs with the Lakers on a 1yr/5mil deal

Al Horford shocks nobody and stays with Boston on a 3yr/24mil deal

Paul Millsap re-signs with the Denver Nuggets on a 2yr/14mil deal

Hassan Whiteside like usual does something ridiculous and signs a 3yr/80mil deal with the Atlanta Hawks

Demarcus Cousins re-signs with the Lakers on a 3yr/30mil deal as nobody offers him anything special with him aging and fear that another leg injury will end his career.

The youngest MVP ever Derrick Rose holds a heart-shattering press conference reflecting on his injuries and how the game of basketball had been stolen from him at too young of an age.  Finishes the press conference the way everyone expected, him announcing his retirement, then proceeded to fall down the stairs off the stage and tore his meniscus one last time for old times sake.
2020-21 NBA Finals: Lakers-4, Celtics-2
For the second time, the Boston Celtics have made it to the finals but came up short to Demarcus Cousins.  The Lakers ran an absolute death lineup of Lonzo Ball, Kawhi Leonard, Carmelo Anthony, LeBron James and Demarcus Cousins.  In the finals, experience wins out and right here, the Lakers have much more experience. Carmelo Anthony captures his first ring while Kawhi and Boogie get their third and LeBron gets his fourth.  LeBron vs. Kyrie was bound to happen, and this makes the 35-year-old King turn it up to a new level playing against his friend. Kyrie is not thrilled with the young guys taking his spotlight and Terry Rozier continues to improve and get upset that he doesn't start, leading to an interesting offseason.
2021 NBA Offseason Moves
Kyrie Irving comes to his hometown team joining the NY Knicks, Kyrie, Jimmy Butler, Kevin Knox, Kristaps Porzingis, Mitchell Robinson, be very afraid NBA.

Gordon Hayward sees his role diminish in Boston, so he is one of two marquee free agents to go to the New Orleans Pelicans on a 3yr/80mil deal, taking a sizeable pay cut to make sure they can afford two max deals.

That other free agent who decides to play with Anthony Davis on the Pelicans, Bradley Beal, who signs a 4yr/150mil deal with them.

Being the super loyal guy he is, DeMar DeRozan re-signs on a 2yr/75mil deal with a Spurs team that is falling apart before his eyes.
2021-22 NBA Finals: Philadelphia 76ers-4, New Orleans Pelicans-3
A 7-game series ends in heartbreak for the Bayou, as Anthony Davis gave the 76ers everything he has, but in the end, Kevin Durant and the improved Ben Simmons and Joel Embiid prove to be too much for this new Pelicans squad.  The Pelicans met up with the Lakers in the conference finals but were able to take them out. The only Laker who has aged well is LeBron (Kawhi is still 30 and playing great), but even the immortal James has shown signs of old age.  It is widely agreed upon that by now, the best player in the NBA is Anthony Davis, and the second best is Giannis Antetokounmpo, who, coincidentally, is due for free agency.
2022 Free Agency Moves
Giannis Antetokounmpo's name is finally known how to spell by most people and hopefully, they can spell loyalty (KD can't) and signs a 5yr/220mil deal with the Milwaukee Bucks

LeBron James decides it is too late in his career to do anything drastic, so he signs a 1yr/15mil deal to stay on the Lakers and has informed the Lakers that wherever his son gets drafted next year is where he will play.  

With the Warriors falling apart and struggling to get past the second round, Steph Curry leaves to go to– of course, he didn't leave, he re-signs on a 5yr/150mil deal.  And yes, Steph still looks like he is 15, and so does his wife Ayesha

Chris Paul, only playing around 50 games per year at this point due to severe hamstring problems, decides to take a bench role and join LeBron on the Lakers for a minimum deal forming a team way too familiar to the 03-04 Lakers who failed.

Carmelo Anthony announces he will play one more year as many believe this will be his final year on a rollercoaster of a career.  Does what is right, sings a 1yr/minimum deal with none other than the NY Knicks.

Jrue Holiday stays in New Orleans on a 3yr/30mil deal as the Pelicans poise themselves for a finals run again.
2022-23 NBA Finals: New York Knicks- 4, LA Lakers-1
Exactly 50 years later, the Knicks capture their 3rd NBA title.  The Knicks have won all three titles against the Lakers. Porzingis dominated everyone in his way, as he was too big for anyone to deal with, Kyrie outplayed Lonzo Ball as Kyrie is in the absolute prime of his basketball career at 29 years old. Jimmy Butler and Mitchell Robinson played great defense and all-star Kevin Knox went toe-to-toe with LeBron James.  The great Carmelo Anthony finishes his career in the best way possible, finally winning a title in NY. I like to imagine Melo hit a buzzer beater to win the finals like this is some kind of perseverance movie on Netflix.
Going Forward
The Knicks will probably see 1-3 more titles with a budding superteam

AD and the Pelicans will end up winning one as AD will play out of this world for it

Whoever drafts LeBron James Jr. also gets LeBron for 1 year before LeBron Sr. hangs 'em up

Chris Paul retires after the loss to the Knicks, never winning a title.  He comes back to coach the New Orleans Pelicans though and with coach Paul at the helm, AD, Brad Beal, Jrue Holiday and Gordon Hayward set New Orleans on fire and the greatest championship parade ever happens.

LeBron opens some more schools then runs for US President.  Hey, Donald Trump did it, he was a celebrity, so why can't King James become President James?

Speaking of LeBron, he passes Kareem for most points ever, also gets 10,000 assists and rebounds with 2,000 Blocks and 1,000, and after his retirement and purchase of the Cleveland Cavaliers from Dan Gilbert, he is widely viewed as the Greatest Of All Time, LeBron James, the GOAT.
Main Image Credit: