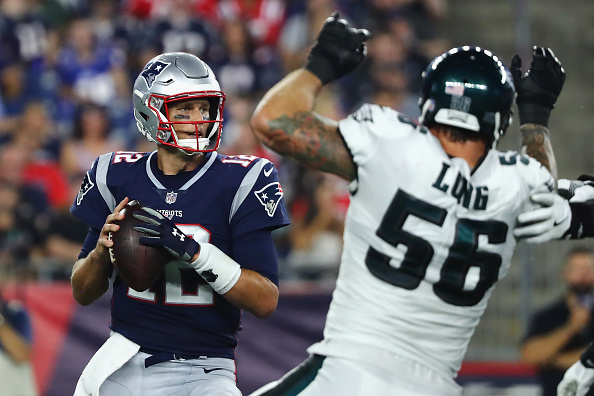 In the rematch of Super Bowl 52, the Patriots took care of the Eagles in dominating fashion 37-20. It felt good for the team as it was sweet revenge on the team that beat them in the title game just six months ago. These are the takeaways from last night's game.
New England Patriots Preseason Takeaways from Game No. 2
Brady looked like he's already ready to gear up for his 19th season. He would play until deep in the second quarter, which is unusual for star QB's in the second preseason game. The offense was in a smooth rhythm from the start with the short and intermediate passing game. During the Pats first possession, they went seven plays for 52 yards that ended in a touchdown. Brady completed all five of his throws in the possession including the touchdown strike to Chris Hogan. Originally, James White was open in the left flat but Brady looked, bought some time and rolled to the right to find Hogan in the back of the end zone.
In their two minute drill before the end of the first half, they would score another six points. Brady in the spread formation threw a screen pass to White and had four blockers in front as he ran 20 yards for the touchdown. It was good working on their two-minute offence to prepare for the regular season. As a result, Brady went 19 for 26 for 172 yards and two touchdowns.
The bad thing was when first-round pick OT Isaiah Wynn tore his Achilles. He will miss the rest of the season and it's one less offensive lineman to keep Brady upright.
The Pass Rush
The pass rush balled out, something they didn't do in last February's Super Bowl. The front seven brought the heat on Nick Foles and Nate Sudfeld. One of the big plays was when new addition Adrian Clayborn striped sack Foles and fifth-round pick Ja'Whaun Bentley returned it 54 yards the other way for a TD. That play would knock Foles out of the game with a shoulder injury.
In total, Bill Belichick and Brian Flores' defence had eight sacks, 11 QB hits, two turnovers, seven tackles for losses and a goal line stand. The secondary struggled a bit giving up some big plays and penalties down the field. They have to figure that out as Jason McCourty could be on the bubble after being behind Eric Rowe and Stephon Gilmore as the starting corners.
The Last Word
The great thing about this game was that Lane Johnson wasn't trash talking the Patriots crowd. Most importantly, there was no Philly Special that would catch them off guard again.
Image Credit:
Embed from Getty Images