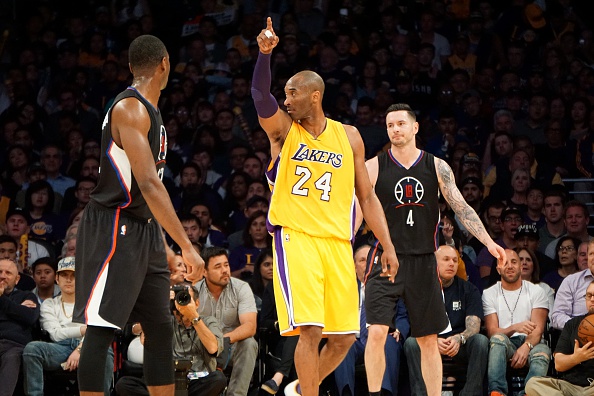 Kobe Bryant is universally viewed as one of the best players in NBA history.  This is rightfully so, as Bryant has been one of the best scorers in NBA history and is a 5x NBA champion (2000, 2001, 2002, 2009, 2010).  What many people overlook, is that Kobe really is an overrated NBA player. Putting him in the GOAT (Greatest of all Time) conversation with LeBron James and Michael Jordan is just wrong. Here is why Kobe Bryant is overrated:
3 Reasons Why Kobe Bryant is Overrated
Did Not Deserve 2008 MVP
Kobe did not deserve to win the NBA MVP in 2008. More importantly, this is the ONLY MVP KOBE HAS EVER WON. Most people would think Bryant has more, but it is only 2008, an MVP that should be Chris Paul's. This season Kobe averaged 28.3ppg, 5.4 apg and 6 rpg. These are MVP Numbers, but Chris Paul averaged a double-double with 21.1ppg, 4rpg, and 11.6 apg. These numbers make the race close. Looking at the advanced numbers it is clear that Chris Paul. Paul had an amazing 28.3 PER with 17 win Shares compared to Kobe's 24.2 and 13 win shares.
2x Finals MVP
This does not sound like a bad thing, and on one side, it isn't. Most players aren't ever the NBA Finals MVP. This article also is not saying Kobe is a bad player. He is a great player, just not as great as some people think. The Los Angeles Lakers ran the NBA from 2000-2002, going on a finals three-peat, led by legendary big man Shaquille O'Neal. The big Diesel won and deserved all three finals MVPs, averaging monster numbers throughout the playoffs.
Shaq playoff stats: 2000: 30.7 ppg, 15.4 Rpg.  2001: 30.4ppg, 15.4 Rpg. 2002: 28.5ppg, 12.6rpg.
Kobe playoff stats: 2000: 21 ppg, 4 rpg, 4 rpg. 2001: 29.4ppg, 7rpg, 6apg. 2002: 26.6ppg, 6rpg, 5apg.
Men lie, women lie, numbers do not lie.
King James > Black Mamba
When LeBron James would face off against Kobe Bryant, the competition was not even close. Wins against each other: LeBron: 16, Kobe: 6. LeBron also averaged 28.2 ppg, 7.4 rpg, and 7.3 apg while Bryant averaged 24.6 ppg, 5 rpg, and 5.2 apg. The biggest argument is that Kobe has won three more finals than he has lost (5-2), and LeBron has lost three more finals than he's won (3-6). What is more impressive is that LeBron dragged two NBA Finals teams to the finals that were abysmal and played super teams each time.
LeBron dragged the 2007 Cleveland Cavaliers to the finals. The second highest scorer on the Cavs that year was Larry Hughes with 14.9 ppg (LeBron averaged 27.3). The Cavs played an established veteran San Antonio Spurs team. James then took the 2018 Cavs to the finals, who played the Golden State Warriors… enough said.  Kobe Bryant with bad teams would not come near the finals, and LeBron has made eight straight finals appearances. It is safe to say the Mamba and King James are nowhere near the same level.
All Stats are according to www.basketballreference.com
PPG: Points Per Game, RPG: Rebounds Per Game, APG: Assists Per Game
Main Photo:
Embed from Getty Images